---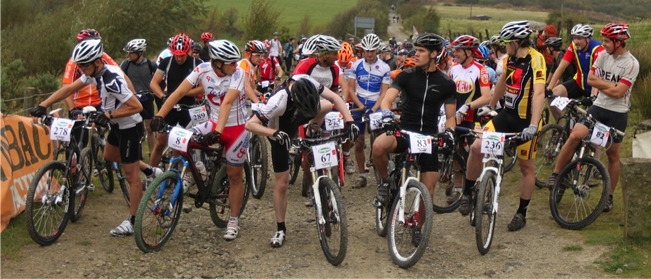 Hope Cross Country Race Series 2012: The finale Sunday 14th October!
Share on Facebook
Share on Twitter
---
Published: 10th October, 2012
The Hope XC series is about to wrap up XC racing in the North West for 2012 with the final edition in our 2012 series. 2012 has been a year of tremendous racing in the quarry and over 250 people have lined up at the start line in the series so far. This is the last opportunity to capitalise on any summer fitness before the dark and the cold set in for the winter and it is lining up to be a great day.
As usual it is a new course design for race 4 with some new "off piste" sections to keep riders on their toes on the main course. The Hope XC Series is designed to allow riders of all standards compete and enjoy themselves so two courses are operated at the same time, the "Have-a-go" course threads its way through the quarry on a smoother less challenging route than the main course where riders are pushed hard on exciting descents mixed in with technical climbs and some cheeky "testing" sections.
Not riding? Lee Quarry is a compact site and is great for spectators who can see the racing at many places during the event. As always we need lots of volunteers on race day if you want to get involved and support these events and the team get in touch via the website.
---
More on the Hope Cross Country Race Series 2012 - R4:
Event Calendar Listing