Stilettos On Wheels
8th September 2012
Our ambition is through this race to get more female riders into the sport, so women are better able to compete with and against each other.

We hope to create greater focus on women in the mountain bike sport. Our ambitions are high and the aim with this race is to get riders who are already active, experienced MTB rider and also to attract even more new women to the MTB sport.

So now is the opportunity there to get out and race against other like-minded in the only WOMEN ONLY MTB Race.

Date: 8th September 2012
Location: Stamner Park
Duration: 2 and 4 hours
Race Start pm. 11:00
Race End pm. 15:00

We have following categories

2 hour MTB race
Solo Sport £20
Solo Elite £20
Pairs Sport £30
Pairs Elite £30

4 hour MTB race
Solo Sport £25
Solo Elite £2
Pairs Sport £35
Pairs Elite £35
Location:
Stamner Park, Stony Mere Way, Brighton, East Sussex, BN1 9QA |
View Stamner Park on a map >>
Official Event Website:
www.stilettosonwheels.com
EVENT ORGANISER:

Irene Lachner
www.stilettosonwheels.com
Related Articles: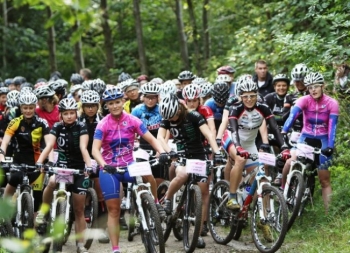 Stilettos On Wheels - September 2012
5th January, 2012
Look at the start line of any mtb race and the ratio of male to female riders can easily be 9 to 1. Hoping to address this is StilettosOnWheels, a new two and four-hour MTB race for women only in Stanmer Park, Brighton on September 8th. With the event, the organisers are hoping to create greater f...
Other Upcoming Events: