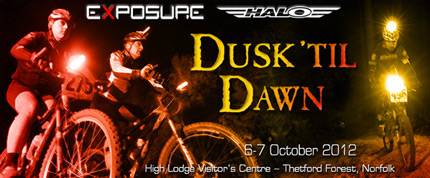 HALO-EXPOSURE DUSK TIL DAWN 2012
6th - 7th October 2012
Dusk 'Til Dawn is the UK's premiere 12-hour nighttime moutain bike event and runs from 8:00 p.m. Saturday evening to 8:00 a.m. Sunday morning, typically on the first weekend in October.

Categories include 4-person teams, 3-person teams, pairs, and solos with the Men's Solo field capped at 150 riders.
Location:
High Lodge Visitor's Centre, Near Brandon, Thetford, Norfolk, IP27 0AF |
View High Lodge Visitor's Centre on a map >>
Official Event Website:
http://www.thetfordmtbracing.com/d2d.htm
EVENT ORGANISER:
Thetford MTB Racing
www.thetfordmtbracing.com
Related Articles: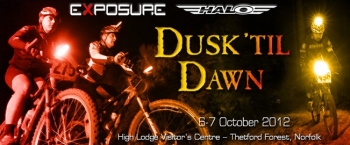 HALO-EXPOSURE DUSK TIL DAWN 2012
28th July, 2012
The Thetford MTB Racing Team have been working hard to bring to you the anouncement for this years dusk til dawn to be held for the 3rd year at high lodge forest centre.This year the event has a new sponsor thanks to ison distribution, halo rims and wheels will be working along side exposure...
Other Upcoming Events: