PAIR OF MT ZOOM JOCKEY SPEED WHEELS 11T - 5.6g EACH, WITH HARDWEARING CERAMIC BEARINGS
Everything has been done to make this New MT ZOOM jockey wheel carry your chain faster and smoother.
Extra machining has lowered the weight to 5.6g each.
Cut from 7075 red alloy.
Just available in BLACK now.
High quality ceramic bearings.
Replace those tired black plastic ones that come with most derailleurs.
Works best with 8, 9, 10 speed systems. Note: If you are using a 11 or 12 speed system these may not work so well for you, as they can use bespoke pulleys which have a larger circumference/more teeth/narrower diameter. (e.g. Sram XO1, Eagle, Shimano with longer tooth upper & lower drive).
There is a little lateral movement to move with the derailleur & enable a better chain line.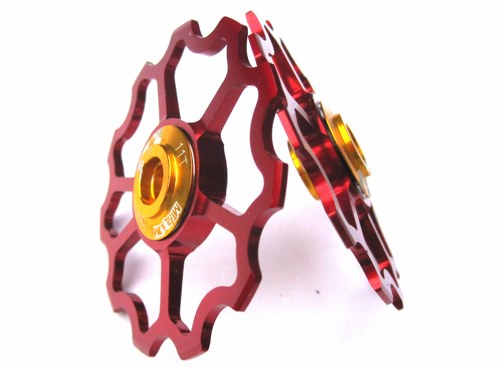 MT ZOOM (MOUNT ZOOM) IS A BRAND FOCUSED ON PROVIDING PRODUCTS THAT WILL HELP YOU ZOOM UP HILLS, FAST ... ULTRA LIGHT BUT DURABLE STUFF.