MT ZOOM QUICK RELEASE REAR SKEWER - MTB (20g) or ROAD (18g)
Beautiful looking premium MT ZOOM lightweight skewer!
Choose from RED
MTB Long rear axle for 135mm mountain bike wheel axle, but has enough thread on the axle to be fine for a road bike aswell.
ROAD Shorter rear axle for 130mm road bike wheel axle
Fits MTB or Road bikes
Good if you just need a skewer for a rear wheel.
Tried & tested. Clamps well. Really light, stylish & good value.
The weight is perfect for weight weenies, the price & performance is perfect for everyone else.
2 piece nut to enable a plusher grip on fork dropouts.
Features:
- Solid 7075 alloy levers (solid for clamping strength)
- 20g for MTB rear skewer. 18g for Road rear skewer (including springs).
- Alloy 7075 axle, lever and nuts/bolts
- 2 piece " ball & socket" nut the other side to enable a better/plusher grip on fork dropouts
- Ergonomic curved lever, means finger can be easily inserted to release lever
- 2 year warranty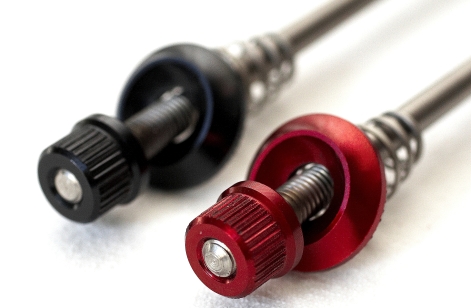 MT ZOOM (MOUNT ZOOM) IS A BRAND FOCUSED ON PROVIDING PRODUCTS THAT WILL HELP YOU ZOOM UP HILLS, FAST ... ULTRA LIGHT BUT DURABLE STUFF.