---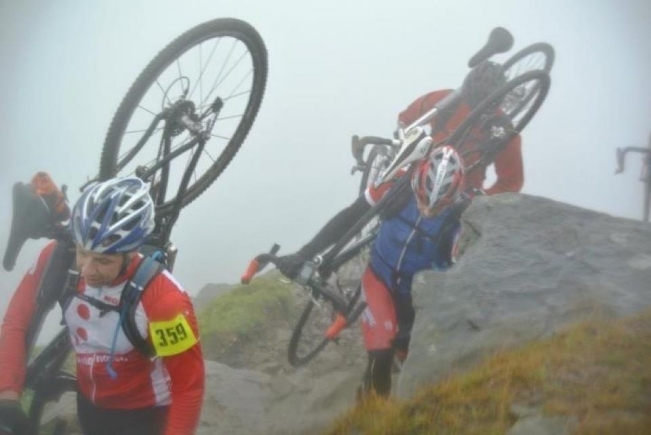 The 50th Three Peaks Cyclocross - Andy Faulknall's View From The Pack
Share on Facebook
Share on Twitter
---
Published: 8th October, 2012
Racing unsuitable bikes over 61km and three brutally steep Yorkshire fells, here's Andy Faulknall's (
nbikes.co.uk
) view from the pack at the 50th
Three Peaks Cyclocross
in the Yorkshire Dales:
"Billed as the most difficult Cyclocross race in the world (and now with an American cousin of the same name), the 3 Peaks Cyclocross was something that had been on my to do list for some time. However, for one reason or another I had until this year been unable to do it - including having to hand back my entry last year due to not actually owning a cross bike (the rules don't allow any of these new-fangled mountain bikes). I'd only just properly recovered from racing my singlespeed at the Montane Kielder 100 a couple of weeks before and with the outlook promising monsoon-like wind and rain I, unsurprisingly was not that motivated to race. But I wasn't going to miss it this time. I wanted to see what all the fuss was about.
On Saturday I decided to give my wheels and cross tyres one last chance to get along with each other without the need for tubes. Previous attempts had been messy to say the least. This time, however, within 10 minutes I had both tyres aired up tubeless with ease. No more excuses. It was an omen. I'm off up North.
So to race day: Leaving a dry Leicester at 04:30 I was certain the Met Office had got it wrong again. By the time I'd got to Bradford they'd got it right. Arrival at Helwith Bridge: Paid the farmer to park in his field, nearly got stuck on the way in, scrambled back out and decided to park up the road...
Sign on: Approval of mandatory emergency kit - Check and signed on. In my race entry pack as I went back to the car I found the most sensible thing I have seen at a race for a long time (a sticker for the car window with the event details and my race number). So if I go up and don't come back they'll know who to look for. Very clever but rather disconcerting.
The start: There was meant to be pens for you to line up in grouped by your expected completion time. Having never done it before I wasn't entirely sure what my time would be. Rob Jebb completes it in just over 3 hours. I knew I wouldn't. But if I can get in within 4 hours I'd be happy. However, those pens never existed so after milling around too much in the pouring rain I found myself at the back. It's quite demoralising when you can see the front riders chasing the lead car up a hill half a mile away and you've yet to turn a pedal in the first 5km neutralized section.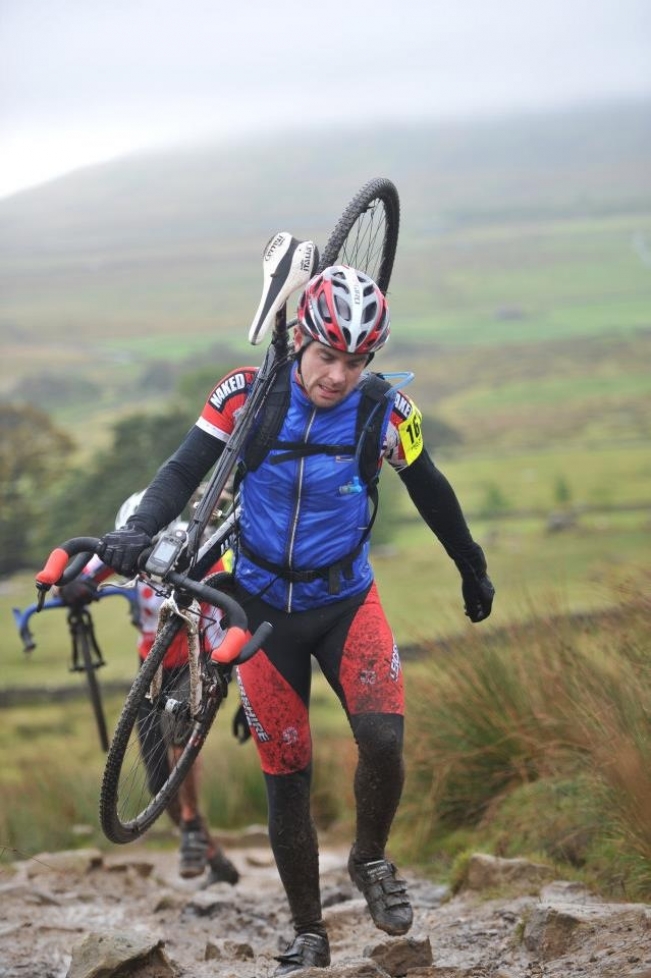 (picture courtesy Sportsunday)
The race: (a brief rundown of events. No exaggeration at all. Any of the 750 riders who did it will confirm this. Including the 504 finishers) First off, Simon Fell. Ridiculously steep, slippy Grass and lots and lots of mud. It was bike carrying from pretty much the start and almost impossible to get a footing when it got really steep. With everyone needing to grab clumps of grass or other riders to stop themselves from falling backwards Reach the top and point straight back down again. The descent was awesome. At last I could ride! Disc brakes, cissy levers and tubleless tyres at 30Psi made this fun. However, I saw a lot of riders who hadn't the fortune to have at least one of these either go over the bars or tenderly scrambling down on foot.
A road bit: Fast and a chance stretch the legs. A nice change really. It was almost like a bike race. The top guys swap bikes for this bit. Within the rules, but within the spirit?
Ingleborough: Another ridiculously steep climb. But this time it was Yorkshire rock. Nearing the top riders were greeted by gale force side winds, poor visibility and skin piercing hail. Another fun descent followed. Very wet flagstones followed by rocky singletrack.
Road and gravel bit - more riding.
Pen Y Ghent: A rocky climb but at least this was rideable (for two thirds of it anyway). Passed through a hub deep puddle covering the entire road. Climb and carry again to the peak. The same, awful, conditions as Ingleborough at the top. The descent: great fun again. However, no brake pads this time, so just held on. Arrive back at puddle (by this time was better described as a pool). Water up to the bars, hard pedalling through it.
Another cramp enducing road section and back to a very welcome finish at Helwith Bridge.
Heading back towards the car I thought to myself how can I race for nearly 5 hours (only spending 2 of that riding), finish in a lowly 244th position, hurt like hell, be freezing cold, soaking wet through and certain that Monday would be spent trawling online bike shops for replacement parts - but still think this is probably the most enjoyable race I have ever done? Now don't get me wrong - I know it was a rough day up there but having never raced it before I have nothing to compare it against. Every time I've been riding in the Dales the weather's been like that anyway. So as far as I am concerned that is what the 3 Peaks is always like.
Congratulations to Rob Jebb (Hope Factory Racing) for a record 9th win. Paul Oldham was 2nd, Nick Craig 3rd, Neal Crampton 4th and Dan Whitehead 5th. A scan down the results also reveals a certain Thomas Frischknecht in 30th place! Victoria Wilkinson put her fell running skills to good use to beat Louise Robinson to the win.
I take my hat off to all the volunteers who endured the rotten conditions on the tops all day. Which would have been as tough, if not tougher than racing itself. There's a rumour that this the 50th 3 Peaks may be the last one ever. I really hope that's not true. I've only done one and I've got the bug now!"