---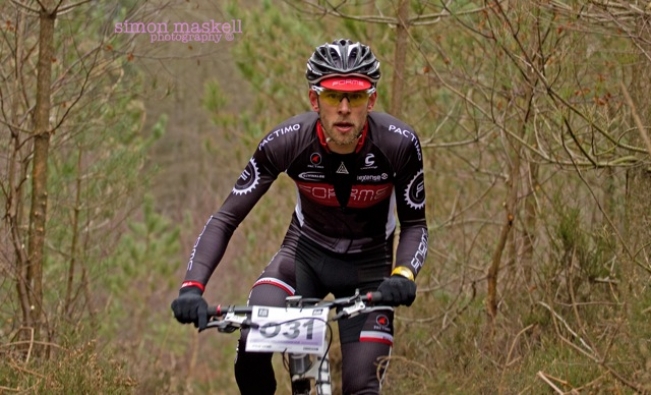 Dan Fleeman Interview by Edmond Hood
Share on Facebook
Share on Twitter
---
Published: 4th March, 2013
FLEEMAN TURNS FULL CIRCLE by Edmond Hood
Dan Fleeman the ex DFL, AN Post, Cervelo Test Team and Raleigh road professional originally came from the fat tyred, muddy world of mountain bikes, before moving across to the road and now he's completing the circle and moving back to the single track at the head of his new Forme Coaching - Pactimo - Cannondale team.
And at the end of season 2011 he called 'time' on his pro road career. But now, the circle is squared and 30 year-old Fleeman is back on 26" wheels - no, wait, let's make that 29" wheels.
Question: Did you ever think about returning to the road, Dan?
Dan Fleeman: Not really, I thought about it and approaches were made to me but when I fully considered it, I felt I'd be doing it for money rather than love - and I don't want to do that. I'll only use the road bike as preparation for the road; I don't want to ride Premier Calendar races - the MTB is new and fresh. But mind you, if Patrick Lefevre phoned me and offered me a ride at QuickStep . . .
Q: You've ridden a bit of cyclo-cross, too.
DF: I'm in two minds about it, I like riding it; there are different types of riders involved - you have the 'cross specialists, a few road guys doing it for fitness and then there are MTB guys. A lot of the MTB guys think that you need to ride them - I've done a few, they're good and break up the winter. But really you need two bikes and a pit guy - I blew out three hours on the Monday getting my bike clean. And psychologically you don't want to be too competitive in the winter; 'cross is fun and good training but the races are very intense. Roger Hammond has told me that the years he won the National Cyclo-Cross Championship he didn't have the best road seasons - and the years he wasn't as serious about the 'cross he had good road seasons. The road requires a much bigger endurance element than a one hour 'cross race.
Q: How does it feel to back to your fat tyre roots?
DF: Good, I think I'm above average level - I've had 19 wins since I came back. I started as a Master in the 30 to 39 category; I didn't want to go into Elite races - I was 10 kilos above my race weight. I was second in my first race, which was a good result for me and made me want to come back and try for a win. If I'd won I'd have thought; "this is too easy" - but if I'd taken a kicking, I would have thought; "this is too hard!" I won my next two races and then lined up for a National Series race; it was a bit of a mix up at the start with the gridding - I had to start right at the back, but I finished fifth. As soon as I began to train, the weight came off and I rode the second round of the National Masters series, I didn't win - the Masters start faster because the races are a lap shorter.
I won the Midlands Elite Championship in May, beating Nick Craig - so I was pleased with that result.
Then I was third in the National Elite Marathon - followed by two third places in the National MTB series.
Q: And you've put a team together?
DF: I was approached by a couple of teams but was planning to ride as a one man Forme Coaching team, Cannondale approached me about riding their bikes and then a few guys started to approach me about joining the squad.
Then it was two guys, then four, then nine . . . The MTB world is different from the road, there's not really the opportunity to employ team tactics - and it's a much more sociable scene. I was always going to ride with Forme Coaching on my jersey and ride a Cannondale, when I became involved with them - Pactimo supply our clothing and now they're our second sponsor behind Forme Coaching.
Q: What expectations do your sponsors have?
DF: Pactimo are a US company who are pushing in to the UK market - the name isn't known here, but they make a lot of clothing for well known brands. Cannondale are very involved on the MTB scene - many of the big teams ride them.
Q: Tell us about your riders.
DF: Well, there's me for a start - and we have Jason Bouttell who won every round of the Expert National Points Series, last year.
The National Points series is your MTB equivalent of the Premier Calendar. Jason is Elite category for 2013 and we're expecting great things from him. Then there's Matt Dennis, he was overall winner of his age group in the NPS in 2011; and he was Masters national champion that year, too. Steve James is a past top 10 finisher in National Elite Championships and is current Eastern Champion - we have five male elite riders in total. Sarah Reynolds is joining us, too - she's only ridden a couple of MTB races but has been second in the British ladies' road race championship in the past. Half the team is based in the South and the other half in the Midlands - we'll come together for NPS and championship races.
Q: Cannondale always make a nice bike.
DF: They're full carbon, in 2012 I was riding full suspension, which is good if you don't have the technical skills, but for 2013 I'll be on a hard tail. They're lighter at just 18 lbs; which is a big advantage if there's a lot of climbing involved.
Wheel size these days is 29" which is up from 26" when I used to race before - I can't really compare because I've been on road bikes for so long - but it feels good.
Q: Tyre pressures and suspension settings must be a big deal?
DF: Tyre pressure is important, yes. I'm pretty green so I go and find Nick Craig five minutes before the race and he sorts it out for me.
At one race I was sitting drinking his coffee as he set up my suspension for me!
Q: How healthy is the MTB scene in the UK?
DF: It's hard for me to comment because I have nothing to base it on. It was big when I started in 1998 but I think it perhaps peaked in the mid-90's -although I do think it's on the way back up. I'm just getting to know the scene, I don't know how many riders are full time but it's a perfect sport for me with race durations around 90 minutes. I can train for that whilst I'm working in the coaching business - I don't need four and five hour runs. When Jean Christophe Peraud won silver in the Olympic Games MTB in 2008 he was working full time for the French Environmental Agency.
Q: Will you be rider/manager?
DF: To an extent, but my whole idea is to keep it simple, I drive to the race, ride and then drive home. I'm trying not to get too involved in the management side, once we have it all set up; my main focus is the coaching business. Ian Wright will be rider/manager at many of the races.
Q: How does your physical condition compare to your Cervelo test Team days?
DF: I reckon I was only about seven percent off my best condition at the end of the season. It got better as the season went on - I'd had five months off the bike after stopping racing on the road. There's still a bit to go but as of now (mid-January) I am not far off the level I was at as a professional. I went to Tenerife in December to train and on a climb which I use as a bench mark, I was beating my times and power from my Cervelo days. The big difference is that now I couldn't sustain it. I don't think that physically I have much better to come - but technically I reckon I have around a 25% margin for improvement.
Q: What are your goals for 2013?
DF: The same as 2012 but to improve my finish positions - it would be nice to win a round of the NPS, with the placings I had last year I think that's feasible. I like the marathon events, especially the team ones - events like 'Mountain Mayhem' and 'Sleepless in the Saddle.'
I'm looking forward to my season.