---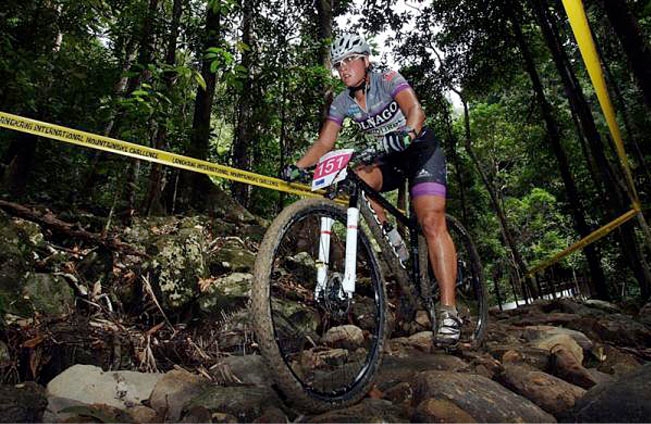 Langkawi International Mountain Bike Challenge 2012 - Report by Ant White
Share on Facebook
Share on Twitter
---
Published: 24th October, 2012
This was my second visit to the pretty tropical island of Langkawi off the coast of Malaysia. A very strong field was present including many World Cup XC and Marathon riders all drawn by the big prize money and sweet location. Riders included lots of the Scott Swiss Power team, Burry Stander, Todd Wells and last year's winner Karl Platt. The women's category included some National XC champs, Leah Davison, Eva Lechner & last year's winner Natalie Schneittler.
There was plenty of UCI points available for the Open Men/Women's category and the prize money ($125k) went deep into the Masters and Senior Masters categories, a rarity.
In my category (Masters = Vets) Nick Craig was present as well as last year's Masters winner super strong Italian Marizio Deho. I was eyeing up 3rd place then and wondering what other competition there would be.
The nice thing about the Langkawi race is the variety in all of the stages. The first was a prologue to ease us in after registration and sort out some gridding.
Day 1:
Prologue 2.4km Time Trial Eagle Square
It had rained a lot in previous days so the TT course was wet, just like a wet cyclo cross lap. It was a case of giving it big power to cut through the mud and late breaking on the turns.
In the Masters Deho pipped Nick Craig for a second at 5.33, I was 30 odd seconds back in 3rd. A single hard interval, a good start.
The Elite women were fast, Lechner won the TT in 5.51.
Florian Vogel won the Open Mens in 5.08.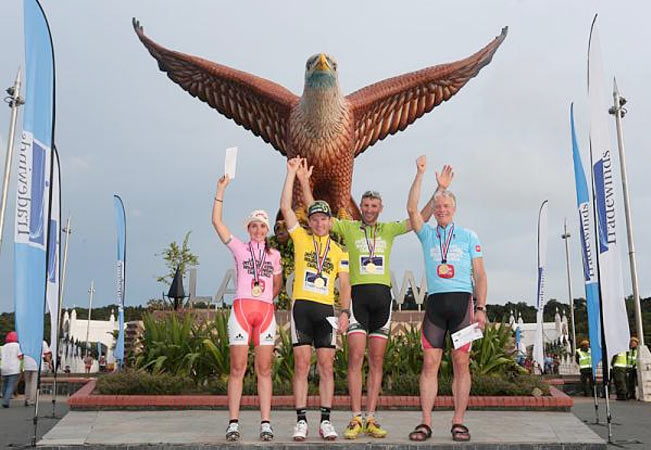 The Eagle Square Prologue winners had wings.

This rider didn't have wings:

The World Record Attempt for shortest participation in a MTB stage race was then equalled 3 riders later. Ouch.
Day 2:
Stage 1: Round Island Marathon 65kms
The categories were set off at 5 min intervals. Open men first, women, masters, then senior masters.
In the Masters as soon as we hit the mud Deho attacked, Craig followed. I stayed behind the other Italian, Vanni Balboni. I knew this stage from last year and wanted to pace myself and see what the competition for third was like. After a few miles Balboni started to struggle with the mud. I pushed on but the Thai guy from last year (Prasert Chitmart) wasn't far behind.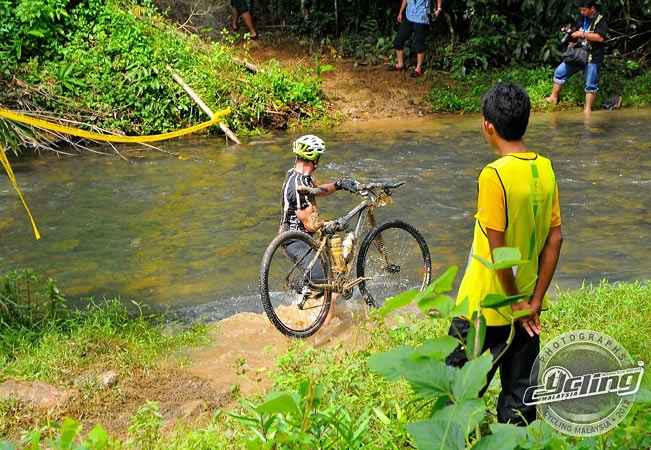 The terrain was mixed, alternating between asphalt and a healthy number off muddy off road sections with stream crossings.

After about 1/3rd of the race I caught the lead group of women who were alternating between attacking and the opposite of attacking. I pushed on at the front of them to try and get some time on the Masters behind. It worked, despite some chain suck and other minor issues towards the end I managed to finish 3rd in 3 hours with Chitmart 5 minutes behind. Deho had been climbing well and won in 2.39 by 2 mins from Nick Craig who had rode conservatively acclimatising to the heat. Nick now knew he was in a battle.
In the women's race USA's Lee Davison won in 3.01 just ahead of last year's winner, powerhouse Natalie Schneittler with Janka Stevkova in 3rd.
In the Open Men's Category Switzerland's Fabien Giger (Rabobank) won in 2.23 from Kristien Hynek, last year's winner Karl Platt was in third.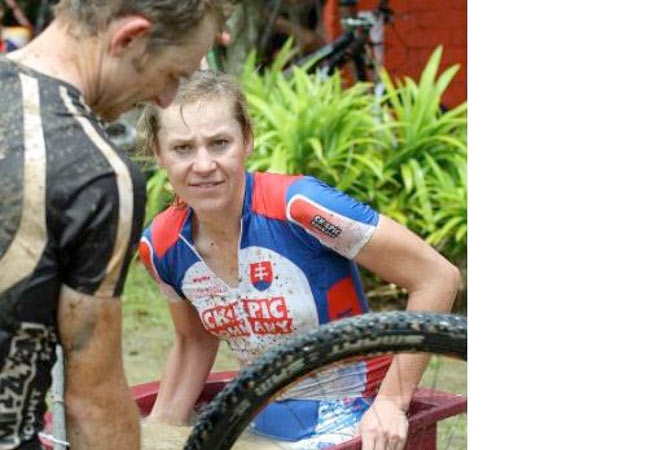 Hot day calls for differing cooling- off strategies: Slovak Janka Olympian cools off in a big bucket.

Some other preferred frolicked with the hose …

Day 3:
Stage 2: East to West Point to Point 45km
This looked an innocuous enough day on paper, but proved to be pretty decisive in many categories.
As per the previous stage we had a staggered start. Balboni seemed to want attack everyone on the road section, a early bit in the day for this I felt, we sat in with elevated heart rates. As we hit the off-road section the pattern again followed the previous day, Deho and Craig took off. As soon as Balboni spun out on the rocks I pushed on.
I had been warned by Nick (who had recced some of the course) of a super steep section that turned pretty unridable for 1.4km at about the half way mark. All was accurate except it didn't end when expected, it went on for about 10-15km, just like the muddy section on the first day of La Ruta Conquistadores. It was a real de-hydration risk for those not fast enough.
The slog through jungle mud suited some riders and fried others.
In the women's event, Lechner was rinsed and had a really bad day, Schneitter had a moderately bad one.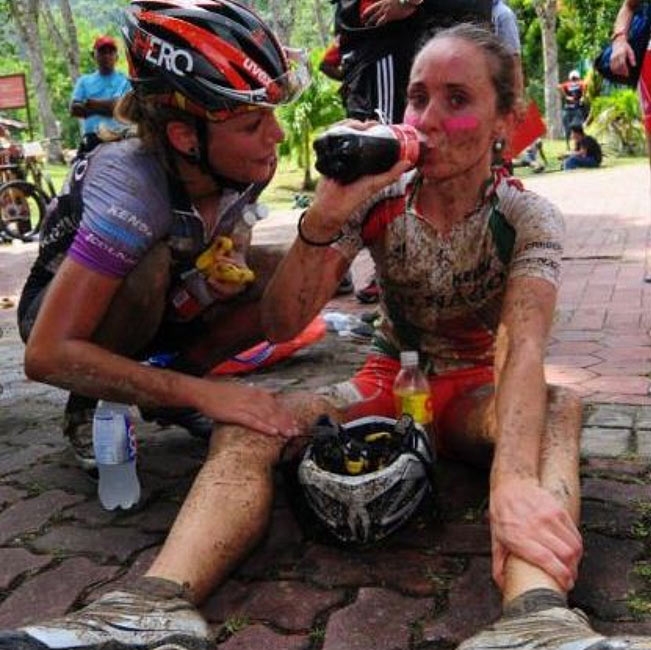 Lea Davison had a flyer hanging on to Nick and Deho on some of the earlier sections. She won in a superfast 2.44. Elizabeth Sveum the Norwegian champion and Stevkova the Slovak Champion made good time gains in 2nd and 3rd on the riders behind.
Some major gaps opened up within the Open men's ranks, between the favourites, although it was still tight at the top. Fabien Giger, Karl Platt and Emil Lingren were the top 3 on the day. Giger now lead overall by 2 mins from Platt.
Although far from Pen y ghent, Nick Craig used his cyclo cross 3 peaks experience well to put 4 minutes into Deho in 2.31. I was a further 23 mins back, but increased my gap to 4th, to 24 minutes.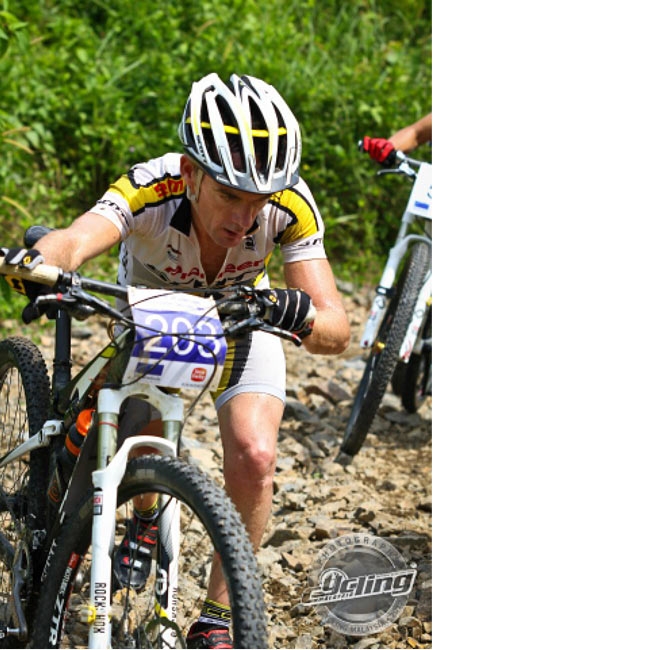 Day 4:
Stage3: Marathon 63km / 42km
3 laps totalling 63km for Open men and 2 for the other categories ensued.
Again the rain had made the conditions heavy going. The lap included another bike push which sucked power from your legs. My tyre choice Sam Sam 1.75 proved smart for Stage 1, not so smart for any other stage and was spinning away ineffectively in the uphill mulch this day. In the Masters category this stage broke Deho, and he lost 7 minutes to Nick. I was another 20 minutes back.
In the Open men category marathonist Czech Hynek won the stage with 3.53. Giger limited his losses to come in 2 mins back and retain the overall lead. Todd Wells got third on the stage. Big gaps had now formed on the overall GC. Giger was up 4 mins on Hynek, 10 mins on Karl Platt in 3rd. Some of the pre race favourites were way back, e.g. Stander +41mins in 10th, Vogel +50 mins in 11th, Wells 18 mins in 6th, Thum was 14th at + 1h 44mins.
In the Open women Eva Lechner remarkably bounced back from the previous bad day to win, with Lea Davidson 2nd and the flying Norwegian Sveum 3rd.
After another hot day I was recommend some Joy Juice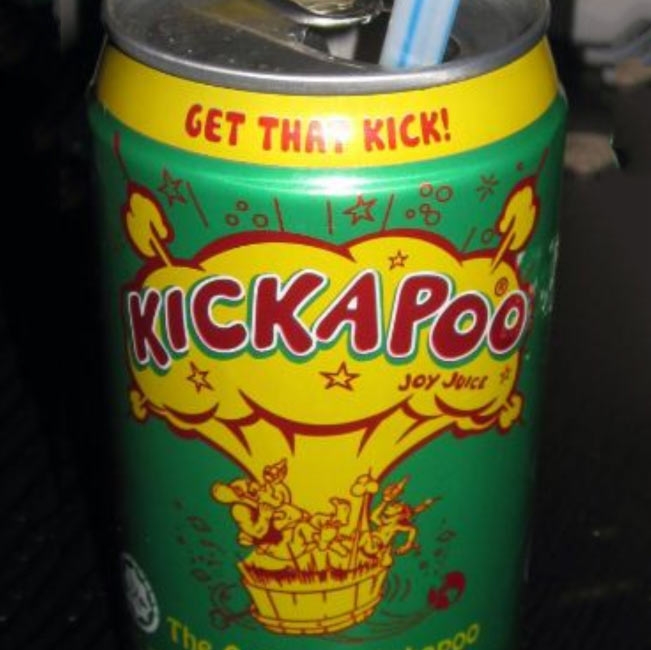 Way better than the can of Birds Nest soup drink...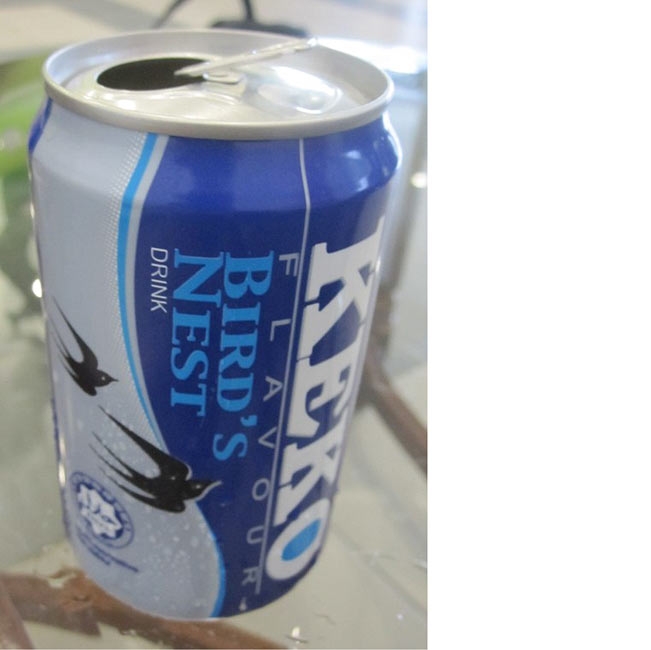 ...which tasted like sugary Chicken Phlegm.
Day 5:
Stage 4: Cross Country … 5 / 4 laps (lap 4.5km)
A nice little course awaited us. There was an obligatory bike push but the Masters started at 8.30am and the cool conditions were nice. Deho dug deep and won the stage in the Masters I again came 3rd.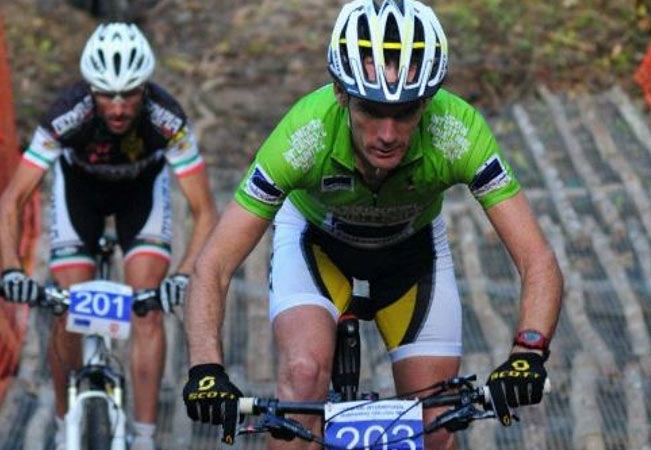 Deho and Craig duel:

The Open men started at 3pm and had a tropical rain shower to ensure, which was amusing.
Sweden's Emil Lindgren won: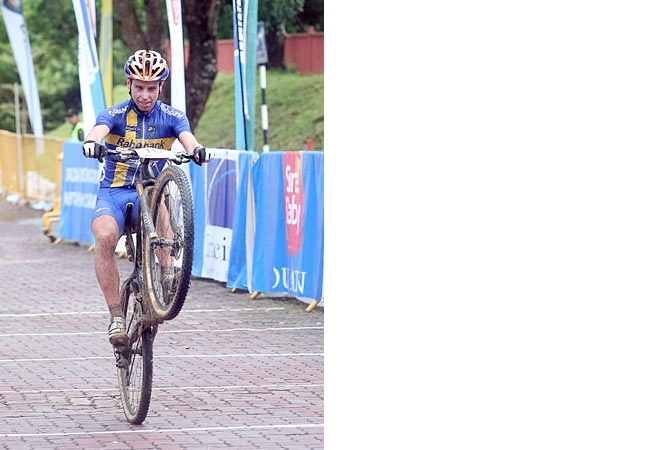 In the Womens XC race Schneittler outsprinted team mate Lechner to win.

Overall top 3s remained the same.
Day 6
Stage 5: Short Circuit 1.6km 30 minute Beach Crit.
All stage races should end on a tropical beach with a crit, right? Good for the spectators and good for a swim.
The Masters were first up. My legs were toast and my 1.75in Smart Sam was a bit skittish in the sand. I missed the Deho/Craig train, Vanni got on it for a while. I was happy to come in 4th and watch the rest of the races.
Lechner won the womens in race where the Colnalgo team tactics reigned.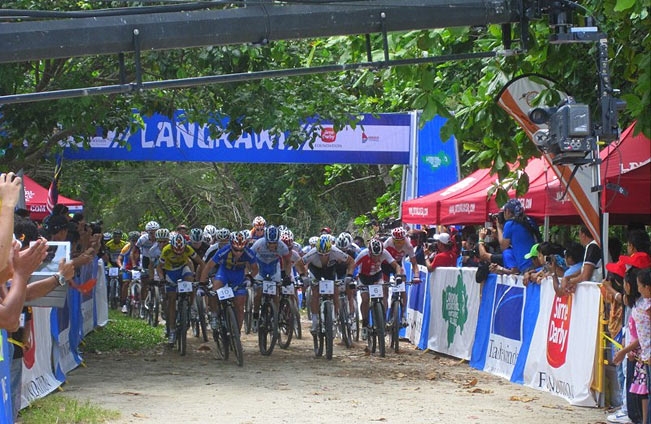 A 6 man sprint saw Karl Platt win the Open men's race.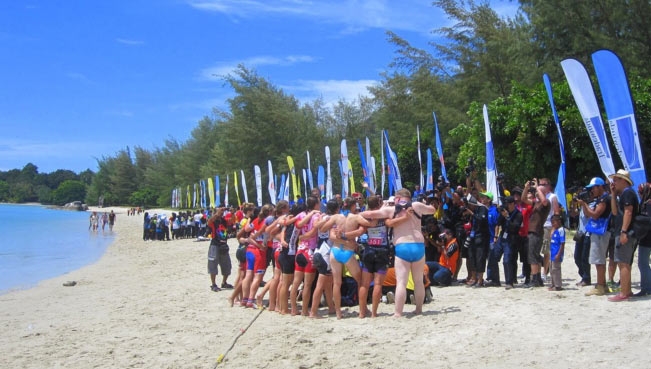 The Elite lady riders proved popular with the local press (not sure about the guy on the end)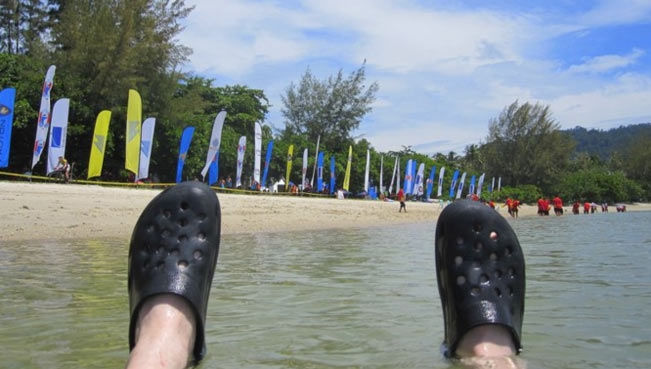 Nice to kick back and watch the other races from a comfortable position, gave myself sunburnt polka dot feet though.

The heat and humid is a key challenge but the stage lengths are short, so not too debilitating and there's plenty of time to recover and enjoy the down time.
I was happy with my 3rd and the prize money. I'm looking forward to going back to Langkawi next year. So are most of the competitors.
It makes a great race in a easy to deal with location which can be combined with a holiday, it's a great end of season sign off. The organisers are planning to put some better surface down on the jungle sections to cut the time on foot, you'll still be peeing sweat from your elbows on the granny ring though.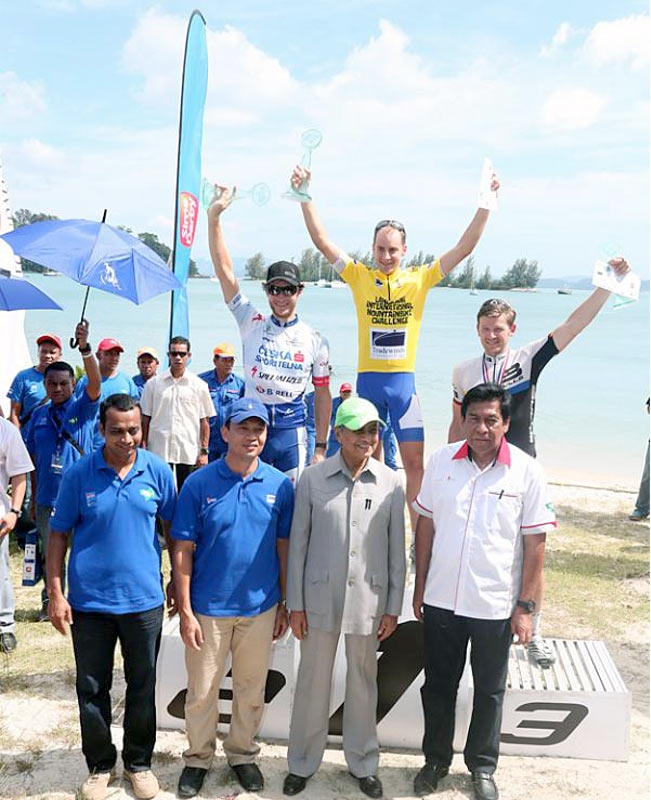 Open Mens Podium, 1. Giger, 2. Hynek & 3.Platt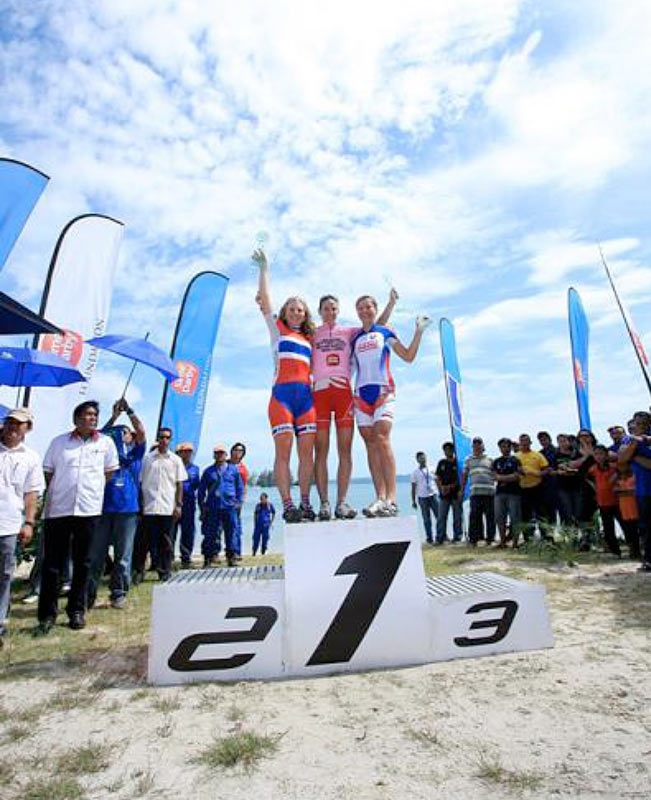 Open Women's Podium: 1. Davison, 2. Sveum & 3. Stevkova

GC results:


Womens Results:

Masters Men:


Senior Masters: