---
Mark Spratt 24hours Exposure 2012 Post Event Reflection
Share on Facebook
Share on Twitter
---
Published: 23rd April, 2012
Old Man 24. Mark Spratt follows up with the defense of his Veteran Male's European and National Titles. Another reason to read over his
top 10 tips on 24 racing.
Cover shot: Courtesy Joolze Dymond
It's now just over a week since I finished my second 24 hour solo race, this year's Exposure 24 at Newcastleton. That week has flown by, making 24 hours seem a very short time indeed, though it was long enough for me to rack up 20 laps, 370km and about 10000m of climbing. That's the equivalent of riding Cardiff to Leeds with the M5 and M1 replaced by fireroads and singletrack and climbing to TransAtlantic cruising altitude. Not that I want to make it sound any harder than a 24 hour race probably does to most, as I actually found it surprisingly easy this year and find myself in considerably better shape than I did following my debut last year.
The run up to the race wasn't quite so smooth, with the usual last minute work trips soaking up 2 weeks and precious sleep credits. Whilst on the last of these trips I had a text message from Mel to say she'd broken her collarbone descending Machen Mountain. Obviously I was gutted - it was on her right side, the one she uses for bottling! Up until this point I was to be supported by Mel and Niall Frost once more but both needed to get some sleep meaning it would need to be a tightly run operation to keep me and my bikes running. With a broken collarbone this suddenly put a lot more pressure on Niall and whilst I'm sure he would have coped I decided to bring in reinforcements in the shape of Rob Rowe.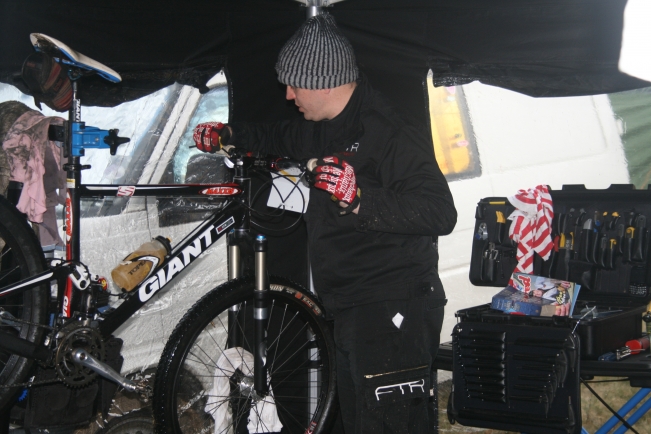 Rob Rowe - Finely Tuned Ride
Rob and I used to race against each other in the Masters category at both Welsh and National XC races and he was always super friendly. Moving away from South Wales Rob decided a change of direction was in order and transferred his aerospace know-how to bicycles, setting up Finely Tuned Ride. Rob doesn't race any more but you'll still see him at most Nationals looking after Oli's bike. Rob had offered to support me earlier in the year but with Mel and Niall available I'd declined. Suddenly things were different and with a quick phone call he was on board.
Mel and I drove North from Cardiff on Thursday night to avoid the Good Friday traffic and stayed with Niall an hour from Newcastleton. I nearly turned around on the M5 as Mel's collarbone was troubling her but she assured me she'd be OK. She certainly seemed comfortable on Friday night sat in Niall's campervan drinking his Tomintoul. Once at Newcastleton we set up camp beside the track, Rob put up his gazebo, I rode a lap with Niall and then chilled out and ate for the rest of the evening.
The morning of the race went past in a blur last year and this year was no different, though I was better organised and come 11am was on my bike ready to roll down to Newcastleton village for the start ceremony. As the reigning Veteran champion I was this year called up to sign on, along with Dan Treby and Huw Thomas among others. I then slotted into the front start pen and at midday set off behind the piper through Newcastleton village. This first part is like a slow bicycle race and track standing is as important as endurance. As we turned off the main road the pace increased a little and arriving at Rock UK it ratcheted up a few more notches as Matt, Ant and Rich set the pace in the 12 hour race.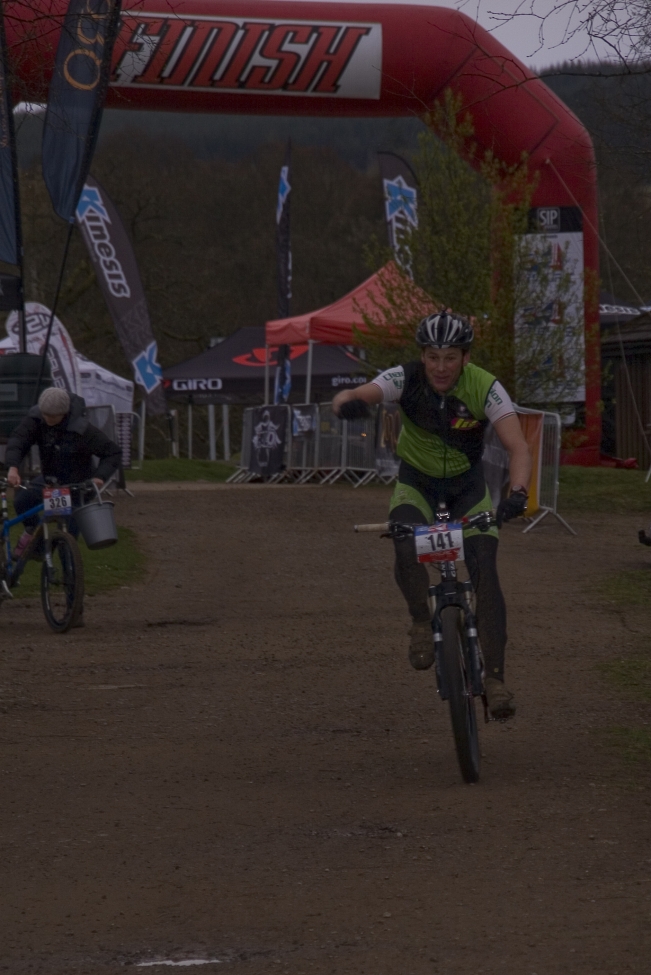 Old man looks for a tow photo by Sheldon Attwood
I settled into a fast but comfortable 7th position in a group with Matt Page, Dan Treby and Simon Smith, all 24 hour competitors in 2011 but for 2012 Simon and Matt were riding the 12 hour, and this placed me in third overall in the 24 as Josh Ibbett had gone out fast with Ant and Rich. It stayed like this for a couple of laps and then I was suddenly all on my own, the way it was to be for the next 22 or so hours. I was feeling comfortable and whilst the leaders were slowly pulling away I was holding a good position and was comfortably leading the Vets race. Having Rob in the pits meant I could change bikes every lap and I chose to take advantage of this. Other than having to adapt to my OCD over quick release skewers Rob did a fantastic job and my bikes felt like new every time. Mel later told me how meticulous he was in checking every bolt - I could have no excuses this year!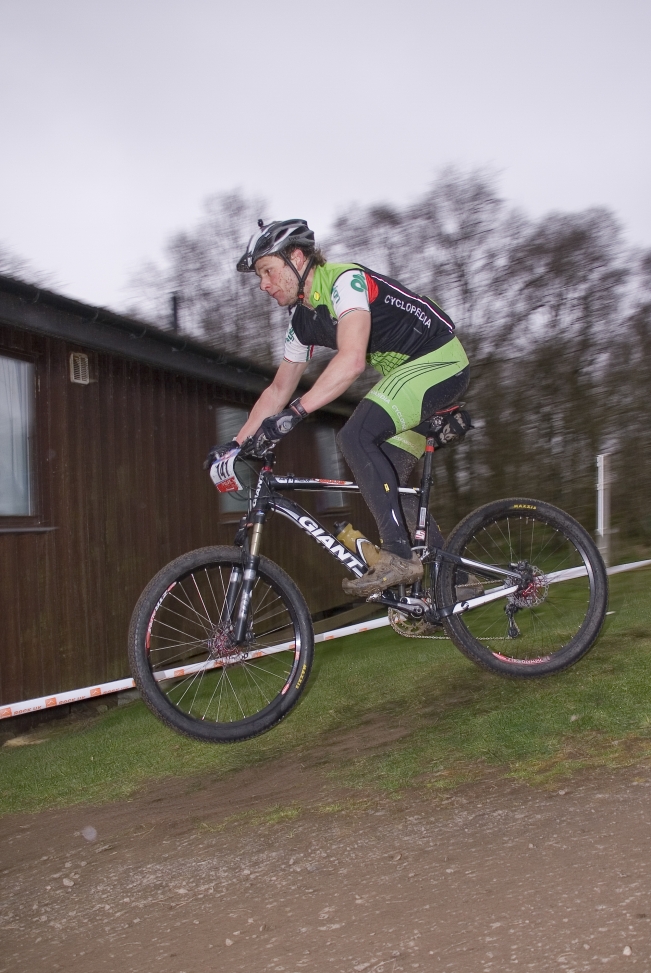 Old man got skills by Sheldon Attwood
Night time called for lights, some warmer clothing and slightly slower laps but I suddenly found myself passing some of the lead 24 hour riders. After catching Josh Ibbett I was not only the lead Vet but running second overall to Huw Thomas. I knew Huw had put in a lot of hours leading up to this race and would be riding strongly, so I was surprised to be told that with daylight I was catching him. At one point I closed the gap to only 3 minutes but with a couple of laps remaining Huw was able to stretch the lead once more and my lack of training time put paid to any hopes I'd had of taking the overall win. On my last lap I chatted with Sheldon Attwood, following his wife Mandi around her final lap in her first 24 hour solo - on a singlespeed! Crossing the finish line I was met by Mel and friends and once photos were taken it was off for a shower. The difference from last year was spectacular - in 2011 I was an exhausted wreck but this time "almost" felt normal. Better weather allowed for the podium celebrations outdoors which was less claustrophobic than last year and after a short nap it was off to the pub for a well-earned meal with Mel, Rob, Sheldon, Dan and company.
I did a few things differently this year that may have put me in better shape during and after the race. No 20 hour weeks on the bike, in fact I only went over 12 hours on 4 occasions in the preceding 3 months, but I did work on core and upper body strength in the gym. I also started doing Yoga and the strength and flexibility these gave me made me far more comfortable. For nutrition I used ZipVit and whilst I carried 2 of their delicious yoghurt coated apricot bars for 24 hours I only ate gels. These are very high in carbs and 2 per lap was slightly too much when combined with a bottle, so I took only one on a few laps. Staying well fuelled I think has led to me feeling better in the following week and last year's post-race weight loss has not ensued.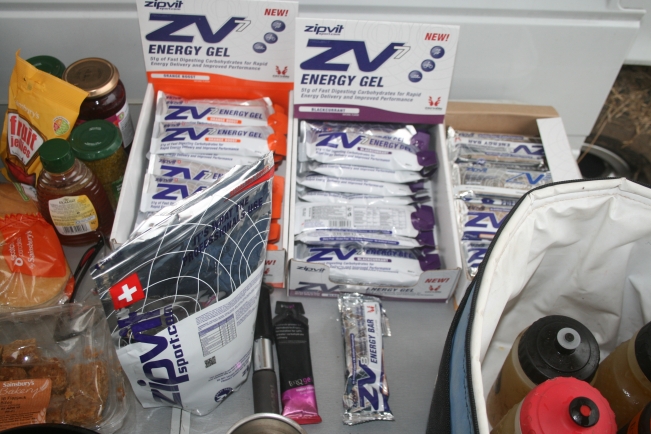 Zipvit fuel
Mel and Niall were brought back from last year and both performed flawlessly and the addition of Rob kept my Finely Tuned Rides running beautifully. These were the same bikes I'd used last year, basic 26" wheeled Giant Anthem X's, proving that it's not necessary to have a new bike each year if they're well maintained. I was again supported by my LBS Cyclopaedia in the run up to the race, furnishing me with new clothing and fresh drivetrain components - the JIF green kit proved useful for my pit team in spotting me approaching the pits though I might ask for a fluorescent version for the night laps next year!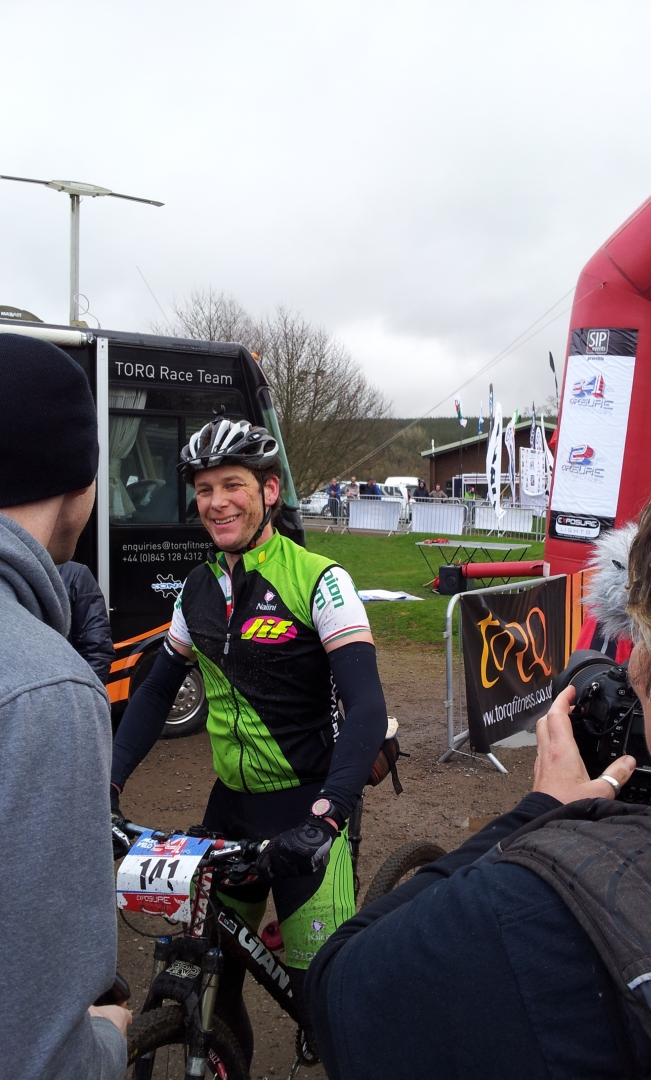 Finish line and feeling dandy for another one! (Bring on Mayhem..) photo by Niall Frost
I'm now looking ahead to my next 24 - this time at Mountain Mayhem where the days are long, the night short and the competition even more fierce. Let's see how far the bench press and downward facing dog can take me!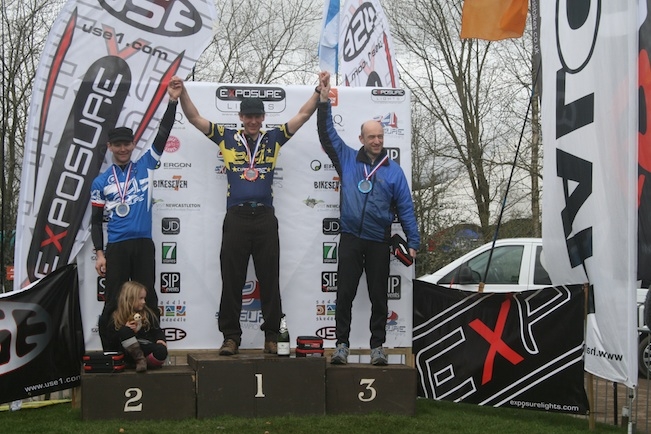 Podium photo by Mel Alexander
Links: