---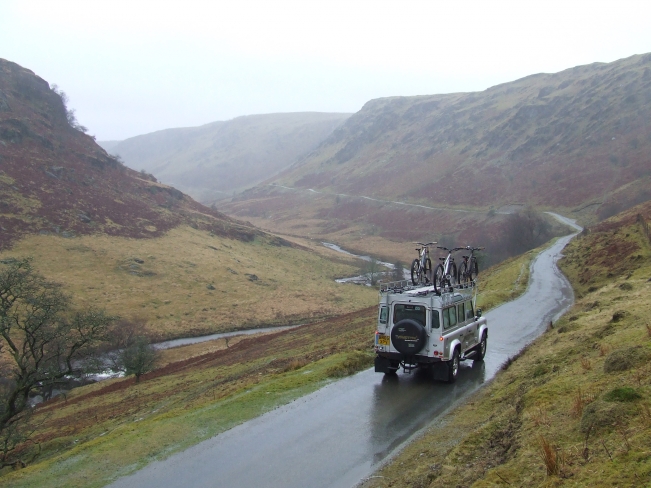 Fully Catered MTB holiday in Wales with MudTrek
Share on Facebook
Share on Twitter
---
Published: 14th February, 2013
When we were a freshly-married, fresh faced (honest) and fresh smelling (yes, really) couple, we ran a ski chalet at Alpe d'Huez. Badly. Or at least badly for our guests, but brilliantly for us. 'Less work, more ski' was our motto, and many a time we beat our guests out of the door in the morning, salopettes and stupid hats a-blur, then arrived back after them to prepare a meal slightly faster and shoddier than 'ping and ding'.
When Nikki and Jay told us that MudTrek was modelled on a ski chalet for mountain bikers, we couldn't help wonder if this was karma coming to bite us on the arse. More worrying still was my concern about whether I was the right person to review anything. We recently stayed in a bunkhouse run by an attentive, and slightly bonkers, mother hen. I just spent the whole time wishing she'd bugger off! But I was still excited about our stay at MudTrek. Nikki (MudTrek's award winning co-owner/chalet maid/chef/cleaner etc) told us that we would be riding with elite mtber Matt Page. What she actually meant was that Matt Page was having the honour of riding with us, but modesty prevented me pointing that out to her;) As it turned out, Matt pulled a sickie; the inevitable loss of face was too much for him.
We were heading to MudTrek after living in our van for 3 days, in winter, in Margham Park so we were always going to be easily pleased. Why is it that any mountain bike adventure these days seems to start by bouncing our lovely van down a pot-hole strewn forest road? MudTrek is situated at the bottom of just such a track, just behind the back of beyond. At night, in the dark, you have to wonder why anyone would choose to inhabit such a spot unless they are a survivalist nutter - destined to die in a hail of FBI bullets or just someone who is organised enough not to need to permanently be within walking distance of a Co-Op. Then the sun comes up (in Wales?), the view is revealed and the reason for choosing this location becomes clear.
But we arrived in the dark, and despite being knackered, looking like Stig of the Dump and smelling like a wet sheep, Jay (Nikki's other half) and Nikki took it in their stride, ushering us inside the Hay Barn and not even raising an eyebrow at our bin liners of dripping, muddy kit. Three hot showers and a complete bottle of bleach later and we were ready to be seduced by three courses of Nikki's home cooked goodies. The MudTrek accom is a meccano set of a set up. You can just go self-catered, free-styling it, bolt on some or all meals, cooked next door and whooshed to your table, and add in some MTB guiding from Jay. Food is great, really great. Simple stuff done really well, we can't fault it.
The digs are nice too. Good balance of homely and wipe-clean. I never really know what 'homely' means, but I imagine that the presence of knick-knacks, cushions and decorations fits the bill. I'm just glad it doesn't look like our home. But we are mountain bikers and would sleep in a barn if the riding was good. One thing was sure, as we were at the top of a massive hill, the only way was down and a circular route was always going to be an emotional return. So the day started in true Horton fashion with a run. Just splendid. Then Jay brought breakfast over to us, recovering in our onesies. Change of kit, triple-check of the weather forecast and onto the bikes.
This was Jay's territory and as he wheeled out his Bionicon monster full-susser, triple clamps, scaffolding tubing and flat pedals, we wondered if our carbon hardtail 29ers had bitten off more than they could chew. Jay has a deep pocket full of mountain bike routes from big Brechfa days to Snowdon adventures, mostly with Landrover taxi back up to MudTreks for the soft-Southern accountant types. Our remit was simple - treat the ride like a Special Forces mission; get in and get the job done before anyone knows you are there. No stopping, no loitering, minimal chatting just silent whimpering and heavy breathing. As it turned out, 29ers are the bike of choice, but bring some sturdy tyres for slate protection or risk the kind of over the bars action I excelled in. Jay was 'treated' to the most irritating aspect of a ride with Fully Sussed - watching them disappear up the hills as he coaxed his full bounce behemoth behind.
Jay, by his own admission, is not a racer. So step forward Matt Page. Matt has hooked up with MudTrek for the 2013 season to run some skills sessions, training camps and general leg-ripping days out to help mortals prepare for races that Matt wins on his day off. The MudTreks location lends itself perfectly to days of uninterrupted hard-core P.E. without the temptation to pop to the shops for emergency chocolate. The food is recovery central, the accommodation is perfect to recover in and all you have to do is train, relax, train, and relax.
You've got to admit it, xc racers are a strange bunch and, on reflection, we reckon that Jay was not quite prepared for the needs of Fully Sussed in full race season prep mode. But Matt Page will definitely be. Jay has got years of experience in guiding and they are excited about getting some fit, fast, committed MTBers up on Walton's mountain.
We liked it. For anything from a pre-season week smashing in 40 hours in the saddle to season sharpeners with Monsieur Page, we can see it. The accommodation is nice enough to take the missus to and at the same time basic enough to feel just the right side of hard-core. Can't believe I managed to write a whole Welsh review without saying the words 'welcome in the hillside'.
Oh well, next time, when we come home again to Wales.
Thanks to Nikki and Jay at MudTrek who kindly offered xcracer the opportunity to see what they have on offer. For further details, please visit
www.MudTrek.com