---
Endurancelife CTS South Devon Half Marathon
Share on Facebook
Share on Twitter
Published: 21st February, 2012
It's a little strange that my first race report, in fact my first blog post, as an XCracer team member is for an off road half marathon but bear with me and don't judge me, it's all ultimately in the interest of improving my fitness so I can go faster on a bike!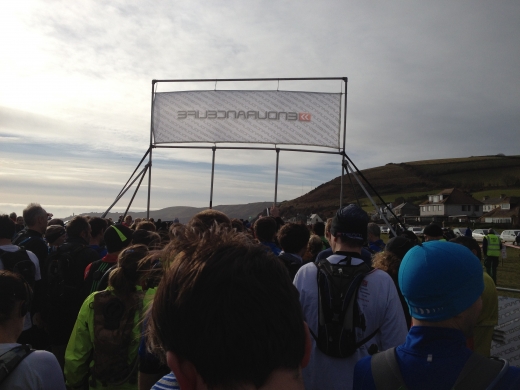 These races are popular - there were a lot of Americans and Australians
This was my second such event, the previous one being held on the Osmington to Lulworth Cove section of the South West Coast Path back in December of last year - that was my first ever half marathon and certainly was a tough one. Anyone who knows the Dorset coast will vouch for the fact that it is HILLY, with the 14.6 Miles (that's more than a half marathon?!?) of the race featuring 2260 ft of ascent! That race took me 2:26, which might seem like a hell of a long time for a half marathon but considering the average male time was 2:51 and the winner came in at 1:53, it wasn't too bad, for a first attempt.
Anyway, fast forward two and a half months and I found myself rising at 0600 to make the 2 ½ hour journey south west, to the delightfully named Beesands, for an 0830 registration and a 1030 race. Preparation for this race was not great, to say the least. A co worker and I had recently designated Tuesday and Thursday nights as 'Total MTB Destruction' ride nights and as such my legs were feeling heavy - so heavy in fact that I probably got about 3 hours sleep, with the heat they were generating and the throbbing sensation keeping me up into the small hours. As if that wasn't excuse enough, I've hardly done any running since Christmas, mainly due to January being a month of sickness for me, with a debilitating bout of flu (the real kind, not the man kind) being closely succeeded by two weeks of a chesty cough/red raw throat/headaches/general agony. I'm not one to complain though, of course, and so I go on.
And so to the race... after the usual faff of registration, during which I accidently pushed to the front of a queue of 30 people (sorry!), and the safety briefing, which I missed as I was stood shivering in the line for the toilet, I joined the big group of almost 400 half marathon runners and waited my turn to leave. The 'competitive' runners left first, en mass, probably about 40 of them, then it was time for the rest of us to filter out one by one, getting our timing bands tagged out as we went.
After a few hundred meters running along the seafront we headed up a short, sharp climb and joined the coast path proper. No sooner had we gone up, we came back down again and darted briefly across a pebble beach, then back into the singletrack. My tactic, as ever, was to try and pass everyone, whenever the opportunity presented itself and so I was pushing my pace as much as the large volume of people on the path allowed - i figured I'm only going to get slower, regardless of my starting pace, so best to make it quick. The path hugged the side of the hills and cliffs, meaning that for the most part we avoided going up and over. The terrain wasn't too challenging, a little rocky in places but as we we're travelling along the South West Coast Path, it was pretty well trodden. That said, a couple of guys did take a little tumble behind me into some of the thorny bushes which line the hillsides (they were fine). There was a pretty strong headwind, though it wasn't as traumatic as it would be on the bike, it was more invigorating than anything and was doing a fine job of keeping me from overheating, now that the sun had made an appearance.
I was feeling good, no sign of a stitch, so I chanced a gel and a few sips of electrolyte drink and pushed on. We got to, I believe, around the 6/7 mile mark at what felt like the highest point and the route turned inland. We began to head back towards Beesands through a maze of trails, country lanes and broad farm tracks. The headwind turned into a side wind, which again was pretty refreshing but soon the sky darkened and I felt the first few drops of falling rain on my face. I was starting to lag a little so sucked down a few Cliff Shot Bloks which unfortunately quite suddenly gave me stomach cramps - nothing too bad but enough to make me regret straying from gels and liquids and I slowed a touch.
The half marathon and 10k routes met and suddenly there were more people to try and pass and a few to chase, as their fresh legs carried them away from me. I became temporarily obsessed with chasing one person in particular but he got away from me on a steep downhill section, which he absolutely flew down - I never did catch up with him.
The rain was coming down cold and hard by this point but when I asked someone if they had any idea of the distance left and they told me two miles, I stepped up the pace and started thinking about my warm car and a nice cool chocolate milk. We rejoined the coast path for the final mile or so and soon enough the little village at Beesands swung into view. I practically sprinted from this point, down a slippery descent, across the seafront and into the finish area, where i again swiped my timing band and proceeded to wonder around in a daze for a few minutes. A quick change into a dry top and I got myself together and was on my way, tired but happy, the kind of happiness you can only really get from running by the sea.
RESULT: With these races, you get an idea of where you came in the format of a little printout from your timing band but obviously since everyone goes out at a different time, final places aren't known until every runner has come back in. In the end I came 73rd out of 396 finishers, which I was moderately pleased with, especially considering I beat a lot of the 'competitive' group - I'll definitely start the next race with that lot. Sadly my long hair didn't allow me to pass myself off as a girl... if it had, I'd have only just missed the podium, as only 3 of the female runners finished ahead of me.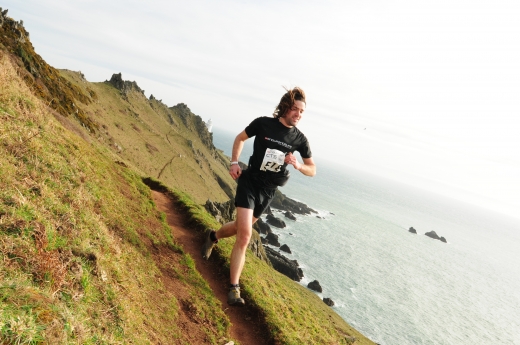 Check out those chins!


I made a little video as I ran and edited it, poorly, into a couple of minutes of shakey madness. Check it out
HERE
if you'd like.
Next race, Round 1 of the Fully Sussed South West MTB Series at Woodbury Common on March 4th, see you there!!
Oliver Herdsman
XCracer
Accelerade
Exposure Lights
MT Zoom
Blogger Info:
--- Read More By Oliver
---
Disclaimer:
This blog post was written by a third party and their views do not necessarily reflect the views of XCRacer.com