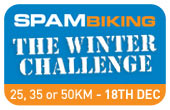 The SPAM Winter Challenge
18th December 2011
The route is suitable for riders of all abilities including children who can undertake either the 25km or 35km routes, providing they are with an accompanying adult. There is also a family entry (2 adults, 4 kids) available for the 25km route for just £30.

In addition to the riding there will be good quality catering available at the base and plenty or parking and toilets.


Make sure you choose the correct race - scroll down the page for the 35K and 50K races
Location:
Erlestoke, HMS Arthur, Off B3098, opposite Erlestoke Prison, Erlestoke, Wiltshire, SN10 5TT |
View Erlestoke on a map >>
Official Event Website:
www.spamwinterchallenge.co.uk
The SPAM Winter Challenge 2011 - 25K
Start Date/Time 18-12-2011 10:15:00
Finish Date/Time 18-12-2011 16:00:00


Pre Entry Closing Date 14-12-2011 23:59:00
Categories:
Male Open - 16+ £18.00
Female Open - 16+ £18.00
Under 16 Male £10.00
Under 16 Female £10.00
Family £30.00
Club Member Male £10.00
Club Member Female £10.00
The standard adult price is £18 per rider in advance or £20 on the day.

Under 16's accompanied by adult £10 in advance and on the day (35km or 25km only).

Family £30 in advance and on the day, (up to 2 adults and up to 4 under 16's), 25km only.


NOTE: when filling in the rider names, put N/A in any spare rider name fields.
Club members £10 for any category in advance and on the day (must produce membership number)
The SPAM Winter Challenge 2011 - 35K
Start Date/Time 18-12-2011 10:15:00
Finish Date/Time 18-12-2011 16:00:00


Pre Entry Closing Date 14-12-2011 23:59:00
Categories:
Male Open - 16+ £18.00
Female Open - 16+ £18.00
Under 16 Male £10.00
Under 16 Female £10.00
Club Member Male £10.00
Club Member Female £10.00
The standard adult price is £18 per rider in advance or £20 on the day. 



Under 16's accompanied by adult £10 in advance and on the day (35km or 25km only).





Club members £10 for any category in advance and on the day (must produce membership number)
The SPAM Winter Challenge 2011 - 50K
Start Date/Time 18-12-2011 10:00:00
Finish Date/Time 18-12-2011 16:00:00


Pre Entry Closing Date 14-12-2011 23:59:00
Categories:
Male Open - 16+ £18.00
Female Open - 16+ £18.00
Club Member Male £10.00
Club Member Female £10.00
The standard adult price is £18 per rider in advance or £20 on the day. 



Club members £10 for any category in advance and on the day (must produce membership number)
EVENT ORGANISER:

SPAM Biking
www.spambiking.co.uk/