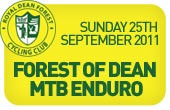 Forest Of Dean Enduro 2012
23rd September 2012
The course
will be designed and prepared by "Dr J" and fellow Royal Dean Forest Cycling Club members.
See the route here
The
Race Director
is Brian Griffin.
The Marshals and Officials
will be members of the Severn Dean and Forest of Dean Lions Clubs and Friends of the Lions.
Radio comms
and route markers will be provided by the Forest of Dean Motor Club.
Timing
will be provided by Black Sheep Sport.
The trails
are used by permission of the Forestry Commission.
First Aid
will be provided by St Johns.
Facilities
for signing-on, results etc. will be provided by Pedalabikeaway.
Marker posts
were provided by Forest Products.
Location
The Forest of Dean is in Gloucestershire, near Bristol and Gloucester and Chepstow in Wales. It is easily reached by road from the M48, M4, M5 and M50 motorways.
Location:
Forest of Dean, Cannop Valley, Nr Coleford, Forest of Dean, Gloucester, GL16 7EH |
View Forest of Dean on a map >>
Official Event Website:
www.fodmbe.org.uk/dean_enduro_mtb.php
EVENT ORGANISER: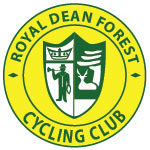 RDFCC
www.rdfcc.org.uk
Related Articles: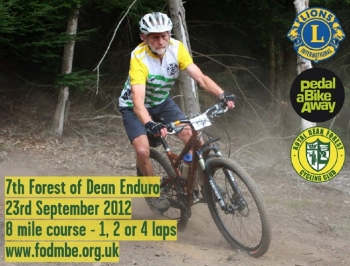 Forest of Dean Enduro Preview
10th September, 2012
September 23rd 2012 will see the 7th Forest of Dean Enduro at Pedalabikeaway, Cannop Valley, Forest of Dean, Gloucestershire GL16 7EH. Hosted by The Lions Club with the Royal Dean Forest Cycling Club.Over an 8 mile course with classes for 1, 2 or 4 laps for individuals or teams of 4. Team riders wil...
Other Upcoming Events: