cSixx XC Single Ring Carbon Chain Guide - For an ultralight light single ring setup - seat tube mount

The cSixx XC Guide is constructed from high tensile carbon fiber to provides a super stiff cage to secure your chain, without adding excessive weight.
They are tough layered up carbon, rather than injection moulded poly so the guides are have a really thin profile - so no rub/friction.
(We also have the direct mount version (48g) - see separate listing)
Fits: 32t - 42t Chain rings
Features:
- Full Carbon Fiber construction.
- Custom anodised Aluminium fasteners.
- Unique one bolt adjustment.
- Available in seat tube mount, fits most seat tube diameters. (From 28mm to 40mm)
- 68g
- We just have with the Black bolt.

Used for Enduro, All-Mountain and Cross Country racing. Single ring only.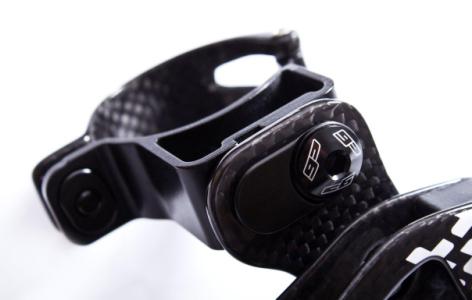 Comes with a stack of semi-circular plastic flanged and recessed shims (8) for the seat tube fit which can be used doubled up etc for a wide range of fits. It also comes with 6 different alignment blocks to tune the alignment. This fits between the guide and the clamp.