---
12:12 Gorrick Torq in Your sleep Race Report
Share on Facebook
Share on Twitter
Published: 2nd September, 2013
Sunday 25th August 2013
Like most 17 year olds, on my birthday I ended up in a heap on the floor with a towel wrapped around me, feeling rather sick and exhausted. But not for the common reason of too much alcohol. Instead it was too much energy drink and gels needed to get me through the 12hours mixed paired enduro. This was my first ever enduro and when my coach Maddie Horton asked me half way through the night whether it was as hard as I expected, I said harder. Every single muscle was cramping and I was having to do as much stretching as possible in-between the laps so that I could stand up without seizing up. Despite all of this, in my mixed pair with Jay Horton as Team Fully Sussed, we managed to come home with a second place trophy and the biggest box of Torq goodies that will help power me through many more events like this.
The race was very different to my usual XC racing, as the start is a mayhem mass. Everyone sticks their elbows out and fights to gain places before going into the single-track of the woodland. I saw my team mate Finely Clay cycling for our other Fully Sussed mixed pair fly off the start bashing his way ahead of the flock. The winners of our category Saddle Skedaddle also flew off and grabbed first place right from the first lap and held it consistently for all 12 hours which was really impressive. Whilst we started in 7th with no big expectation to get on the podium, making it all the more surprising when we climbed into second later on in the race. However, it was a really close battle with Fie & Russ RAF CA and our other Fully Sussed team who came fourth just missing out on the podium.
The course was not overly-technical but had some fun bomb-holes that I looked forward to on each lap. Plus, hills that I would count down each lap and be relieved on the last steep one. It was quite fast flowing, covering 8 miles a lap. So in total I did 64 miles... which is a lot for me seeing as on an average day ride I do only 20. But this long lap was not without motivation, as half way round there was a super cool DJ and lots of lights that made it really surreal when passing through the middle of course set in a figure of eight.
I think anyone who does a 12 hour solo is barking mad, I found it funny how the solo riders started off by cheering you on if you went past them and were really motivating, but in the end they were in their own little world and I don't blame them! Crazy people ha-ha. Tim Dunford and Amanda Brooks won the solo and it is amazing to see them continuously get such quick times. I think it's inspiring to see them tackle the challenge and exhaustion of it all. Well done guys!
So, the racing got a 11/10, but the event was so well organised by Gorrick that it was not just the racing that was good, they had thought of everything, like nice food and warm showers which I bet everyone needed afterwards!
This was definitely a birthday I shall not forget, it was such a good weekend.
Thank you to Gorrick for organising it and Torq for the awesome prizes. But also, my coaches Maddie and Jay for taking me up their to be able to do it, and showing me how it's done!
(Thanks for the training bible they gave me as a present. Also thanks to Rob and Jane Smith for my lovely bike birthday card and Fin for the "I love bikes" slate. Finally, thank you to everyone for singing happy birthday to me when I was on the podium, you made me go bright red ha-ha.)
---
More on the Gorrick Torq in your Sleep:
Event Calendar Listing
Blogger Info:
---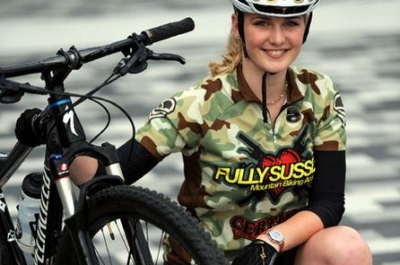 Read More By Lucy
---
Disclaimer:
This blog post was written by a third party and their views do not necessarily reflect the views of XCRacer.com