Mt ZOOM 14 & 12 TOOTH PREMIUM CERAMIC BEARING JOCKEY WHEELS / PULLEYS FOR SRAM EAGLE 12 SPEED DERAILLEURS / MECHS
Designed for smoothness, speed, performance & durability - way better than the original Sram ones.
Sold as a pair. Ceramic bearings. Directional narrow wide profile. 14t has lower chain retaining flange/lip.
Compatible with Sram 12 speed Eagle systems e.g SRAM Eagle XX1/XO1 Eagle, SRAM XX1/XO1 Eagle AXS, SRAM GX Eagle. SRAM Eagle AXS, SRAM Eagle GX AXS, AXS, NX Eagle, SX Eagle, SRAM GX 2x11 Type 2.1.
Specifications / Features
Hybrid ceramic bearings for smoothness & longevity.
High grade 7075 T651 aluminium alloy.
The lower 14t pulley has the flange which prevents the chain jamming with the derailleur.
Thick / thin, narrow / wide tooth profile for better chain retention & shifting
We supply both 4mm and a 5mm hole bearing shield to work with different Sram derailleurs.
Note the pulley teeth profile is directional for performance & smoothness both on the 12t and 14t. The teeth sloping with the shallower angle should be set up to point in the forward direction of the chain. We have a photo of the forward directional arrows on this listing for reference and the arrows are printed on the 14t: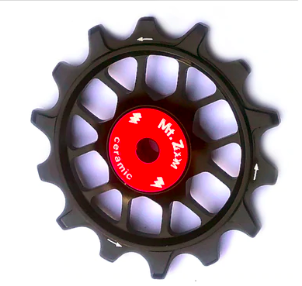 Tips
Bearings can be serviced/cleaned to prolong life & performance. 1. Remove the bearing shields & rubber covers with a pin. 2. Blast with WD40 etc. to clean. 3. Relube / Regrease. 4. Press bearing covers back in fully.
We also have Shimano 12 speed and Sram 11 speed in the range.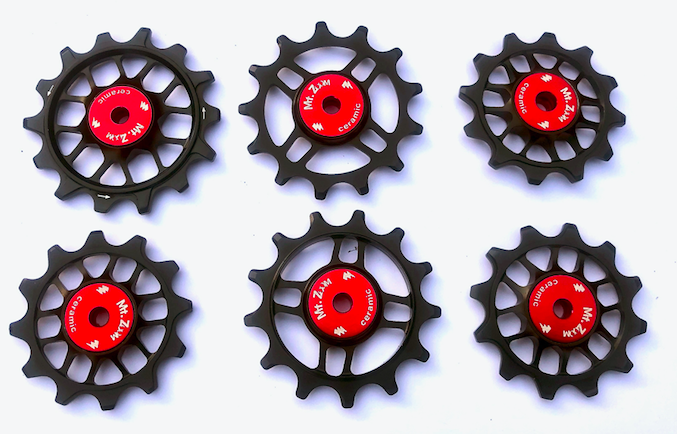 Mt Zoom (Mount Zoom) is a brand which is focused on products that will help you zoom up & down hills, fast!
For more product information, racing and other good stuff check out the
MTZOOM website.