---
2011 Season Summary
Share on Facebook
Share on Twitter
Published: 13th October, 2011
Eight race victories in 8 different countries, seven 2nd place finishes, and number one in the UCI World Ranking. If someone would have told me that this is what I would achieve during my first year as a pro-rider, then it would have made the decision of whether or not to leave my academic career so much easier! It's been a hard year, but I wouldn't change it - it's been the best thing that I've ever done :D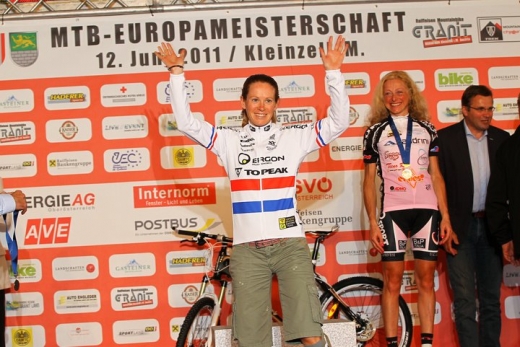 Silver at the European Championships
At the beginning of the season I set myself the following goals: a podium in the European Marathon Championships and a top 5 in the World Marathon Championships. I finished 2nd at the Euros and - despite two punctures - 6th at the Worlds. Add all of the other victories, including winning the ABSA Cape Epic, and my decision to turn pro has been vindicated. My successes have also led to something else: another year of full-time riding :D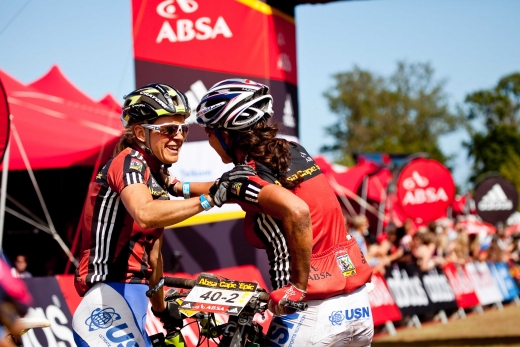 A perfect race and a great team mate: The Cape Epic with Karien van Jaarsveld
When I posted my last blog on XC racer I was just coming back from a bit of a low point - low in terms of energy and motivation - the result of a long and tiring season. The UCI Marathon Series became my focus. I'd won the first two rounds (Kitzalp, Austria, and Grand Raid, Switzerland) and I was targeting the remaining races: Adamello Bike Marathon, Italy; Extreme-sur-Loue, France; Roc D'Azur, France.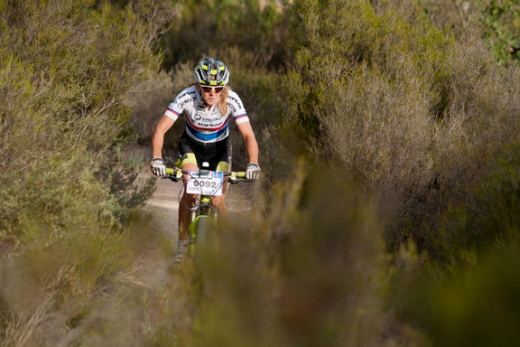 Season Finale: Roc D'Azur
The last three races were not easy for me - or for my Team supporters! At Adamello we all had to contend with torrential rain and thunder storms throughout the race. I was literally blue at the finish line! The Extreme-sur-Loue went something like this: leading at 15km, puncture, chase Esther Suss (2010 World Marathon Champion), puncture, chase, puncture, and chase! I finished 1 minute 32 seconds behind and since then I've been practicing fitting inner-tubes at high speed daily. The drama continued at Roc D'Azur when I crashed during the first hour, leading to a broken bike frame and stitches in my arm directly after the finish. Despite the excitement of the last races, I secured my overall lead in the UCI World Marathon Series, taking four wins and one second place (full race reports can be found on my blog). I'm pretty happy with that :)
My winter training will start on 1st of November. In the meantime I'm taking a break from structured training and healthy eating; I seem to have turned into a lazy chocolate eating and wine drinking monster already! A few weeks ago I was desperate for a break - five days post race season and I'm already looking forward to starting up again. I plan on some warm weather training in December, January and February and I'll be blogging about my training miles and where they take me. Until then I wish you all a good rest and recovery - or, if you're still racing, then happy training and good luck!
My success this year would have been impossible without the help from my amazing sponsors. I am so lucky to be part of Topeak-Ergon Racing Team and to benefit from our top of the range material sponsors. I'm also sincerely grateful to all of my personal sponsors: XCracer.com, Compressport, Torq Nutrition, Fine-ADC, Elete Water, Purple Extreme, and RideBike. I feel like I've won the cycling lottery ;) Thank you all so very much :D
Blogger Info:
---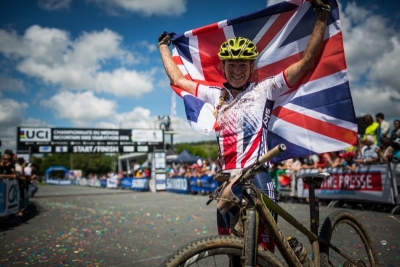 Topeak Ergon Racing Team Rider. European Champion (2016) and 2 x Silver World Championship medals (2016, 2013).
http://topeak-ergon.blogspot.com/
Read More By Sally
---
Disclaimer:
This blog post was written by a third party and their views do not necessarily reflect the views of XCRacer.com