---
24 Hours of Exposure 2012 fast approaching!
Share on Facebook
Share on Twitter
---
Published: 22nd February, 2012
24 Hours of Exposure - April 7th Newcastleton
It doesn't seem like a year since the last
National and European 24 champs
, which is because it is actually only 11 months. Meaning come April competitors will have to deal with that little bit more darkness, more chance of rain and possibly a wee bit colder. The announcement of the
World 24 championships
in Finale Ligure in May prompting a necessary calendar shift to earlier in the season.
As in 2011 Xcracer.com will be attending the event and providing live
twitter
coverage so get involved with the updates.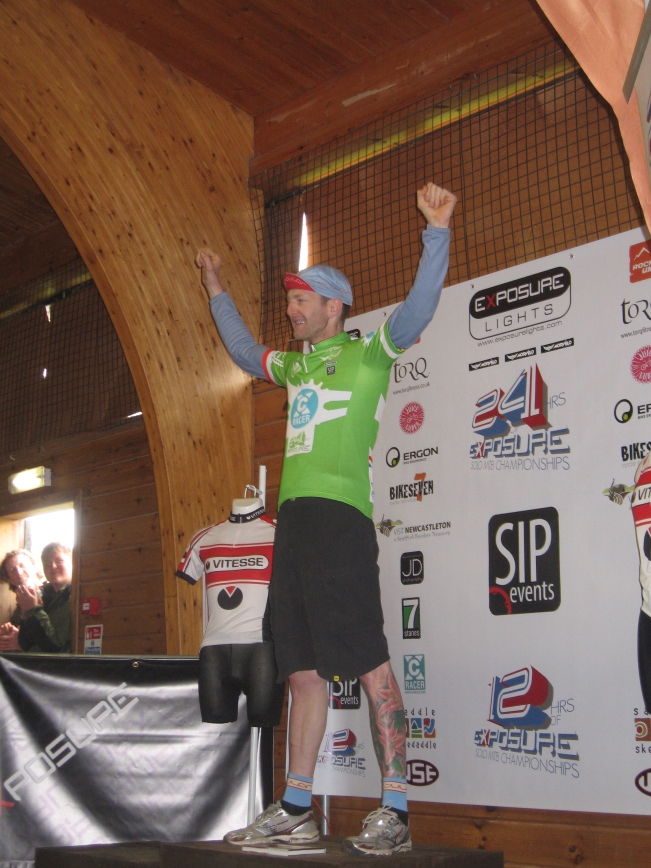 2011 singlespeed winner Dan Treby takes his podium
Other rider news is that defending UK and European 24 champion, Matt Page will not be defending his hard fought title of 2011. His battle with Ant White was fascinating to watch and it will be interesting to see who emerges to take the title. A run down the 24
entry list
throws up a few names currently entered who will be eyeing up the overall but one of the more exciting entries is in the 12 hour race where Maddie Horton of Team Certini/McCaulays is looking to bring her XC race speed to the endurance world. The added competition being from husband and defending 12hr vet champion Jay?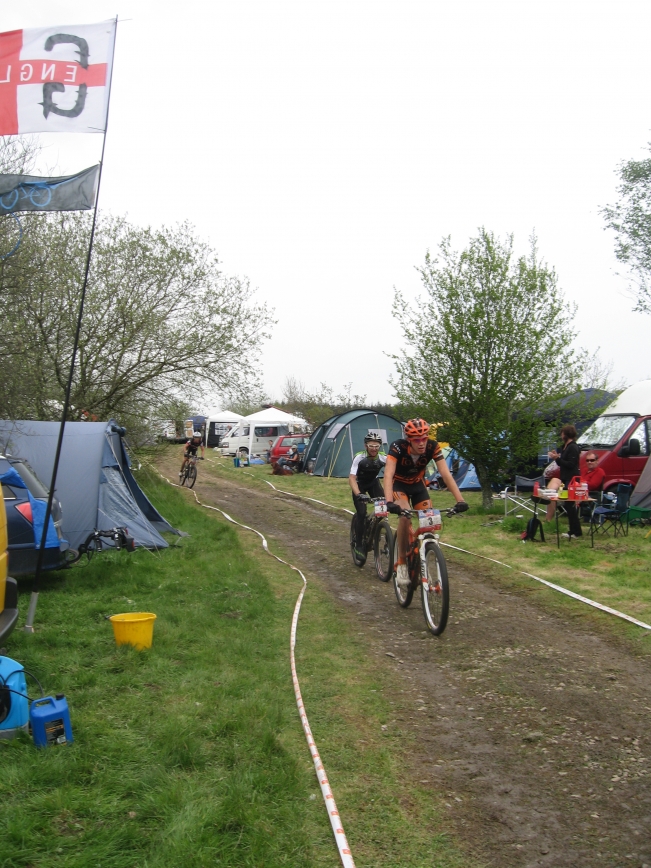 Ant White and Josh Ibbet take an early lead in 2011. Two riders who have yet to re-enter for 2012
With the event only six/seven weeks away, the majority of the stamina training is in the bank for the riders, so we caught up with reigning veteran European and National 24 Champion, Mark Spratt. Mark raced to victory in his first ever 24hr race and crossed the line 3rd overall so is well placed to offer advice on your approach:
1. Don't stop.
You're supposed to ride for 24 hours, not simply finish 24 hours after you start. I had supported my wife Mel at two 24 hour races and the first time witnessed the effect of her stopping and sitting down for a short while. The second time I supported her I wouldn't let her stop and she did much better (2nd at Mayhem, only beaten by
Sally Bigham
). So I went into the race determined not to sit down on anything other than my saddle. Since Mel was supporting me I didn't have much choice in the matter - it was payback time!
2. Use 2 bikes.
If you're racing in the UK it's going to be wet. Would you go on twelve two hour rides in the wet without cleaning your bike thoroughly? Thought not. So your bike is going to need a good clean several times throughout the race. Doing it yourself contravenes tip 1, so you're going to need a second bike whilst the first is being cleaned. I was fortunate enough to have 2 bikes set up the same and would recommend doing so but the main advantage here comes from simply having a second bike.
3. Get supported.
It's possible to do a 24 hour race unsupported, plenty do and some do it well, but the bar is constantly being raised and some riders will have pro mechanics pitting for them. In 2011, I was supported by wife Mel and friends Niall and George. Mel stayed awake the full 24 hours whilst Niall and George covered the duration in shifts. Having them available helped with nutrition but more importantly meant efficiency in bike changeovers and mechanic duties
4. Eat and drink.
This is key. It goes without saying that you're going to burn a lot of calories. It's unlikely you'll be able to match your calorie burn with intake but you need to at least minimise the shortfall. Since you're not going to stop you need to eat as much as possible on the move. For me this meant a bottle of energy drink per lap and firstly bars and then gels. I did eat some "proper" food but very little, despite spending a fortune in Asda beforehand! For me one bottle and 2 gels per lap met most of my needs although variety in this regard was very welcome.
5. Look after your support team.
You're sorted. You have the bikes, the food and the strategy, but your supporters won't get much sleep, it will probably rain and if you don't stop they won't be able to either. It's your responsibility to make sure they have suitable shelter, food and whatever else they may need. Remember that if they're in good spirits your race will go better.
6. Know your kit.
During a 24 is not the time to be testing new kit. Comfort is important so get your bike set-up dialled and pay attention to your contact points. In addition to great support from my local shop
Cyclopaedia
, who made sure my bikes were in great shape for the race, I was fortunate enough to receive sponsorship from
OneIndustries
, meaning I had 661 and Sunline taking care of my hands and Maxxis tyres providing my wheels with grip. All of these had been used extensively prior to the race and if they'd not worked for me I wouldn't have used them.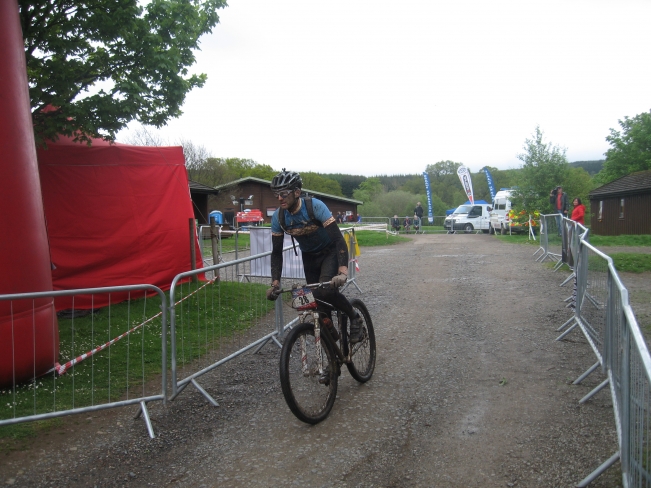 Dan Treby knew his singlespeed, how will he fare with gears?
7. Enjoy it.
Remember, you love riding your bike. If you didn't why would you do such an event? So if things aren't going quite to plan, remind yourself that you're doing what you love.
8. It's only 24 hours.
However daunting riding for 24 hours may seem, in less than a day it'll all be over and you can relax, looking back on what you've achieved with a sense of pride. Time flies as the saying goes.
9. Prepare your body.
At the end of 24 hours my legs would keep turning but supporting my weight with my arms proved incredibly difficult. Shifting gear was problematic and removing a hand from the bars to take a bottle was a 50:50 call. My lower back was sore and in my final lap forced me off the bike 3 times. I hadn't expected this, so this year I've spent more time in the gym over the winter working on core strength and striving to bench-press a respectable weight. I'll let you know whether it helps, but I'd recommend you don't neglect your core strength.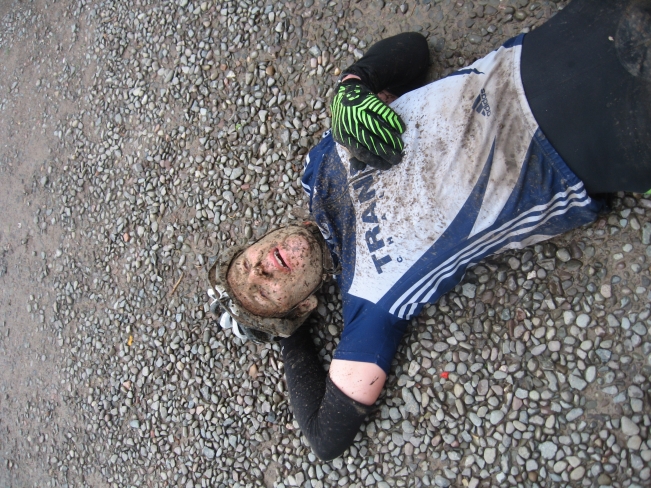 Mark Spratt takes enjoyment in the finish
10. If something seems wrong, fix it.
On my penultimate lap I hit a fallen branch which flipped up into my rear wheel. I heard a sound similar to a breaking spoke but looking down the wheel still ran true so I carried on. At the end of the lap I intended to stay on the same bike but fortunately my friend Sheldon noticed a stick in my wheel, so I swapped to my second bike. After the event was over I discovered the trapped stick was rubbing the brake caliper on every rotation and the caliper had material shaved away from the thousand or so revolutions I'd forced the wheel through. I failed to complete my final lap within the 24 hours - by thirty seconds. Had I removed the stick when it first got trapped I'm sure I would have completed that last lap and expended far less energy in doing so.
Thanks Mark, and good luck to all those competing on 7th April.
Links:
Twitter:
Helmet cam footage of Mark Spratt from the 2011 event:
---
More on the 24 & 12 Hours of Exposure - European and UK Solo MTB Champs:
Event Calendar Listing