---
4 races to keep the motor running.
Share on Facebook
Share on Twitter
Published: 24th January, 2011
12 hours of Temecula (California): Nov 2010
The ever growing 12 hours of Temecula is one of my favourite races. The course is rewarding, the hard bits are followed by serious swoopy fun. The weather always seems to be always clement and the vibe positive. I was back over in the US and thought it would be rude not to get some Californian "base" miles in at Temecula.
My race plan was to go off reasonably steady and push hard towards the end … hopefully when others were weakening. This was actually the only way I could play it as a 4 hour training ride earlier in the week went a bit wrong and turned into an 8 hour out and back as I missed my lift home … so my legs lacked a little zip.
There was a $400 dollar "prize fighting" purse up for anyone who could win solo at Temecula and beat Tinker Juarez. This certainly looked a tall order to achieve as Tinker seems to glide up the infamous "damn hill" at the start and opened up a big gap on the entire field. I had to dig in limit my losses.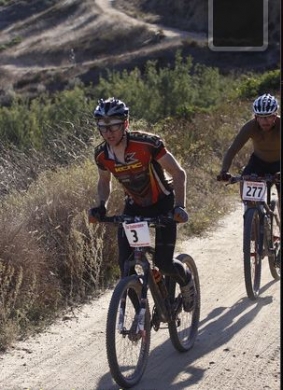 photo courtesy of www.peteholmesphotography.com

The course actually was a little less gruelling than some of the previous Temecula races, only the really long initial climb was painful. Some "grindy techy" sections were side-stepped. For me that was probably a good thing as I started to suffer in the heat. For the middle third of the race I tried to keep hydrated but lacked leg power. This changed when the sun went down at about 4pm. I felt refreshed. At this time I was told I was in 3rd. This was half an hour down on Tinker and 15 minutes down on second. I did feel strong at this stage and pushed on quite hard, really enjoying the descents and attacking the climbs in much bigger gears than earlier in the day. Somewhere, somehow I managed to overtake 2nd … I didn't actually realise this until the prize ceremony though.
Forever the bridesmaid, I just snatched 2nd (3 times now!) from Doug Andrews by a minute in 11 hours 6 minutes. Tinker showed his class by getting another lap in before the 12 hour cut off.
12 hours of Bootleg Canyon (Nevada) Dec 2010
Back in Vegas there was a local 12 hour race around Bootleg Canyon. It was on the lower smoother sections, rather than the more abrasive "bike eating" upper volcanic rock sections. Another opportunity for some base miles in fun conditions. With the backdrop of Lake Mead and blue skies, the main climb didn't feel bad at least for the first half of the race.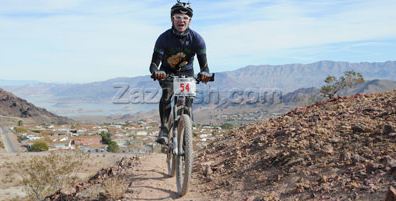 (photo courtesy of www.zazoosh.com)
The local fast guy, Mike Hileman, was on a single speed so after a couple of laps he started to drift back leaving me to push on trying to avoid over cooking the turns. Apart from one handlebar twisting crash it was all good fun. 10 hours in I decided I had done enough to win. I called it a day, headed down the brewery pub for prize giving. I got a large growler (of beer) for my efforts. Nice.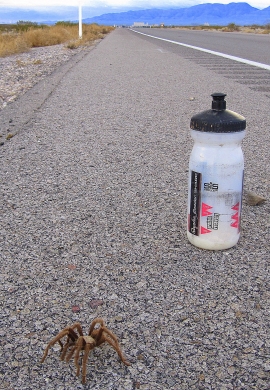 Nevada desert wildlife in need of protein infusion
Gorrick Merida Brass Monkey 4 hour: Round 2 Ash Ranges End Dec (Surrey).
Back to reality, wet cold mud. Yay.
Gorrick Round 2 had a palatable overall temperature although it was rather wet. I got off to a good start, although a minor technical hiccup saw me undo the good work half way around lap one. I pushed hard for the first half of the race regaining a good position in 3rd with Phil Lenney in my sights. Local Elite rider, Ben Thomas, was long gone off the front in 1st.
When the 2 hour racers hit the course it seriously started to get cut up and sloppier. This was abrasive on the pads, particularly Phils … he must have had to stop to change them and then his chain snapped, leaving me clear in 2nd.
As the time drew to a close and the 2 hour racers out of the way I enjoyed the course which was challenging. Top marks to the course designers. On my 29er I was always looking for aggressive lines. I came through with 3 mins or so to spare before the 4 hour cut off and decided to not chase down Ben … I didn't really want overhaul & embarrass him on his own turf :). Stuart Harvey made up the top three.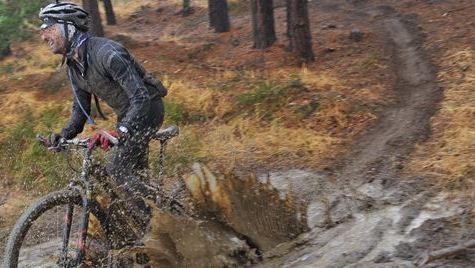 (photo courtesy of www.joolzdymond.com)
Found some mud from this one behind my ears recently.
Salisbury Plain Winter Challenge 50km 3rd Jan (Wiltshire)
I shouldn't really like the Salisbury Plain Winter Challenge, but I do. It's kind of a cross race where it's beneficial to be in a small group. Just for fun I always have a tinker with the bike over the New Year for this one. This year I had a 29er, rigid forks, flat bars and cyclo cross tyres … oh and a 48T big ring … almost perfect. A nobblier back tyre would have been fully optimum, as the forecasted frost and hard surface didn't materialise and I struggled to grip on the grassier sections.
The start is always a bit of a "pipe opener" after the festive fun … a 2 level split climb up onto Salisbury plain. The pipes opened, I dug in and just about held onto the lead group being pushed on by Scott Forbes , Phil Gale & Jonny Pugh. Most people in the group were on cross bikes. I dropped off, then regained a place and was joined by Roy Chamberlain. I really was obliged to do most of the work as Roy was on a mountain bike which wasn't ideal for most sections (there's a lot of road). Jonny Pugh had a puncture at about half way. For much of the race then we were in 4th & 5th. We could just see a couple of riders ahead and the group of riders of riders behind could see us.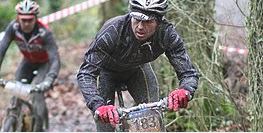 (photo courtesy of www.DaveHayward.com)
It all got a bit interesting at the end. The final climb saw Ben Sumner weaken ahead and Jeremy Addis bridge the gap from behind. The all too short fun section through the woods spat us out into a boggy field where we slogged over to the finish. With these two tantalisingly close ahead I sank into the mud a bit too much on the skinny tyres and Roy got past. This is what racing is about. I came 6th … happy with the time, despite the mud, 1hr 55min. Note to self, must learn to sprint.
Top marks to Scott Forbes who powered to 1st home in a very quick 1hr.50, especially on a mountain bike.
Gorrick Merida Brass Monkey 4 hour: Round 3 23rd Jan
Drove a bit down the A1 towards the race then turned around, lame and now annoyed at myself.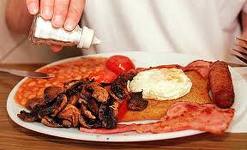 (bacon buttie courtesy of Little Chef)
Must elevate motivation! Must elevate motivation! Must not let the "bacon buttie" dark angel win.
Footnote: Top marks to Ben Thomas winning Brass Monkey round 3, (in the 4 hr) & bringing home the overall series win, after a massive Gran Canary training week and getting out of bed for the race 7 hours after flying back in. A gold star to Stuart Harvey for doing the same & getting 2nd in this race & overall.

Blogger Info:
---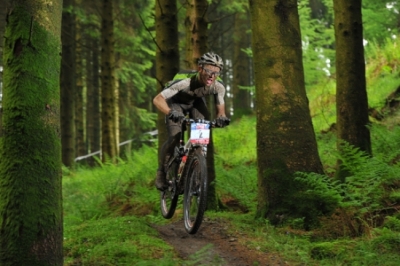 24 solo racer, world traveller and now the man behind the xcracer shop
Read More By Anthony
---
Disclaimer:
This blog post was written by a third party and their views do not necessarily reflect the views of XCRacer.com