---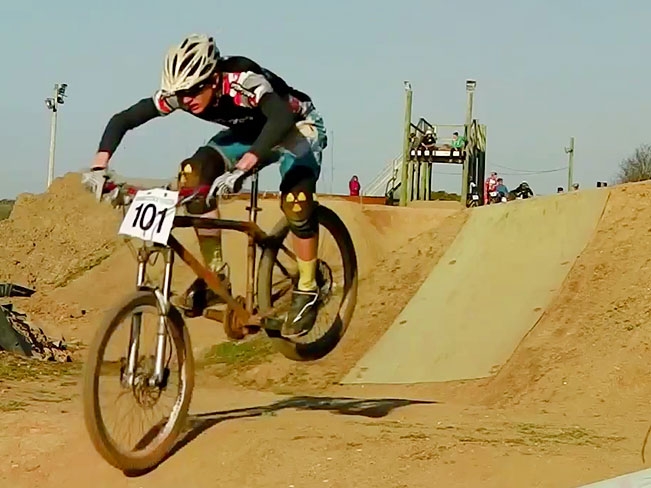 Juice Lubes South West Series Hotlaps At The Track, Portreath - Video
Share on Facebook
Share on Twitter
---
Published: 12th April, 2013
The Juice Lubes South West Series has a great warm up event called Hotlaps. Each course will be designed to require a variety of skills; climbing, cornering, berms, singletrack etc. Courses will be a couple of minutes long and riders will be free to join and leave as they wish within a 90 minute period. The aim will be to post the fastest single lap you can.
The courses will be suitable for all level of rider with multiple lines around any tricky sections. The events will be relaxed and sociable, with a hint of competition in the background.
Series points will be allocated by each rider's fastest lap.
Saturday Hotlaps timetable
1730 Registration opens
1830 Course opens for 90 minutes
The video edit below was put together by Mark Minton and was filmed at
The Track
in Portreath during the saturday warm up to Round 1 of the South West Series (which was over at Wheal Maid Valley -
See a photo report
).
There are 2 rounds left of the Juice Lubes South West Series each with a Hotlaps event on the saturday prior:
Round 2 - 11th-12th May 2013:
Newnham Park, Plymouth
Weekend Schedule:
Friday 10th May
6pm, Camping field opens (free to competitors).
Saturday 11th May:
10am-4pm, Juice Lubes Jam (JLJ) 6 and 3 hour enduro.
6.30pm, Newnham Hotlaps (£8, or free if you enter the Juice Lubes Jam and the South West XC)
6pm, Beer tent opens
Sunday 12th May:
South West XC
Nearest postcode: PL7 5BN
Camping facilities: Toilets + drinking water
Round 3 - 15th-16th June 2013:
Woodbury Common, nr Exeter
Saturday 15th June:
6.30pm-8pm, Hotlaps at Castle Brake Campsite (£8 entry on the day)
Campsite facilities: Toilets, water, showers, bar, restaurant, electric hook up.
The campsite have kindly offered a special rate of £12 per pitch regardless of
the type of pitch - just quote 'Fully Sussed' when you book.
Sunday 16th June:
South West XC, Woodbury Common
Nearest postcode for Woodbury: EX5 1NY, then follow the event signposts.
---
More on the JUICE LUBES South West Series 2013 Round 1:
Event Calendar Listing