---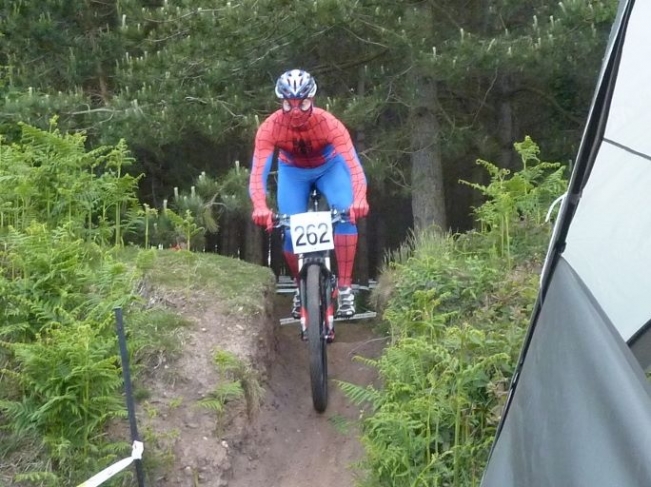 Juice Lubes South West Series Rd.3 review
Share on Facebook
Share on Twitter
---
Published: 18th June, 2013
Round 3 of the Juice Lubes South West Series would not only be the final round of 2013, but in our run of South West Series events.
After 4 year's running the South West Series we have decided it's time for us to pass on the mantle to someone else (could it be you?).
So round 3 kicked off with Hotlaps (Jay's finest idea yet). For anyone who doesn't know what Hotlaps is - keep up! For a last fling, we decided to make it a fancy dress event, the atmosphere of the evening is best summed up in pictures rather than words.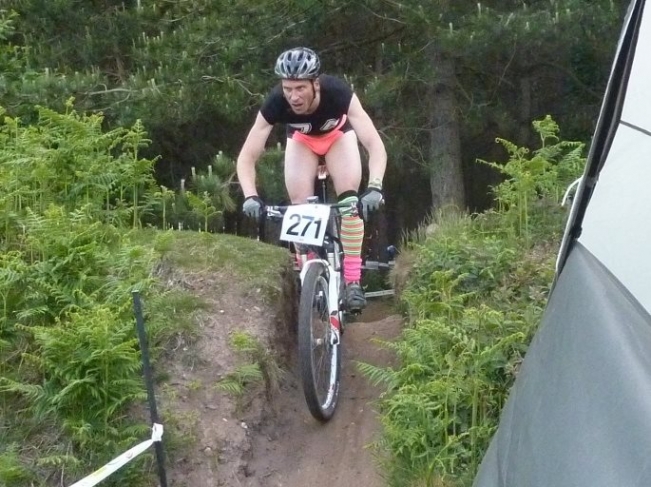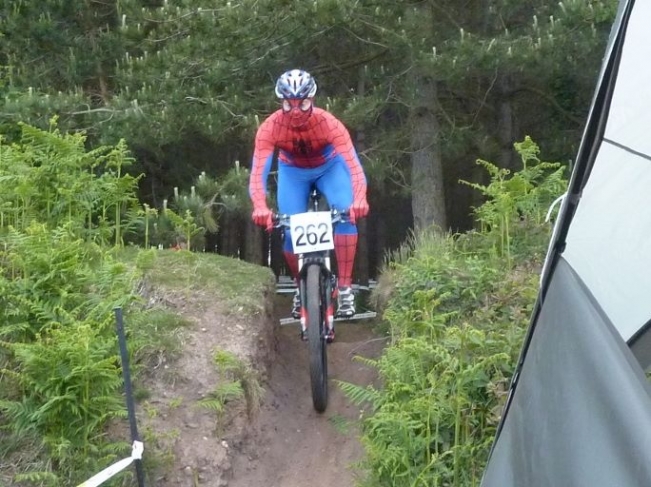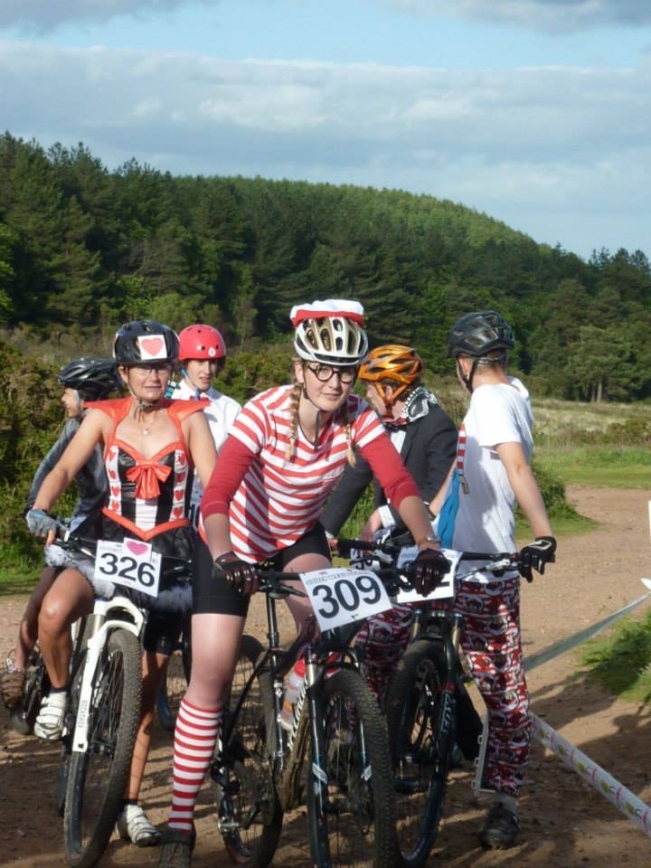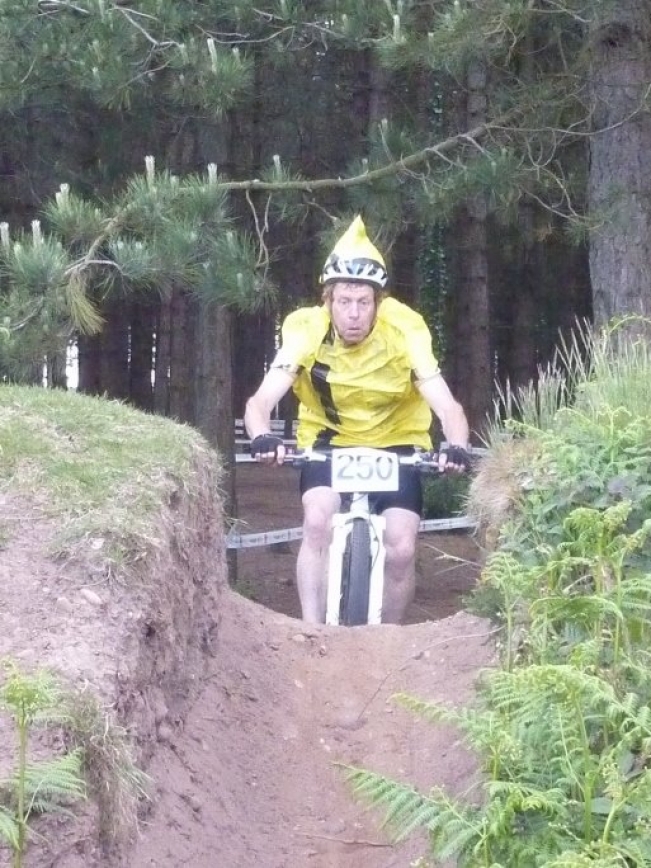 Rich Hobbs took the fastest lap of the night, with Lucy Allan taking the fastest female lap - but that's not really important, the only thing anyone was talking about was Stacey Bray's outfit.
Sunday saw the more traditional format of XC racing, and with big series prizes up for grabs the racing was bound to be tight. The closest fought category was always going to be the Sport race, with Paul Sole and Rich Hobbs separated by only one point . To take the series, Paul just needed to stay one place ahead of Rich, but having taken part in a 70 mile run the weekend before, it was going to be a tough ask. Starting the race slowly, it looked to be going Rich's way, but on the final lap Paul clawed back positions to finish one place behind Rich and set the pair up with a draw. With talk of naked mudwrestling to decide the title, Juice Lubes quickly stepped in and stumped up jerseys for both riders along with a great big box of goodies.
This round saw our highest turnout of young riders with a strong contingent from Wales, Bristol and Swindon coming in to battle our local South West talent. We won some, they won some (full results on our website) - but whatever the result, what was clear was that our young riders are making their mark in the sport. Straight from their races, they waved and grinned on the podium, then grabbed marshal vests and those special waterproof hoodies only owned by teenagers, and headed off into the woods to marshal the Under 12 race and the Old gits race. Impressive stuff!
Also impressive was the sporting attitude of a number of the racers. Several stopped riding to support a fallen rider, Certini's Kim Long and Aiden Bradley among them. Kim then went on to win her category, but it is this sort of attitude that is vital to the health of our sport. Well done guys.
Once the racing was over, the crowds dispersed, once again leaving the ourselves and the Smiths to collect in a world of course marking kit. And so on to our thanks. Over the last 4 years we have been supported by a lot of people, but none more so than Rob and Jane Smith. Without their help, we could not have put on 4 years of races, they are the first to arrive and despite our best efforts to make them go home, are always still with us into the evening hours helping pack away until we all collapse into a heap. 
I'm sure it won't have gone un-noticed that this year's prizes were pretty good, and things started to look a bit more professional in the arena (think back to Abbeyford in 2009 When we made you stand on tree stumps for the podiums). The support we have received from Juice Lubes this year has been incredible, and with them came Schwalbe and Torq helping us to reward our riders with some seriously nice goodies. Thank You!

I won't name all of our volunteers, but I will name one. Jude Ekins has been our race commissaire for around 80% of the events we have organised - he was there at the first in 2009, and he was there at the last this weekend. Mountain bike racing just doesn't happen without folk like Jude, so next time you see him at an event, make sure he at least has a cup of coffee in his hand.
A huge thank you also to everyone who has marshalled for us over the years, in all weathers - without you the events could not have gone ahead.
To Snapper Chick and Mark Minton (Background Films) I am sure everyone out there who has downloaded your pics or watched your films (at no cost) will agree that you both add something special to our events, and just flicking back through the footage brings back a whole lot of muddy memories!
And so to the future; we won't be putting on an XC series next year, but we will be organising some events, and we hope to continue working with Juice Lubes. We'll also happily do the donkey work for other race organisers (for the right price!).
There are links to all the series photos, results and films on our website, as well as our Facebook page - which incidentally is where you will also get the first scoop on our future events.
---
More on the JUICE LUBES South West XC Series 2013 Round 3:
Event Calendar Listing