---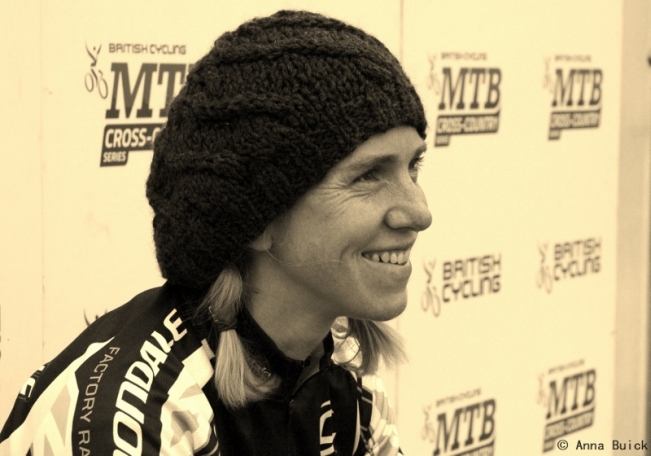 An Interview With... Lee Craigie
Share on Facebook
Share on Twitter
Published: 9th July, 2013
Words and photographs by Anna Buick
Lee Craigie is not a name celebrated enough within British cycling. If the sport were to have an ambassador, Lee should be it. As well as being consistently one of the best female riders in the UK, she has a passion for the development of the sport, for building it in to our lifestyle, and for spreading the love.
Lee is how riders should be - hard working and with a professional manner, but an approachable character who genuinely loves to race and is happy to chat and socialise. For Lee it's all about balance. Inclusivity. Community. Combativity. Positivity.
It's balance in an elite cyclist kind of way though. We're not talking recovery beers and salad plus dessert. Well, maybe sometimes, but it is evident that last year's British Cross Country Series winner is serious about racing, about continually improving and stepping up her game.
It has been, and continues to be, an incredibly busy few years for Lee. In the build up to the London Olympic Games she helped qualify enough points for Great Britain to allow Annie Last to compete, and now she is on another qualifying mission, this time to secure her own place at the Commonwealth games, on home soil in Glasgow next year.
On the subject of qualifying points to enable someone else to race the Olympics, Lee said that riding for Annie was an honour, and that she absolutely believes in her as the future of our sport. Perhaps what made this qualification process easier was that there was never a thought that Lee would get an Olympic place as well. From the outset she was riding for Annie. That said, Lee still gained a lot of experience from racing the biggest races in the World, among the best athletes the sport has to offer. Despite gaining points for Great Britain being her 'job', Lee still had her own race, and as she pointed out, it's not like on the road where you can sacrifice yourself for your team mate. Ultimately Lee was genuinely happy for her work to facilitate Annie's Olympic qualification.
Next up are the 2014 Glasgow Commonwealth Games. For the Scot, these games are the major goal and this year is all about qualification. The unusual and complicated qualification system puts many things out of her hands. With points awarded dependent on the ranking and positioning of riders around you in relation to your position, chosing and targeting races is difficult, and outcomes are unpredictable. However, racing in front of a home crowd would make it all worth while for Lee. Given the recent success of the National Road Race Championships in Glasgow in terms of crowds and support, I think it is safe to say that the crowds at Cathkin Braes, overlooking the city of Glasgow, would be right behind Lee in an experience she says would be "awesome".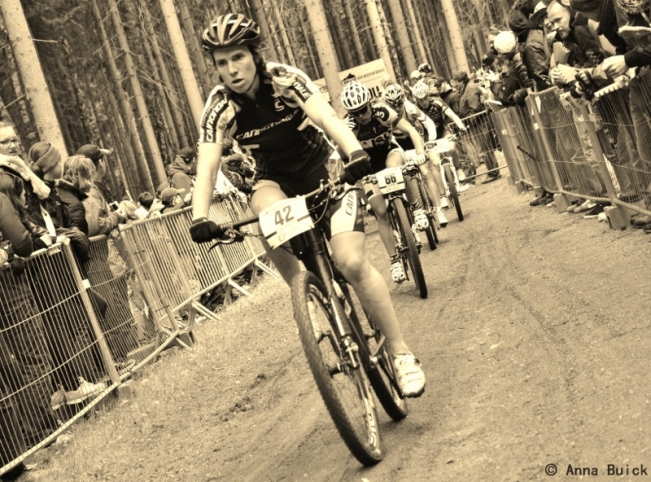 Lee on the opening lap of the Nove Mesto Na Morave World Cup.
Until this major goal, there are a series of other big races, including World Cup's. Despite having ridden these World class events for three seasons now, they remain an incredible experience for the British rider and one that remains a mental, as well as physical challenge. Having to stay focused in an environment that is so challenging, exciting and vibrant, is hard. Lee explains that helping to keep the focus and get everything pointing in the right direction is the very professional set up of British Cycling which she occassionaly gets some help from at World Cup races.
Physically Lee felt very good at the opening World Cup of the year in Albstadt, Germany. She was hoping for a top 40 finish and looked set to achieve this until a last lap crash cost her time and places. Lee rolled in 42nd and then rolled off to hospital to get her elbow stitched up. The followong weekend was Round Two of the World Cup Series, yet on the Wednesday Lee was still only able to ride on the road due to her injury. Chatting with Lee as she checked out the course at Nova Mesto Na Morave demonstrated just how positive a person she is. Despite her predicament, she remained very excited about racing Round Two at Nove Mesto, a course she loves despite crashing badly last year in practise and suffering a suspected broken pelvis. Lee joked that she didn't know what the part we were looking at (new rock garden) was like last year because she never got that far!
In a high-stress environment, amongst the best riders in the World, Lee was relaxed, happy and confident. This is not to say that she is not ambitious and determined though. After a disappointing race at Nove Mesto that weekend I mentioned to Lee that deeming a top 50 finish a bad result was indicative of how far she had come in terms of World Cup successes, she replied that yes, she has improved, but that you need to keep stepping up your game and should never stop aiming higher.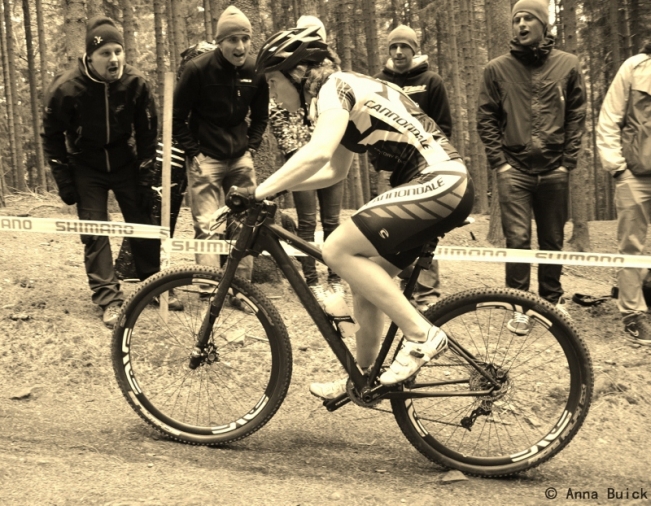 Super enthusiastic crowds in the Czech Republic, all part of the amazing World Cup experience for Lee.
Training for and racing the biggest mountain bike events in the World doesn't leave a great deal of time for anything else, especially when you factor in travel, rest and recovery. However, the time that Lee does have spare, is spent largely on encouraging other people to ride and fix their own bikes , drink coffee and eat locally and ethically sourced food through her co-founded Velocity Cafe and Bicycle Workshop. Discussing the balance of running a business and being a World-class cyclist, Lee explains that even when she is not around, Velocity is in very good hands with friends/collegues who understand what it takes for her to be the best she can be. "It is hard to step back because I'm a bit of a control freak and I did compromise my training while the business was starting up, but the other co founders and our staff all have a shared vision of cohesiveness, serving the community and caring about the small stuff all of which allows Velocity to run itself ", she says.
Without sounding too sentimental or soppy, Lee talks of how lucky she is to have the support of very understanding people around her, because, she explains, being an elite athlete is essentially a selfish enterprise. I think that Lee is very aware of that, but is not too consumed by it; she has an understanding of the need to be self-focussed, but also to see that she is. It is perhaps a product of experience; being a bit older, and having had a life before cycling. It is Perspective.
Along with the cafe and workshop, Lee utilises her training as a Child and Adoloscent Psychotherapist to run Cyletherapy from Velocity Cafe and Bicycle Workshop which was founded in 2007 (with the help of a Scottish Government grant) to engage children from the Highlands whose challenging behaviour excludes them from conventional schooling. It offers an outlet for them to learn, achieve and gain confidence and that sense of awesomeness that comes with riding or building a bike. It is a project that is evidently very important to Lee, and something she believes in wholeheartedly. It is hard to believe that the children that Lee comes into contact with through Cycletherapy are not inspired by her enthusiasm, positivity and kindness. The Velocity Cafe and everything that comes with it are part of what Lee hopes will become the hub of a sustainable cycling community that is socially and environmentally aware. The children who go through Cycletherapy are not the future of the sport in terms of talented riders and aspiring pros, but in terms of bringing cycling to all members of the commuity and using it to promote mental and physical health gains.
Lee talks of a possible retirement after Commonwealth Games, though from international racing not from riding and racing locally. Lee has not been mountain bike racing for long, but I get the feeling it is very much now in her blood. "The buzz is addictive", she says.
So having had a slight mid-season break from racing, Lee now continues her search for Commonwealth Games qualification. For Lee it is not all about getting to the Games though, but about the Games' legacy for cycling in Scotland and the United Kingdom. For the local rider, the race should be the start, not the end.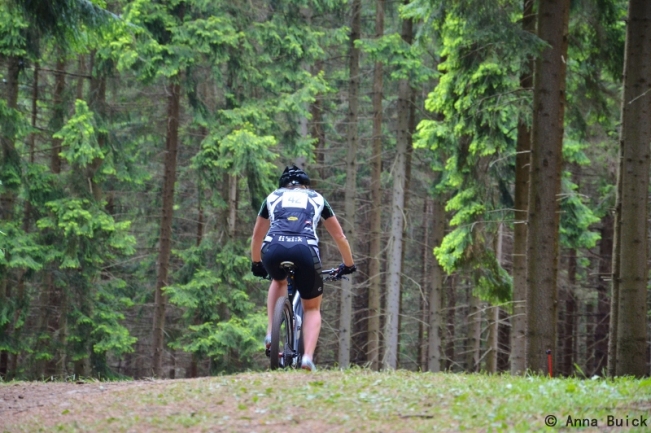 Blogger Info:
---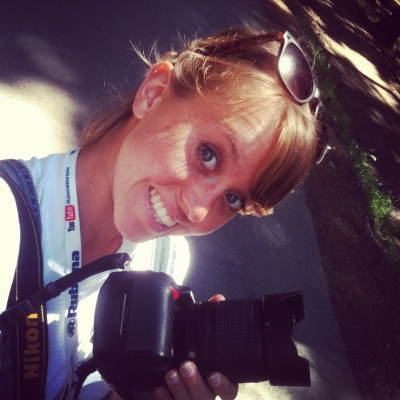 Read More By Anna
---
Disclaimer:
This blog post was written by a third party and their views do not necessarily reflect the views of XCRacer.com