---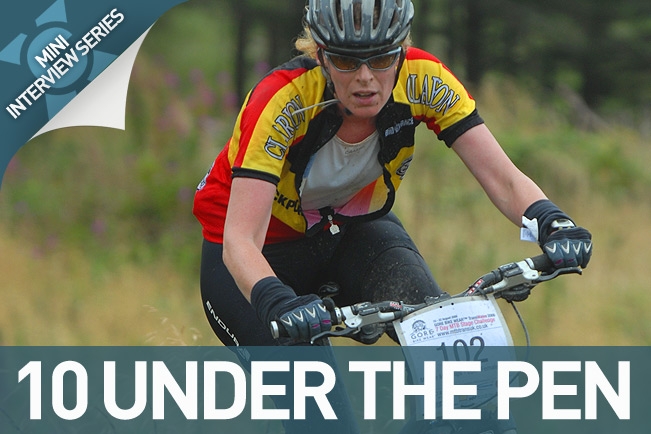 Maggie McPhillips - 10 Under the Pen
Share on Facebook
Share on Twitter
---
Published: 16th January, 2012
To help keep you motivated on the turbo trainer or on those long, dark, cold training rides Niall Frost spoke to a cross section of the racing community and asked them 10 simple questions - TEN UNDER THE PEN...
Name:
Maggie McPhillips
Team/Club:
Stockport Clarion CC
Category:
W21 - Mountain Bike Orienteering
2011 bike:
Titanium On- one 456 /Carbon fibre On- one 456
2011 results:
MTBO Score- mixed results- everything from winning my category to coming dead last! Winner of National League, Kielder 100- DNF, Polaris challenge 3rd Woman.
Short Bio:
I started riding in 1997 after meeting my husband Mark who was working as a mountain bike guide at the time. Love riding both off and on road and cycle touring. I have toured in UK, France, New Zealand and the Rockies. Tried cross country racing in mid 2000s and hated it as I was too slow and didn't like getting lapped. I was encouraged by my husband to try mountain bike orienteering score events about 4 years ago. These were, and continue to be brilliant fun and less intimidating than XC racing.
Working as a GP in SaIford allows me access to some great MTBO events and I have competed in the local Dark and White league in the Peak District, the Lakes, Yorkshire and the North East. Over the years I have gradually got faster and now really enjoy racing. My best result was winning the mixed pairs in the Polaris with Mark in 2010. I rode the Trans Wales in 2009, an epic 7 day stage race, coming third in two of the timed stages and fourth overall in the female solo category. The most frustrating racing experience was getting lost in Sherwood Pines, all those trees look the same!
The cycling highlight to my week is the Stockport Clarion MTB night ride on a Wednesday, followed by a visit to the local pub!
For 2012, as well as riding in MBO score events I have entered "Hit the North" in Feb 2012 to try and motivate me to get fitter and faster over the winter. I am expecting it to be two hours of pain and suffering. I also want to try and finish the Kielder 100 next year as was too slow at the halfway point this year and was forced to abandon. The conditions did not help so some sunny weather next year please.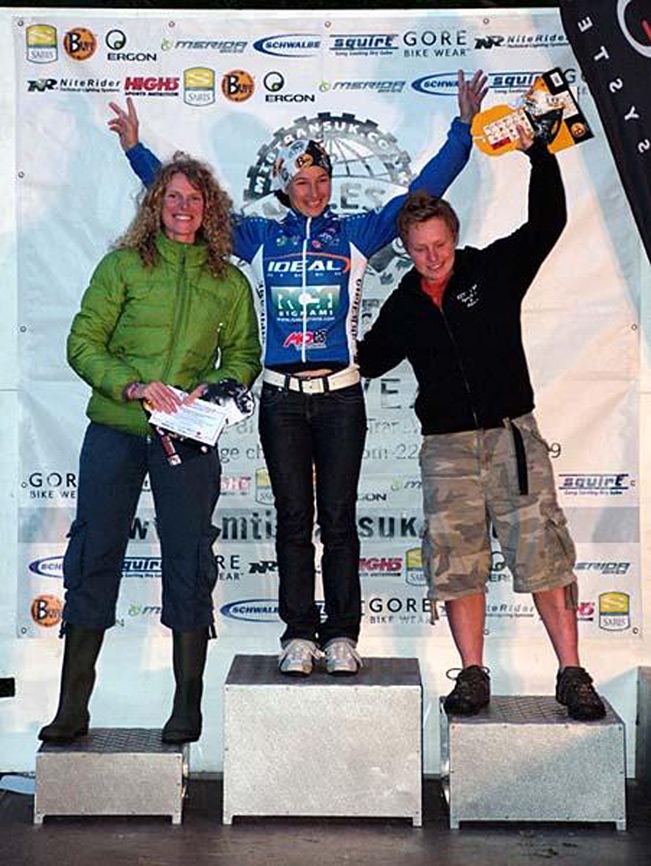 Questions:
First race experience?
Xc "fun" race in Mold, North Wales. Persuaded a friend to race as well. She came first, I came second- we were the only 2 in our category.
What's the funniest thing a spectator has shouted at you?
"Have you started yet?"
Favourite motivational tune?
Haven't got one
What do you look forward to most at the end of a race?
Breathing and for my legs to stop hurting
Toughest competitor you've raced against?
Iwona Szmyd- she is an amazing rider she was 4th overall on the Saturday in the Polaris in 2010 beating a lot of the men who all looked a bit sheepish afterwards.
Favourite race course?
MBO score event at Blanchland in 2011. Perfect bone dry moorland singletrack.
What's the best bit of advice you've been given?
Never look back
Best bit of kit or training aid ever bought?
My Titanium frame
29 or 26?
26, but need to try a 29er
Gentle recovery or aggressive rest?
Aggressive rest! I love resting
Links