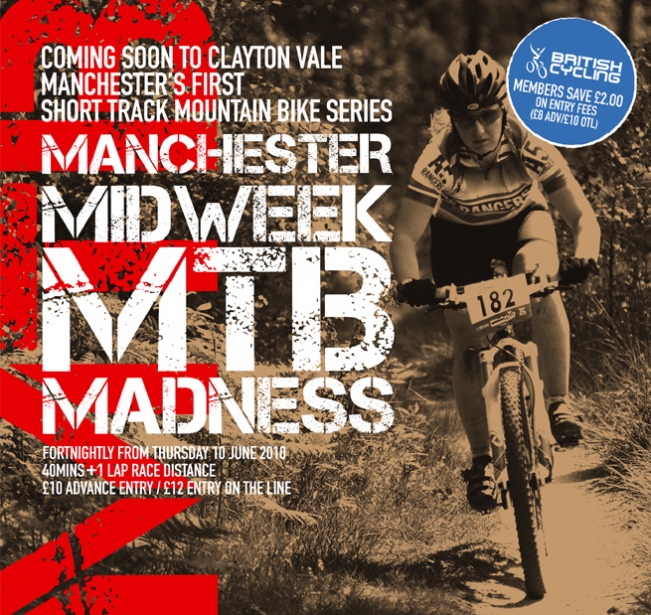 Manchester Midweek MTB Madness 2010
Share on Facebook
Share on Twitter
---
Published: 25th May, 2010
Coming to the Manchester area soon is a brand new midweek MTB series.
Held at Clayton Vale Country Park the first event of the series will kick off on Thursday June 10th. There will be 6 events across the series with events happening on a bi weekly basis giving us 2 events per month for June, July and August.
The course has been designed to appeal to hardened competitors and novice riders alike and so riders of all abilities are welcome. The course is around 10 minutes long and so we'll hopefully see lots of fast action as riders race to be first into the single track sections.
The event is open to Members and Non Members of British Cycling and entries can be sent in advance or you can enter on the line. See details below.
The event is open to Junior and Senior riders, male and female and all riders will start together.
Registration will be from 6pm in the Start/Finish area and the course will be open for pre ride from 6.30pm.
Racing will start at 7pm
Race Dates
"Every 2 weeks" from Thursday June 10th 2010
Race Distance
40mins + 1 lap
Entry
£10 advance, £12 Entry on Line
**BC Members get a £2.00 discount!**
Pre entries can be sent in to -
C/o Phil West
British Cycling
National Cycling Centre
Stuart Street
Manchester
M11 4DQ
Cheques payable to - Phil West
Any enquires about the event can be sent to -
manchestermtbseries@gmail.com