---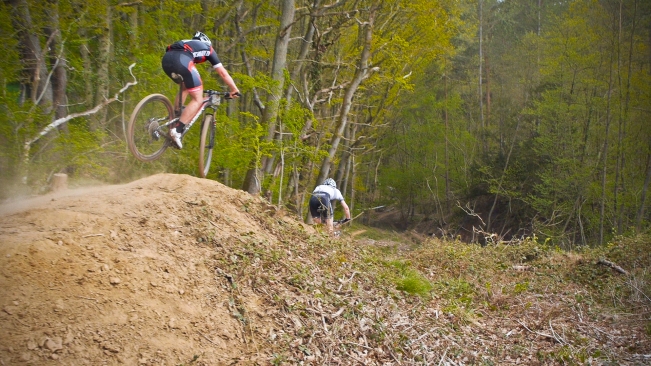 Cross Country Eliminator at Cliffhanger Festival this Weekend
Share on Facebook
Share on Twitter
---
Published: 3rd July, 2013
Taking place at the UK's biggest outdoors festival, if you've been inspired by the exploits of Annie Last (at Houffalize*) and Kenta Gallagher (at Nove Mesto**) now is your chance to get in on the action! This is the newest Mtb discipline on the block, combining the speed and intensity of 4-Cross, with the tactics and endurance of XC. Run over a 750 metre obstacle strewn course, 4 riders start each 3 minute heat and the top 2 progress through to the next round until the field is whittled down to 4 riders to contest the final. High octane Mtb racing and a real buzz to take part in and watch! This is a British Cycling ranking race with categories for all riders spread over Saturday 6th July.

* at Houffalize:
** at Nove Mesto:
Each race is run on a first come, first served basis with a maximum of 24 riders per category (except the Under 13's which has a maximum of 40). Contact
midlands_xc@hotmail.co.uk
if you wish to reserve your place before race day. To take part you must have a working mountain bike and a CE standard bicycle helmet. Access onto the course is only allowed once you have signed on and attached your number board to your bike. There is a 20 minute open practise session before each race commences.
Timetable:
12.00 Youth Male & Female
13.00 Veteran Male
14.00 Juvenille Male & Female
15.00 Senior & Veteran Female
16.00 Under 13's
17.00 Senior Male
Categories:
All categories are based on age. To calculate your category, it's the current year minus your year of birth. e.g. 2013 - 1975 = 38. The category for a rider aged 38 would be Senior.
Under 13′s and Under 10′s
Juvenile (13-14)
Youth (15-16)
Senior (16-39)
Veterans (40+)
---
More on the Midlands Cross Country Eliminator:
Event Calendar Listing