---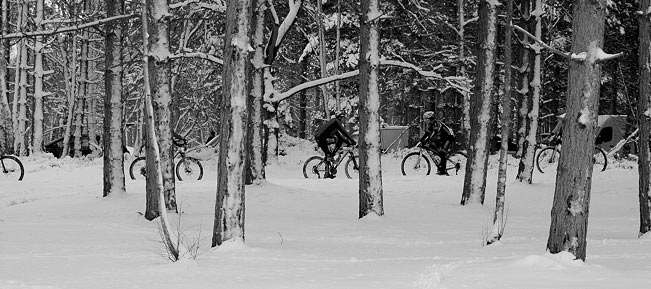 BCXCR1 Report by Anna Buick
Share on Facebook
Share on Twitter
---
Published: 27th March, 2013
Rewind twelve months and, on the back of a largely dry and bright winter, we were welcomed into the 2012 national cross-country series with the chance to don shorts and sunglasses. Perhaps, with that in mind, we should have predicted that this long and wet winter was prophetic of the conditions to be expected at 2013's Round One.
A quick trawl through the Twittersphere revealed that it was with some trepidation, and varying degrees of snow shovelling, that racers from all corners of the country set off towards Sherwood Pines. @maxinefilby tweeted "I think I am more nervous about the journey to the race than actually racing", whilst P_oldham77 "had to dig out the door". Some complained, and others, such as Rob Friel, took it in their experienced stride: "I went to Pakistan once for a cancelled bike race. This is going to be easy"…
Thankfully the journey for most people seemed to have been fairly easy, but the racing was going to be far from it.
The carpark and arena were under twelve inches of snow in places, and despite the efforts of the race-organisers, the course was invariably white. Come Sunday, however, it wouldn't take long before the racers were slipping and slogging their way through mud, rather than snow, as tyres parted a path through the white stuff.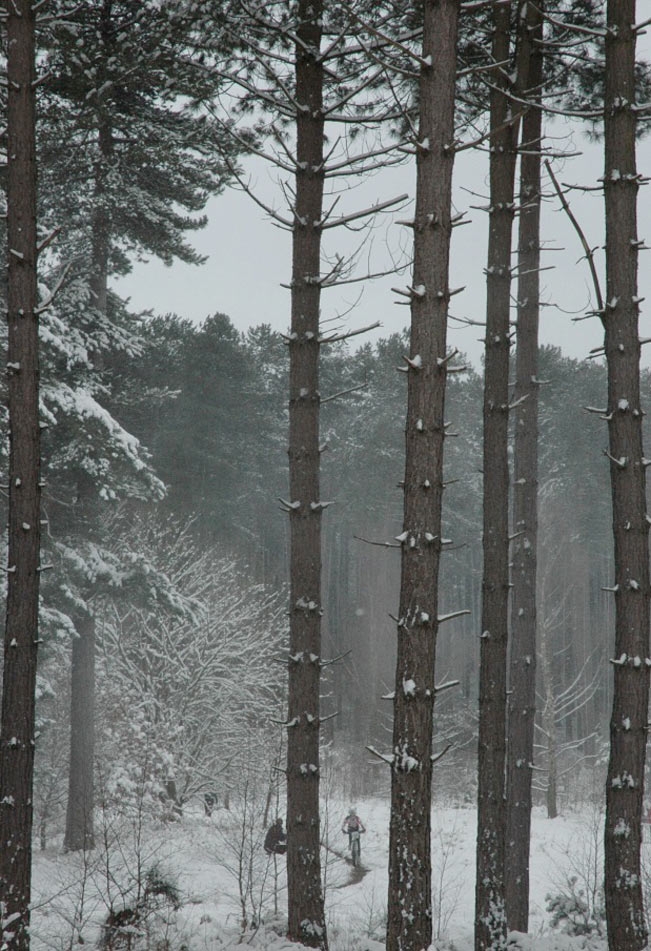 Despite facing alien conditions, the African Continental Champion, Mariske Strauss (Giant/Contego), took early control of the Elite Women's race which she subsequently managed to translate into a comfortable win. She was, however, not unchallenged. The early chase came from Great Britain Olympian and Trek Factory rider Annie Last, and, more surprisingly, from MG Maxifuel's roadie Hannah Barnes. Last never looked comfortable and eventually pulled out, though not before being caught by Scottish Champ and reigning British series winner, Lee Craigie (Cannondale), who rode a measured race to come home in third. Meanwhile, at the head of the race, Barnes managed to catch up to Strauss, the sight of which caused quite a stir amongst the spectators as Matt Payne announced them heading into the arena for the penultimate time wheel-to-wheel. With the battle for the top spot hotting up, the rest of the field looked pretty well settled. Beth Crumpton, sporting her new Hargroves kit, showcased why she is on the GB Academy by securing fourth place in her first outing as an U23, and Mel Alexander (Contessa Scott Synchros) proved she should never be discounted by taking the final spot on the podium. Behind them Maddie Horton, Becky Preece, Maxine Filby, Jessie Roberts and Annie Simpson filled out a talented top ten which demonstrates the strength and depth of women's elite mountain biking in Britain today. It was not to be a British winner though. Strauss' legs were able to respond to the challenge from Barnes and she crossed the finish line after four laps with a winning margin of 1-04, the full minute having been gained on the final lap.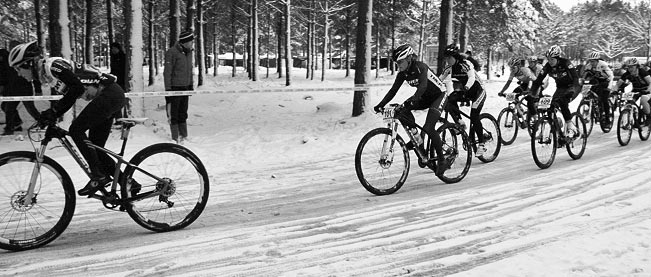 Hannah's return to mountain biking was definitely the talk of the race. Her father Simon had mentioned that it was "a big day for Barnes", so we shall wait and see quite what this means as the season unfolds for the multi-talented young rider, and whether she can brush up enough on the bike-handling skills - which, by her own admission, let her down at Sherwood - to allow her to excel on the more technical courses that follow should she choose to race them.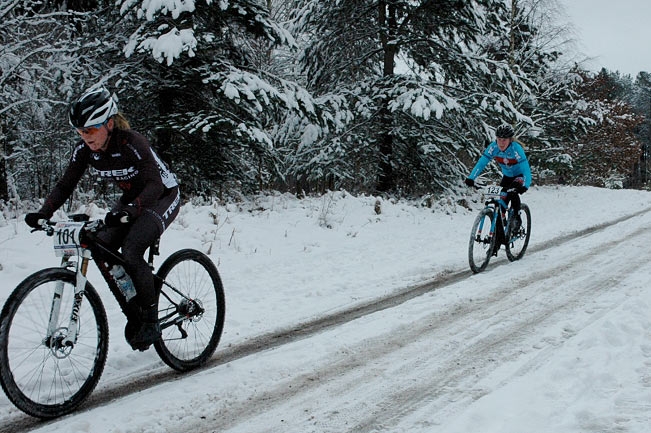 Annie Last and Hannah Barnes
The Elite Male race was dominated by Mathias Wengelin (Ck Naten Sater/Specialized Conceptstore), but the win wasn't easy. A threatening chase was led by Brits Grant Ferguson (Superior Brentjens), Dan Fleeman (Forme Coaching) and Hope Factory Racing's Paul Oldham, and foreign talent in the form of Dider Bats (Toka Prints MTB) and U23 World Cup winner Michiel van der Heijden (Giant Pro XC). Having managed to dig himself out of his house, Oldham revelled in the cyclocross conditions and was able to go into the final lap in first position. Oldham went on to overcome Ferguson, whose flying second and third lap had seen him bridge across to Wengelin, but Wengelin got away on the final lap to take the win by twenty nine seconds. Behind the top three, Bats came through to take fourth spot and van der Heijden - who, with a smile of resignation, described his race with one word containing four letters and beginning with 's' - rounded out the podium. Behind him were the inseparable Batchelor brothers (Seb then Hamish), Olivier Bruwiere and the ever-green and grotty-condition King, Nick Craig. The course was becoming increasingly tough, with lap-times two and three minutes longer by the end of the race for the top riders; bikes were doubled in weight with frozen-on mud and ice, and new kit was irrevocably dirtied.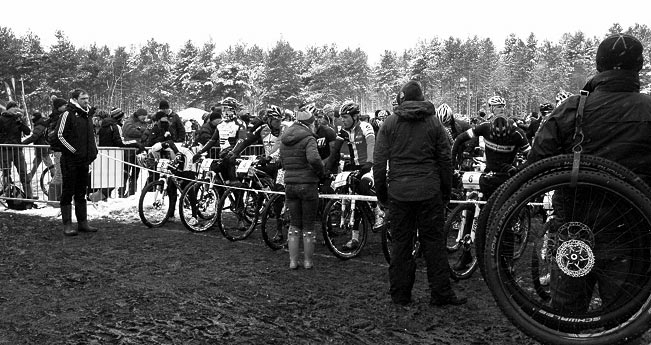 Elite Men line up and try to keep warm
From the mud-covered racers no real indication of a probable series winner emerged. Last year's winner, Oli Beckingsale, was down in twelfth, the Superior Brentjens RT duo of Ferguson and Kenta Gallagher will likely be racing abroad and focussing on World Cups and major championships, and another likely candidate, David Fletcher, is currently one week down in a month-long turbo training programme whilst he recovers form wrist and elbow injuries. Oldham has certainly showed his cards, and the more experienced Craig and Fleeman should not be discounted. Seb and Hamish Batchelor are also overall contenders if they chose to race domestically, as are a number of riders who didn't feature prominently at Sherwood but who are capable of turning that around. It should shape up to be quite a season!
Seemingly haven eaten the same bumper-breakfast as her elder sister, Alice Barnes powered to a predictable, but nonetheless very impressive, victory in the Junior Women's race, having caught all but four of the elite field as she came through the feed-zone towards the end of her two laps. Lucy Grant also looked strong and there was never much doubt that her second place was insecure, whereas behind her the battle for third was tight-fought. Imogen Buick led the challengers at the half-way point but, as she later explained, "nothing went right", and it was Isla Short who was able to keep the power down and take the podium position.
The Junior Male race got off to a bad-start for national champion Sam Stean as he hit the deck in the sprint from the start line, and it was with hesitation that he picked himself up from the ground and, rubbing the back of his head, set off in pursuit of the fast-disappearing field. Well clear at the front of the race there was nothing to tell between Jack Ravenscroft and Michael Thompson for the first two of their three lap race. Behind them first-year junior Billy Harding was no doubt enjoying the muddy conditions that were akin to those which saw him take the youth cyclocross national title back in January…when it was a bit warmer! Ravenscroft finally broke free of Thompson to take the win, Harding hung onto third and Stean did admirably to work his way back up to fourth.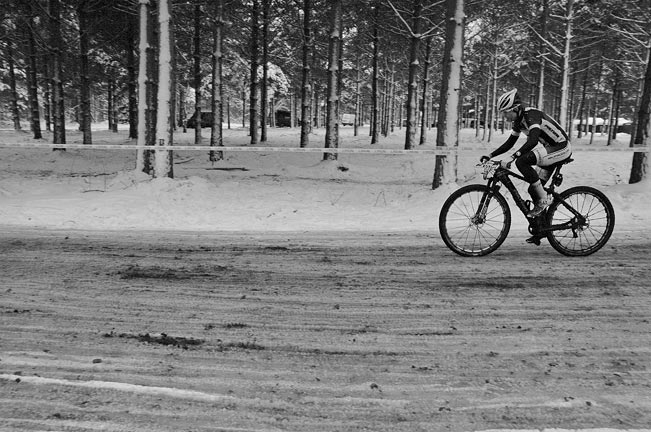 In the Expert Female category Julie Elder took the win from Fern Henry after opening a gap on the second of their three laps, and Louise Robins was third. The Expert Male race took a similar format with Isaac Pucci also pulling clear of his rival, Aaron Marshal, on lap two and securing a comfortable win. Jon Cruikshank took third.
The Sport Female race was won in some style by Helen Clayton, while the Sport Male winner was Josh Asquith whose slower final lap saw his lead squeezed to just ten seconds ahead of Matthew Dewis

Ffion James led home a big field of talented Youth Females, with Amira Mellor out-sprinting Martha Gill for second place. The Youth Male race was even closer with Jake Poole taking the win by four seconds from Lewis Champion who was three seconds clear of third placed Thomas Craig. The Youth categories have often been tightly fought and this season looks to be no exception with massive fields and lots of competition.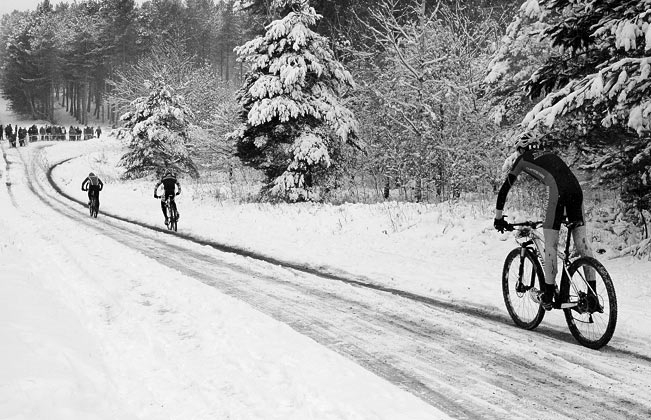 In the Juvenile Female race Emily Wadsworth got her national season off to a solid start with a convincing win over Megan James and Ffyona Booker in second and third respectively, whilst Daniel Tulett continued his cross-discipline domination of Youth Male cycling by winning his race by almost four minutes from second placed Joe Barker and Harry Yates in third.
As the course conditions continued to deteriorate, with the mud now thickening, the Masters and Veterans categories took to the start line.
In the Masters race Gillain Pratt took the win ahead of Donna Morris. Donna's husband Phil came within about ten seconds of the early leader of the Master Males race, Jonathon Pugh, but could not overcome the early leader and had to settle for second as well. Grant Leavy was best-of-the-rest to complete a Welsh 1/2/3.

Caroline Goward took her first national victory as a veteran, a fast first lap enough to see off the second lap challenge by Helen MacGregor. MacGregor took second and Alison Holmes came in third. Ian Taylor took the honours in Veteran Male category with Paul Hopkins in second and Andrew Peace in third.
The National Champions did their jerseys proud in the Grand Veterans race with Kim Long winning the Female category and Pete Harris powering to victory in the Male race. Vic Barnett added to his lengthy palmares by taking the honours in the Super Veteran Male race.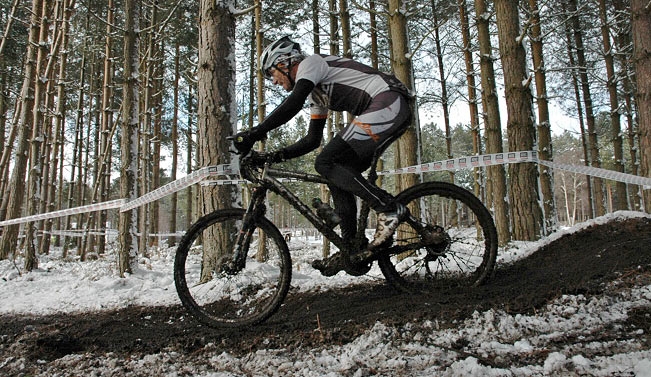 In the rescheduled Open race Agata Tamilewicz and Matthew Scarborough were winners, and the Fun race was won by Matt North, though how much fun was being had is questionable!
By now I expect the post-Sherwood clean-up operation is complete, with frozen mud hacked from bikes and icy disc wheels returned to their usual spoked selves. We'll let winter release its strangle-hold over us now and hope that April doesn't live up to its showery reputation so that, come Round Two, we can once again wear shorts and sunglasses.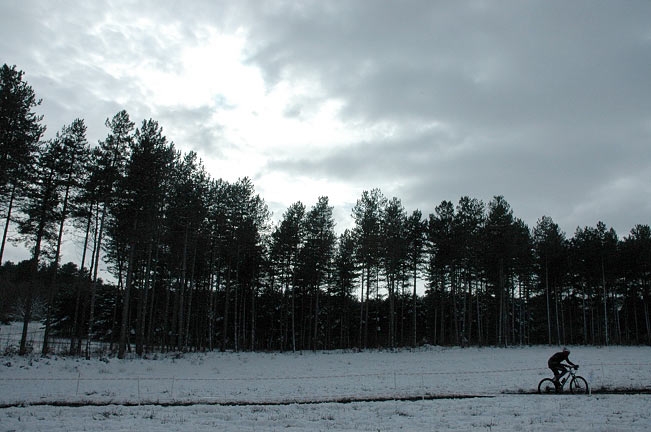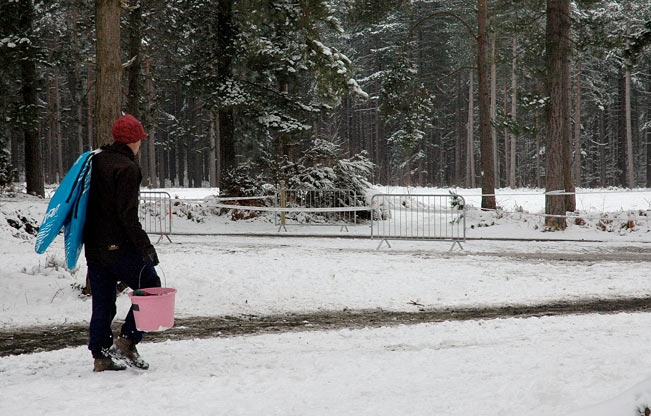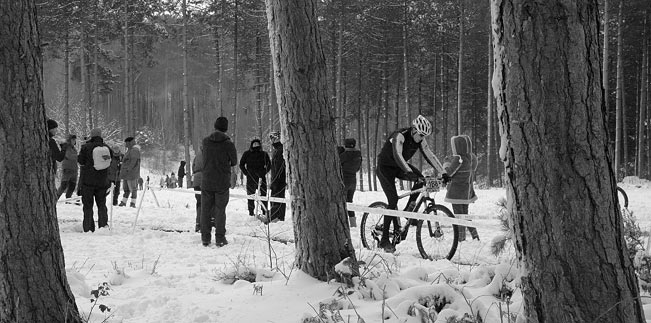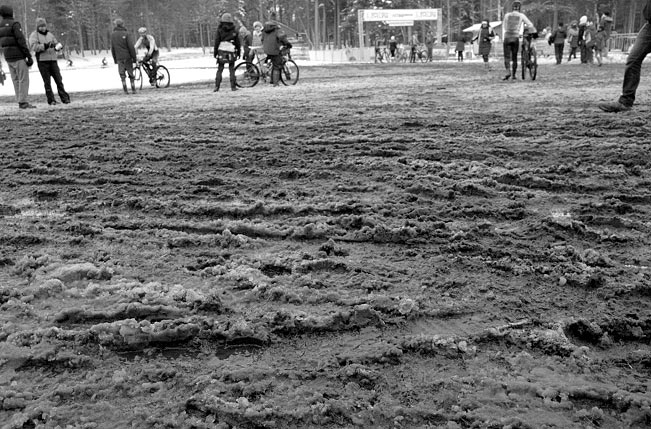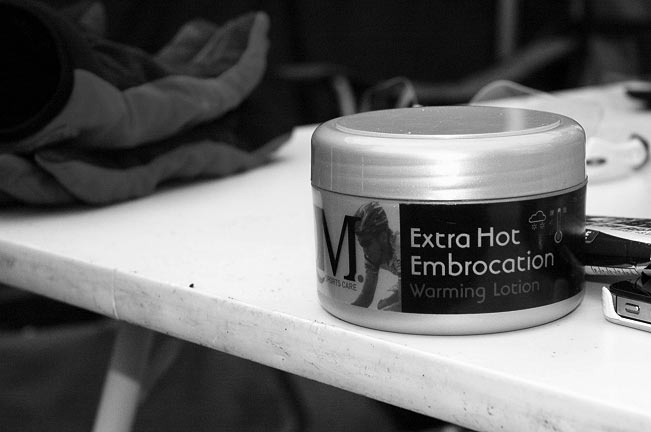 Results are at
www.timelaps.co.uk
Word and Pics: Anna Buick
---
More on the BC National Cross Country MTB Series 2013 Round 1:
Event Calendar Listing