I caught up with Paul at Codham Park at Round One of the British Cycling Cross Country back in March and, like you do at the opening race of the season, talked briefly about his winter and how he was feeling ahead of the first real test of form. Paul said then that he had made changes to his normal winter programme, and that he had no idea how he'd go on Sunday.

As it transpired, he went very well. Paul was fourth - behind the likes of Michiel van der Heijden and Jonas De Backer - and first Brit.

With a flying start to the Commonwealth Games year, and with this interview in mind, I spoke to Paul at greater length in mid-May about cyclocross, Commonwealth criteria and hopes of qualification.

So let us rewind back to winter, and the changes that seemed to be making the difference.

Paul explained that were "no massive changes", but after he got the qualification criteria in October, a plan developed which put Commonwealth Games selection as the major goal for the coming six months. As such, although Paul continued to race cyclocross through the winter, this was all based around the coming mountain bike season.

[For those who don't know (though I'm sure most do), Paul is one of the UK's top 'cross riders. He has National Championships and many National Trophy wins to his his name, plus a number of Great Britain appearances at major Championships. Despite his concentration on the MTB season, Paul had a very successful domestic 'cross campaign in 2013/14, culminating in fighting for the title with Ian Field at the National Championships, until tangling his rear mech in the tape and being forced to take a lengthy run to the pits and drop down the placings.]

"The Commonwealth Games is a do-able goal, we'll go all out."

There was little cyclocross specific training or local racing and Paul even turned down a place at the World Championships so that he could effectively end his season at Christmas. He was ticking over but not fatigued. Race sharp, just about, but never race weary.

"I've neglected the mountain bike a bit over the last years and spent more time on the road, but to be a good mountain biker you have to ride a mountain bike!"

From October 2013 onwards, everything was done on the mountain bike: base miles, intervals, technical training, recovery rides. As well as the minimalist cyclocross season and hard miles, Paul has also worked on his technical riding and skills. You can go to the opening World Cup in Pietermaritzberg with World-class form, but if you can't handle a bike you are going to fair rather miserably!

Pietermaritzberg was the first of three World Cups Paul targeted in a bid for qualification, and a number of other UCI-categorised races were also thrown into the mix as well, including the British National Series. Out of the mix was taken the 'in between' races. Paul said he was guilty of racing too much in the past and that this year would be different.

So, no 'massive changes', but many small alterations which can add to make a considerable difference. Has it worked?

"I have had good seasons before, but I've definitely stepped it up... I'm riding technically better and stronger, and I'm more focussed; all the other little things - there are less of them."

I think many of us think of Paul as a 'cross rider primarily, but he has more than dabbled in mountain biking in the past. Like he says, there have been good seasons before this one. Paul is no stranger to a British National podium or World Cup top 60.

It is clear to see that Paul is currently carrying some mighty fine form, though. He followed up a fourth place in an internationally packed field at Codham with a personal best forty-first place at the World Cup in South Africa. From here Paul went on to win his first ever British XC National at Wheal Maid Valley. Of all the British riders, Paul was looking strongest thus far in 2014.

Things were looking good for selection, but nothing was certain and two big tests remained.

"There's a criteria there but there's also discretion..."
"I am performing well, so I'd hope I will be selected. There's two races left now, I've got as good a chance as anyone but I'm not getting my hopes up."

Those two races were World Cup Rounds Three (Nove Mesto Na Morave, Czech Republic) and Four (Albstadt, Germany). For Paul they were both new courses: "proper courses, where you have to ride stuff that scares you!"
I was out out in Czech Republic and Germany for these World Cups and kept up to date with how Paul was getting on. We were actually staying at the same hotel in Czech Republic and so I saw first hand how the elite racer/family man dealt with a high-pressure race, two young children and a sat-nav that didn't cover Eastern Europe...
Very well, as it happens. The head did fall into the hands a couple of times but there was no melodrama, just a 'deal with it as it comes' type attitude which I'm sure has grown with his children, Declan and Jessica, and years of experience.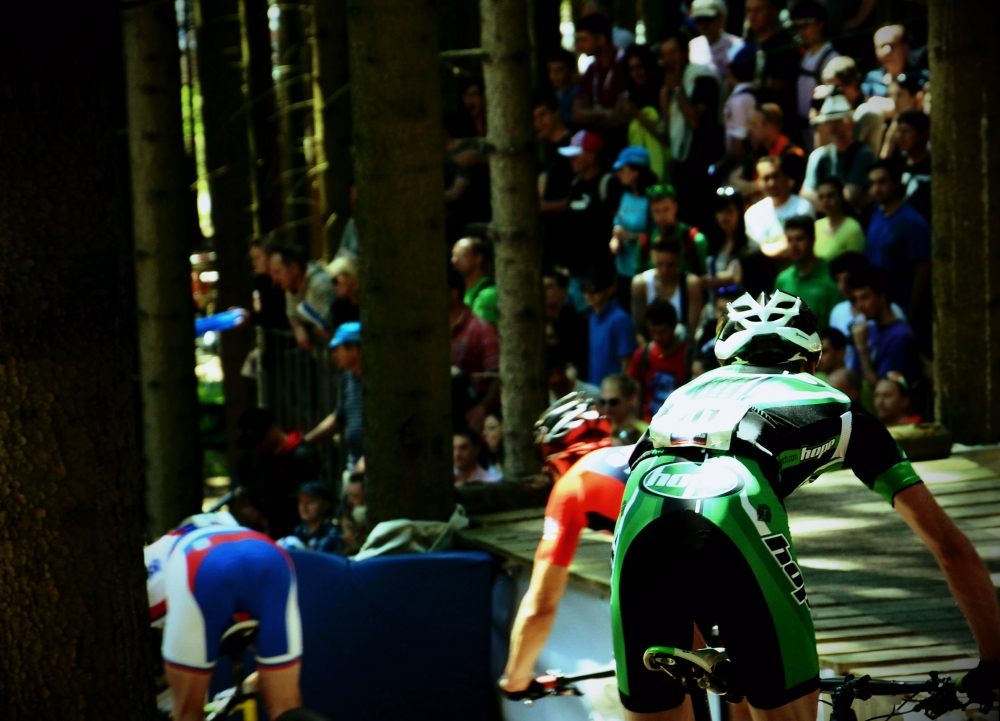 A good work/life balance is the awfully difficult but ever-present juggling act performed by most of us. It's especially difficult when the 'athlete' ball is added to the act and is so big, so all-encompassing, that it could easily threaten boshing the other balls clear out of the equation! The work ball has been made easy to handle, with Hope Technology - for whom Paul races and is a R & D Engineer - being very supportive in terms of flexible working hours, financial aid and all-round encouragement. The family side of things is very much intertwined with the racing. Paul's wonderful wife, Sally, their two children, and their motorhome are something of a British cycling establishment! It is beyond me how Sally can handle a feed/tech zone, two children and so many miles on the road with such apparent ease. (I believe the animated film, Frozen, a bouncy castle and an ice cream all help...)

When speaking with Paul there is never a mention of 'I', it's always 'we'. There's no coach or manager or soigneur. 'We' is family. The Oldham's are a very solid unit and this has no doubt helped Paul in his qualification process.

Nove Mesto Na Morave and Albstadt brought two solid results. Fighting forward from near the back of the grid is always a hard task at a World Cup, especially on a course like Albstadt where there is no start loop to string the field out, and where everyone is gunning for European Championship selection.

"The World Cups were the important races. Czech and Germany did go well in the end, although I was on the floor at the start in Germany. ... It's lap times that count, so whatever is thrown at you, you just have to get your head down and press on."

Following these critical races (and the European Championships where Paul was 28th) the selection was made. Much to the delight of everyone, Paul's name was on the list. He had done enough to secure his place at the 2014 Glasgow Commonwealth Games.

Paul described the feeling as one of happiness more than excitement, plus a bit of relief. "When you work towards a goal and then you achieve it, that's a good feeling. It makes it all worth while; for me, for Sally, for work. ... I love it when a plan comes together!"
Of course there is excitement too, and nerves. However, more than anything, there is a job at hand. Once one goal is achieved, the goal posts shift. Now it is all about performing at the Games. The reality is dawning. It will be Paul's first major games: "I've never done anything like this."

Whilst Paul admits the Commonwealth Games will be something "totally different", the training and preparation are much the same as they always have been. As Paul stated, there's no sense in making any big changes now. Phil Dixon, the England coach, has been a great help, but Paul has never had a coach or structured training plan and it has worked out well thus far, so the the only real difference is a greater focus.

And chocolate.

"I'm not eating chocolate whilst I'm watching the TV. That's honestly the hardest bit!"

Following a great ride at Margam Park for Round Three of the British Cycling XC Series, Paul is taking a three week rest from racing. After this comes a training camp with Team England and then straight into Round Four of the British Series at Sherwood, this is followed by the National Championships at Hopton (where you wouldn't mind betting a bit of money on Paul taking home the stripes), and then it's the Games.

I asked Paul about his goals for the race.
"Of course in my head I've got aims, but I'm not saying what they are. If I have a good day, it will be a good race. There are some top World Cup riders in the race, but there's no reason why I can't be up there. To be honest I think it will be a tight race - there's no big hill or anything where a rider can just ride away. It will be interesting."

Paul finishes up with a short sentence that sums up so much about the race, the process, himself. It's not apathy, it's not a lack of pride or commitment. It's just calm, considered and actually rather charismatic:

"It's quite daunting, but at the end of the day it's just another bike race."