Here's the lowdown from the organisers on what's in store:
The 6km 'sawtooth' shaped course is based at Birchall Properties near Unstone, located just off the A61 on the Sheffield Road (postcode: S18 4DB) on the outskirts of Chesterfield. Camping is available on Saturday night (contact midlands_xc@hotmail.co.uk to reserve a spot) - not too far to stagger from the pre-race party taking place on site! Race day itself sees something for everyone with J E James Cycles providing bike tuning support and Sports Therapy Leicester providing leg tuning support for the racers. For the younger members of the family, there will be face painting and a climbing wall, plus the local brewery will be on hand to keep the spectators refreshed.
Cross Country (XC) racing is lap based with the number of laps varying for each category, all the way from Elite riders doing 6 laps to Juvenille riders completing 2 laps. Top Elite and Junior riders will be aiming to clock a sub 20 minute lap, with average lap times expected to be 25 minutes. The venue is a great base for exploring the excellent mtbing in the Peak District with bridleways heading directly into White Peak, so why not make a weekend of it!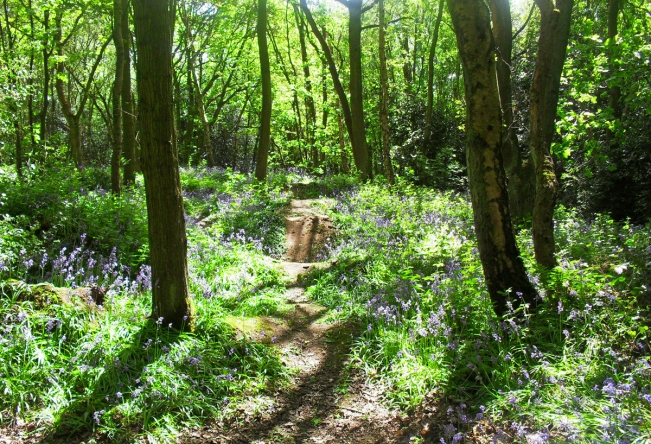 Bluebell lined dirtjumps... welcome to Birchall - don't forget your numberboard!
SCHEDULE
09.00 - Registration opens. Course open for practice.
09.30 - Guided course pre-ride with The Bike School
10.30 - Morning Race (Race 1) - Under 18's and over 40's male categories. All female categories.
13.00 - Short Track XC Racing for Under 12's and under 10's (entry on the day only).
13.00 - Guided course pre-ride with The Bike School
14.00 - Afternoon race (Race 2) - All senior male categories (Elite / Expert / Masters / Sport / Singlespeed / Go Race).
Podium presentations will follow each race. Female podiums will be combined if there are less than 3 people in each category. There will also be spot prizes for the Go-Race category handed out at each podium presentation - be there to win!
Thanks to the following local companies and riders for their support of the event:
The race is held on private land, so look out next week for an exclusive course preview here on xcracer.com!