---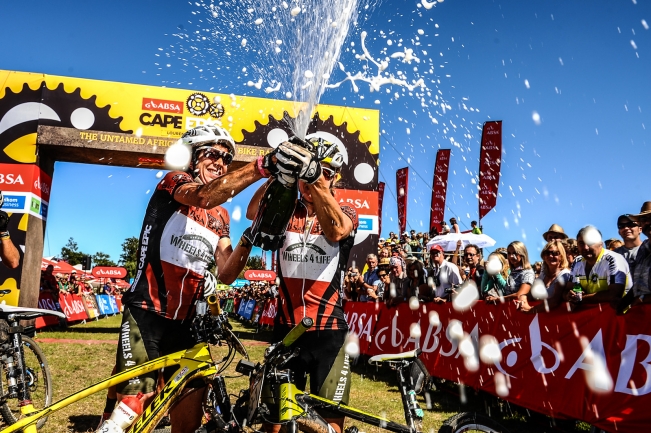 Sally Bigham Cape Epic 2012 View from the Podium
Share on Facebook
Share on Twitter
---
Published: 4th April, 2012
Massive congratulations to Sally Bigham and Esther Süss, winning the Cape Epic for a second year running. Here is her view from the podium all photos sportograf.com:
Wow, what a week. What an experience. The Cape Epic was my first 'A' goal of the 2012 season and it couldn't have gone any better: seven out of eight stage wins and first place in the ladies GC for our 'Wheels4Life' charity team. Perfect. This was my third Cape Epic and even though I won last year, this one was definitely the best. It was an honour to ride together with Swiss rider Esther Suss (World Marathon Champion 2010; 4th place Peitermaritzburg World Cup 2012). We worked well together and combining our individual strengths made a really strong team. Finishing 29th in the overall men's GC is the best finish for ig ladies team in the history of the Cape Epic.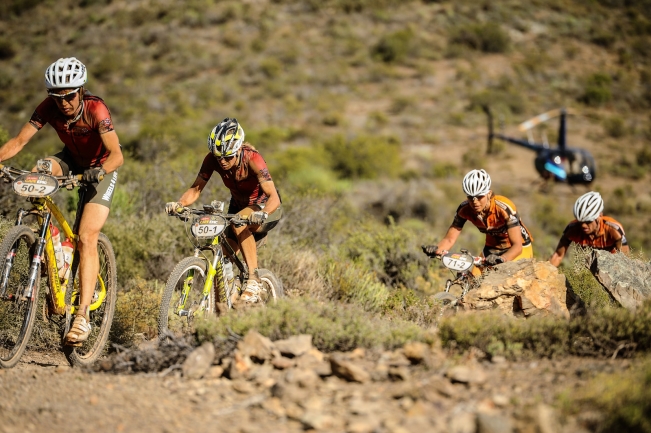 We were race favourites on paper but we certainly weren't complacent and we were fully aware that there were other strong teams who would all be in contention for stage wins as well as the overall victory. The Cape Epic is a hard test of endurance, speed, equipment, physical and mental strength and the race is wide open until the finish.
It all kicked off with a 27km Prologue at the Meerendal wine estate in Durbanville. Although most people know me as a marathon specialist, I actually really love short fast, one-lap races. We were really happy to be the last ladies team to start; chasing other teams makes for an exciting race. Teams set off in 45 second intervals. The course included a lot of fast, flowing singletrails on fynbos covered hillsides making it great for spectators and also allowing the helicopter to follow Esther and me for almost the entire course. We maintained a fast pace from the gun and before the top of the first climb we had already overtaken Karien van Jaarsveld and Jane Nussli (MTN Qhubeka). One by one we picked off all but one of the other ladies teams until we reached the hill top finish. Finishing in a time of 1:29, we won with more than a 2 minute lead over the second placed team comprising of Theresa Ralph and Nina Gassler (Biogen Britehouse). It was a great feeling and a big boost for our confidence to pull on the leader jerseys.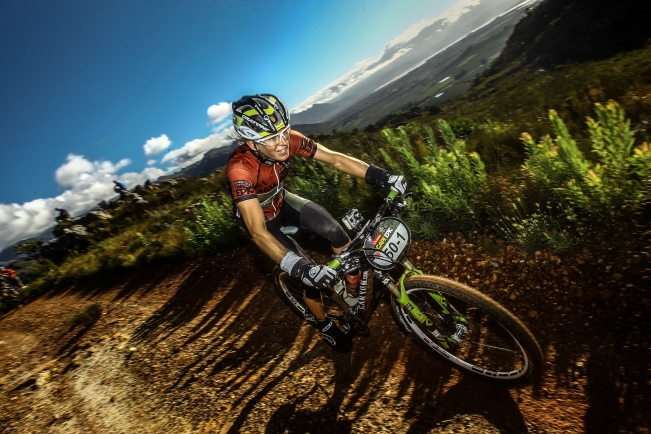 The next 4 days went exactly to plan. Our equipment worked perfectly and we felt great. We continued our winning streak and extended our lead day by day. Our 41 minute lead was what others might have viewed as 'comfortable', however we were fully aware that a crash or bad mechanical could easily see that margin disappear.
Our fear became reality on Stage 5. Heavy rain turned the district roads into a muddy mess and this combined with the small stones meant that the attrition on the bikes was a problem. Within the first 10km we encountered our first technical issue: I couldn't shift gears down my cassette meaning that I couldn't keep the pace on the flats and descents. This was a big problem because the pace was fast and it was important to be in a group. I poured water on the cassette and adjusted the cable tension, which helped, but only for a short time. Then Esther couldn't change from the small to the big ring at the front. We lost more groups and more time when we had to stop to pour water over her shifter. Eventually my shifter stopped working completely and we had to stop to fix it in the tech zone. We had to remain calm as we saw the time passing by. We decided not to try to chase the two ladies teams ahead of us; setting our own rhythm and remaining relaxed was key because mistakes at this point could lose us time that we now couldn't afford to lose. The rain continued and we started to get cold. I couldn't see clearly through my wet, muddy eyewear and the inevitable happened: I didn't see a rut in a muddy off camber section and before I knew it I crashed. With the mechanical issues and a crash things couldn't get worse. Could they? Wrong. The temperature plummeted and we were frozen. So cold in fact that neither of us could zip up my rain jacket so I had to ride with it open. Esther got so cold that I thought we were going to have to retire from the race at the final feedzone, but much to her credit she was able to dig deep and carry on pedaling. Once we entered the final 20kms of singletrails we knew that we were well on the way to Oak Valley - our home for the next 2 nights. But then my brake pads wore out and I was unable to brake. I had spares with me but stopping wasn't an option because we were too cold to use a multi-tool! I had to dab/run/ maintain a 'death grip' on the downhills. Amazingly we made it to the finish line. Cold, wet, tired, hungry and relieved. Water bottles filled with hot water slowly brought us back to life and I spent 40 minutes defrosting in a hot shower. Esther wasn't so lucky because it was her turn to go to anti-doping before she could shower. The damage to our lead wasn't as bad as we had thought. We only lost 2 minutes to Biogen Britehouse. Phew, we had retained our leader jerseys! Karien and Jane (MTN Qhubeka) had a superb ride and took the stage win 27 minutes ahead of us.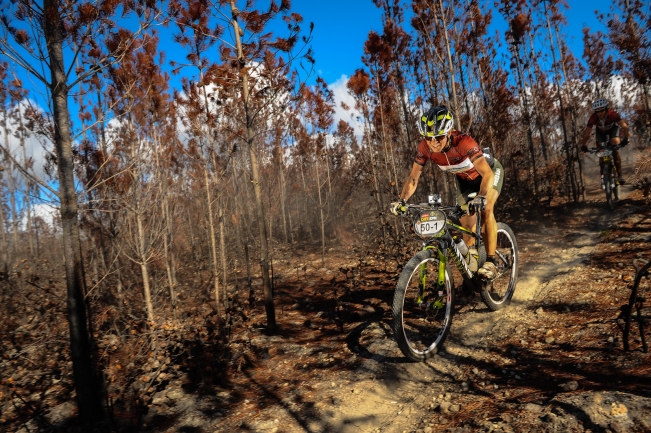 We recovered really well and the following day we were keen to ride hard. We were back in action and took the stage win with a lead of more than 8 minutes over Theresa and Nina (Biogen Britehouse). Going into the final stage we were both really nervous; wearing the leader jersey is awesome but the stress of losing it is immense. Although everyone, especially the race leaders, want to win the final stage - the Champs Elysees - our primary aim was for the overall victory so riding conservatively and getting safely to Lourensford was what we set out to do.
From the gun we both felt strong and didn't look back. We set a good pace and our legs cooperated. With 5km to go we started to feel more confident that we'd achieved our dream. However, the race wasn't won yet and anything could still happen. After 8 days of racing and 780kms we heard the heart sinking sound of air and stans blasting out of Esther's tyre - our first puncture. The hole was too big to fix quickly. Esther had to run and ride on the flat for the last 1km to the finish line. Unbelievable. A puncture in the last 1 km! The finish was lined with huge crowds of cheering spectators. We celebrated along every inch to the finish field: whooping, cheering and punching the air. Words can't do justice to the feeling. I have goose bumps thinking about it. What a very special experience. Seeing our support team waiting and celebrating our team's victory was the best ending possible.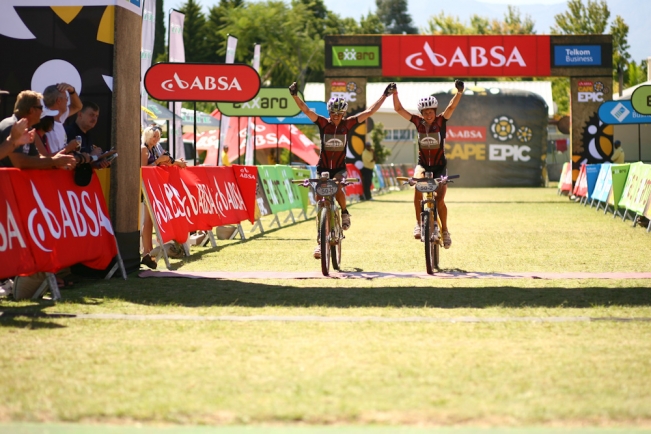 We had an amazing support crew including David Padfield (Team Manager), Peter Felber (Team Mechanic), Lars Hartwich (Team Mechanic) and Craig Gerber (Team masseur). This level of support is essential and without it we couldn't have contended for the podium. We are lucky to have such experienced and professional supporters. Huge congratulations to fellow Topeak-Ergon Racing Team Riders Alban Lakata and Robert Mennen on their 5th place in GC (and 3 stage podiums). Congratulations also to unsupported riders Ben Thomas and Josh Ibbett (Santa Cruz Bikes/Mounatin Trax) for an amazing 23rd place overall.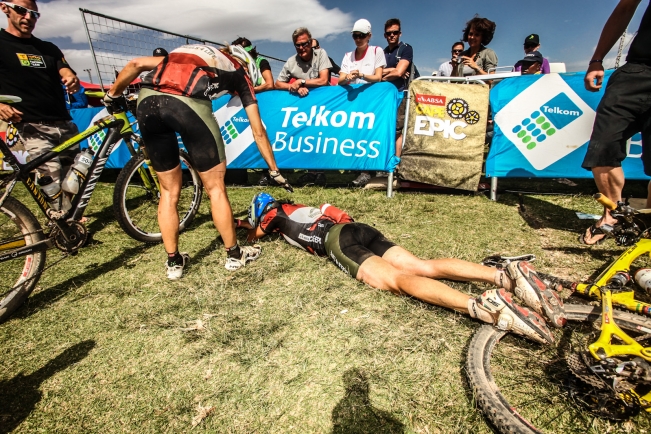 Throughout the race I rode my Canyon Grand Canyon CF 26er hardtail with a Continental 2.2 X King protection on the front and a 2.2 Race King protection on the rear (3 cups of Stans sealant per tyre). This was the perfect tool for the job. A huge thank you to all of my Topeak -Ergon Racing Team sponsors and to all of my personal sponsors: Elete Electrolyte, Pukka Pads, Torq Nutrition, Compressport, BikeBoxAlan, Club La Santa, Northwave shoes, RideBike.co.uk, Fine-ADC and Purple Extreme lubricant.