The 4 islands stage race is a 4 day stage race on 4 islands, funnily enough. There's over 1000 islands in the Adriatic to pick from, we raced on each of the following: Krk, Rab, Cres & Losinj. You race in pairs.
The event looked particularly enticing during the grim winter we've just had in the UK & Iwona & I entered in the mixed category.
There's a number of ways you can do this, hotel packages, self organised etc but we decided to actually get a boat/accommodation package. We were on the good ship Tarin, the smaller & older (quaint) of about 4 boats following the race. It was all inclusive … so a bit of change to how we normally do races.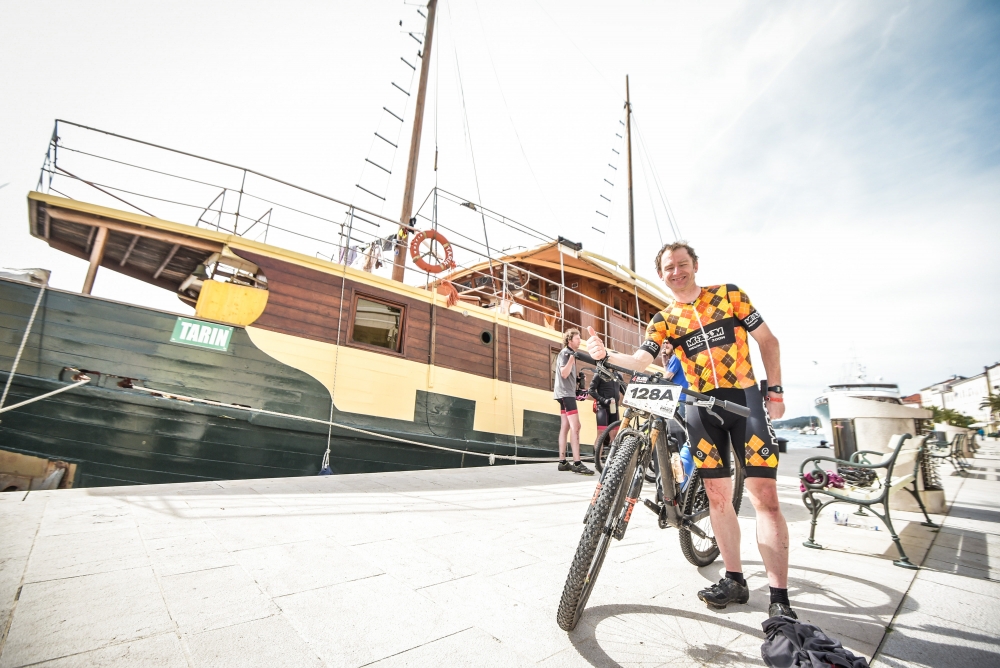 What shaped up was a harder bigger race than we had first imagined. It was a UCI acredited, so there were fast Elite pairs and in it's 4th year it had attracted about 600 riders. Many riders had competed before … always a good sign. This was a very international field, over 20 countries were represented, with riders from as far afield as Brazil, the US, South Africa & Lydney.

Stage 1 KRK 71km 1750m
The race started in 4 waves, 5 minutes apart. Everyone had timing chips. We were in the 2nd wave and found our rhythm on the first climb jousting with another mixed team (BBikes). As we crested the top they came past … the girl was on a tow rope. Bugger. We were also passed by the American mixed team making light work of the bumpy terrain.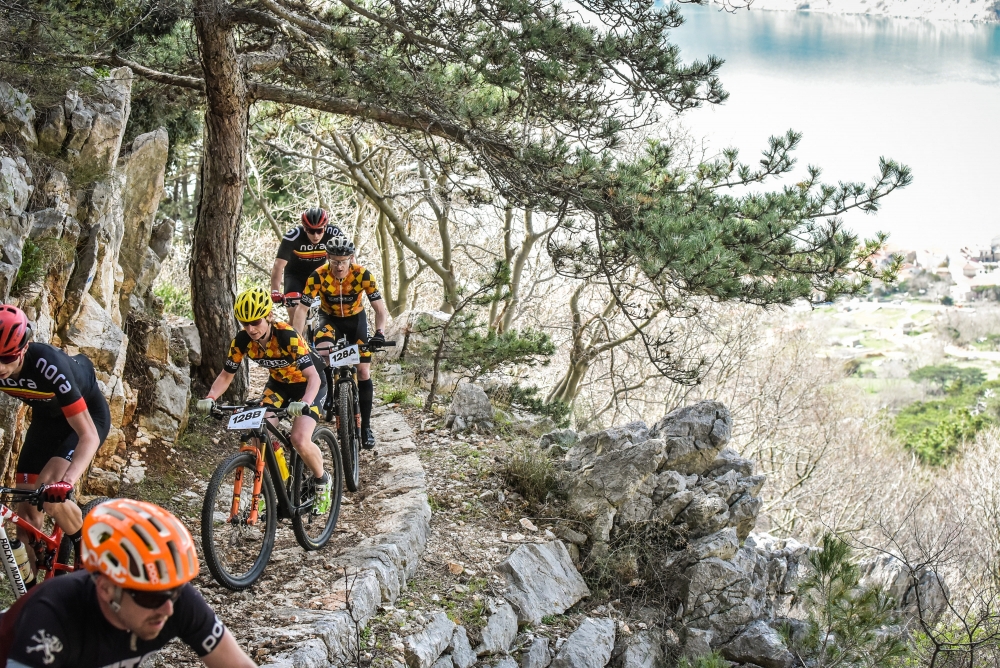 It became apparent that most riders were on full suspension bikes and it was particularly rough. White fist sized rocks were a key characteristic of the islands & quite difficult to ride on comfortably on hard tails.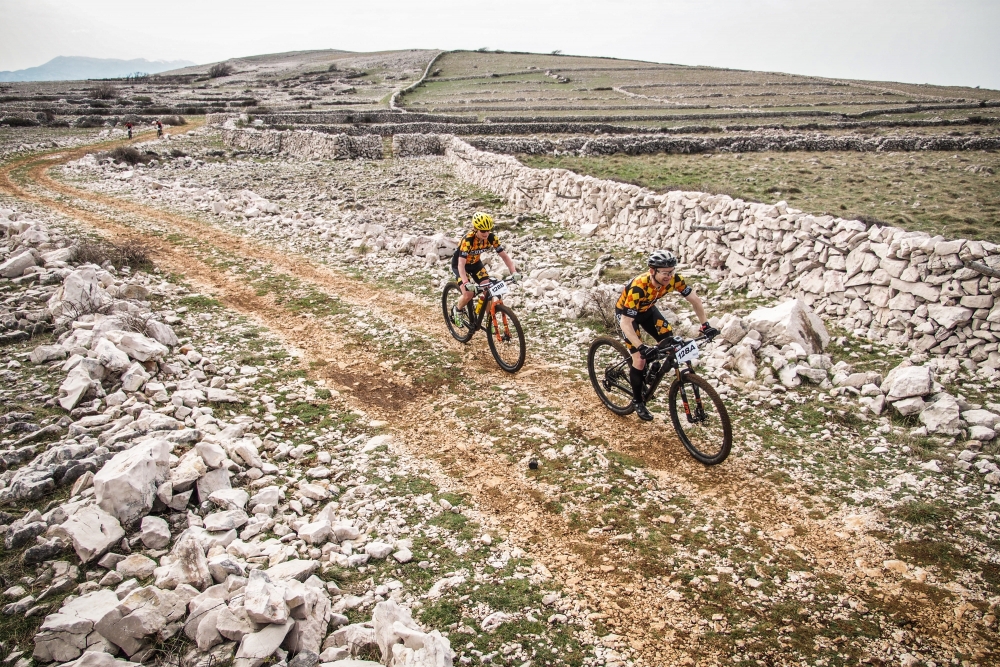 Nevertheless as the stage went on we made solid progress. We re-passed those two mixed teams and finished 2nd in the category. Yay. The team ahead who won was super fast.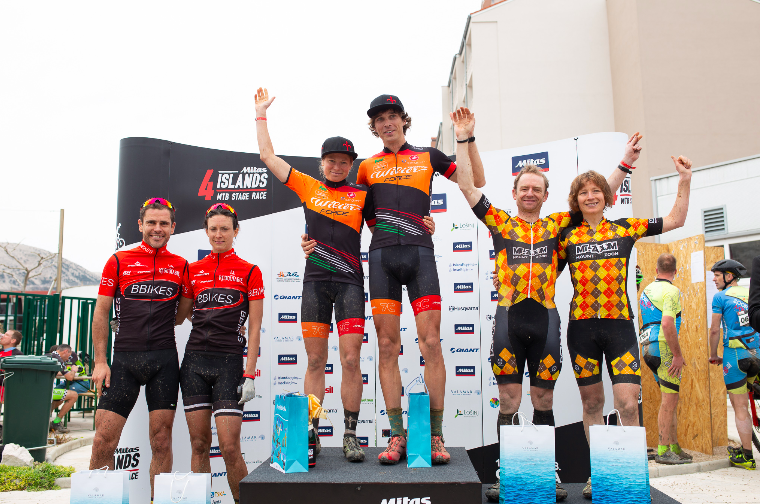 Stage 2 Rab 65km 1120m
Shiver my timbers. Grim weather awaited us on day two. Worst than I had seen previously on the forecast. We started in the rain with our jackets on & it was cold & grey. The race started from the mouth of a car ferry, novel.
The early stages of the race went well, skirting around the large puddles & through the splatter. We were used to it though.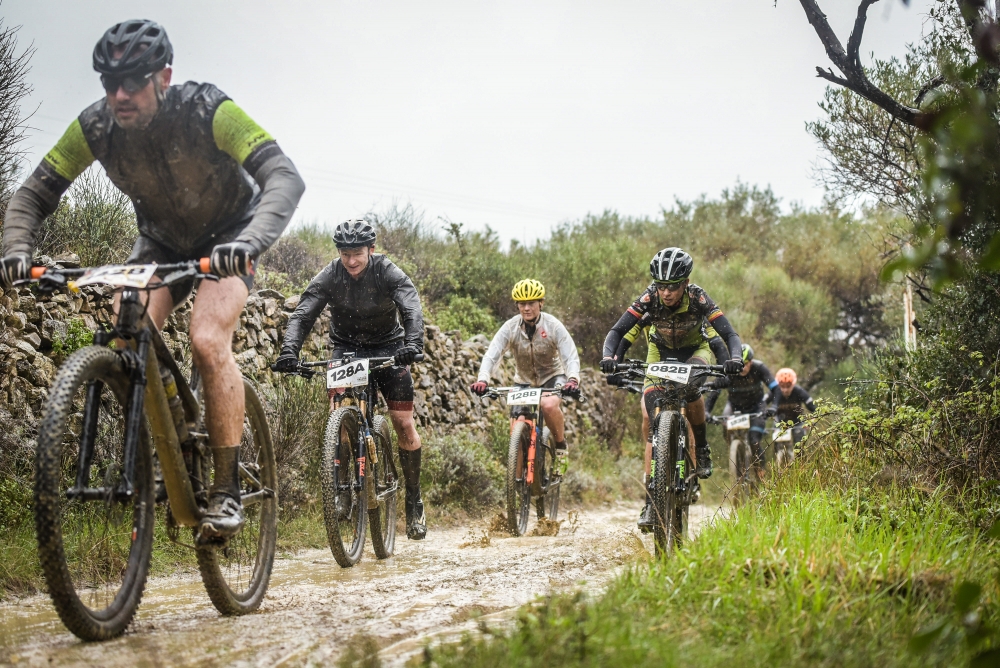 At about 15km I felt some flex on the left crank. Was it my cleat? Nope it was the crank, it was becoming loose. We stopped & tried to fix it. The locknut (which needed a pin spanner) was not doing anything & the single bolt on the crank simply wasn't holding it on long enough. We had a couple of attempts at sorting it but with no joy. There was no option but to ride on in the mud with one leg, plus some running, to the 20km feed zone & see if there was a mechanic with better tools.
At the feedzone I had another crack at it, really tightening it hard. I was surprised to find it come loose again within 1km. No good at all. The next feed zone was at 40km. Well sh*t happens, that was our race for the podium over. Mentally I figured I'd get to the next feed zone and then get a lift back. At the feed zone there was no marshals going back to the finish anytime soon … we kept on going. Some stretches were ok with one leg, when I lost momentum Iwona would push me & I would run/walk the technical bits … all the more sketchy in the wet. I was quite impressed how my leg held up, although I was worried that I was doing damage to my hip. Good leg strengthening though.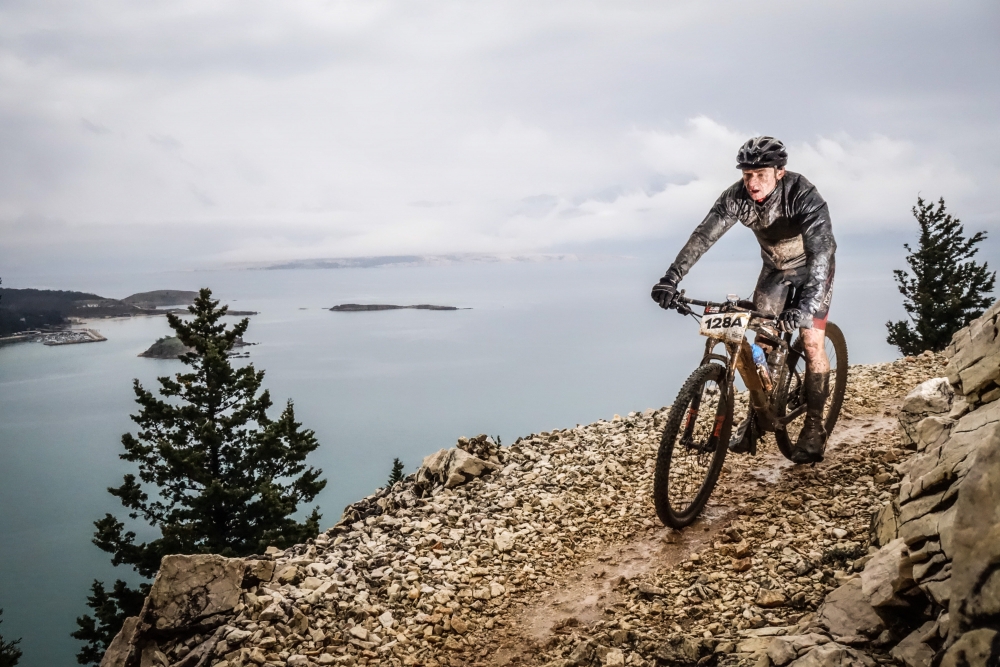 It wasn't easy descending with one leg on the bumpy surface & on the final descent I lost it, and nearly went over the edge of singletrack into the sea … a solid painful compression of rock on thigh saved me.
We finished on the beach, a pretty epic day.
The race mechanics were working flat out of course after this stage. They put in an emergency order for brake pads & other supplies for delivery first thing the next day. I had a new crankset fitted so at least we could race in stages 3 & 4.
We had lost loads of time of course, but it turned out we were still in 4th overall (out of 30+ teams). We were only 17 minutes behind BBikes in 3rd … they had incurred an half hour penalty unbeknown to us from using the bungee/dog lead own day one.
In hindsight I could have saved time by running a lot of those walking sections & not stopped for a relaxing pee … bugger.
Stage 3 Cres 63km 1650m
Land ahoy …what a difference a day makes. We pulled into Cres early in the morning. Another island, but with blue skies & sea.
When I was getting ready in the bright light I realised there was a crack in more of the seat stays on my frame. It must have happened in the crash on the previous day. Two tyre levers and a spoon were strapped around the crack with lashings of electrical tape, as you do.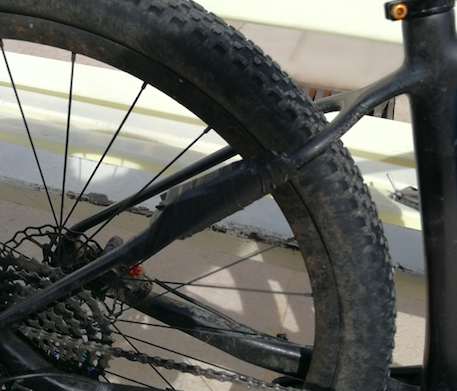 On a warm up spin I noticed the left crank was loose. Yep. The mechanics had forgotten to tighten the bolts. Sorted it was major torq.

Another start from the mouth of the car ferry. Iwona pushed really hard on the first steep climb up out of the dock and we were very high in our starting group. We were actually leading the mixed category for a quite while.

I spent alot of the stage peddling with mechanical paranoia, but the bike behaved.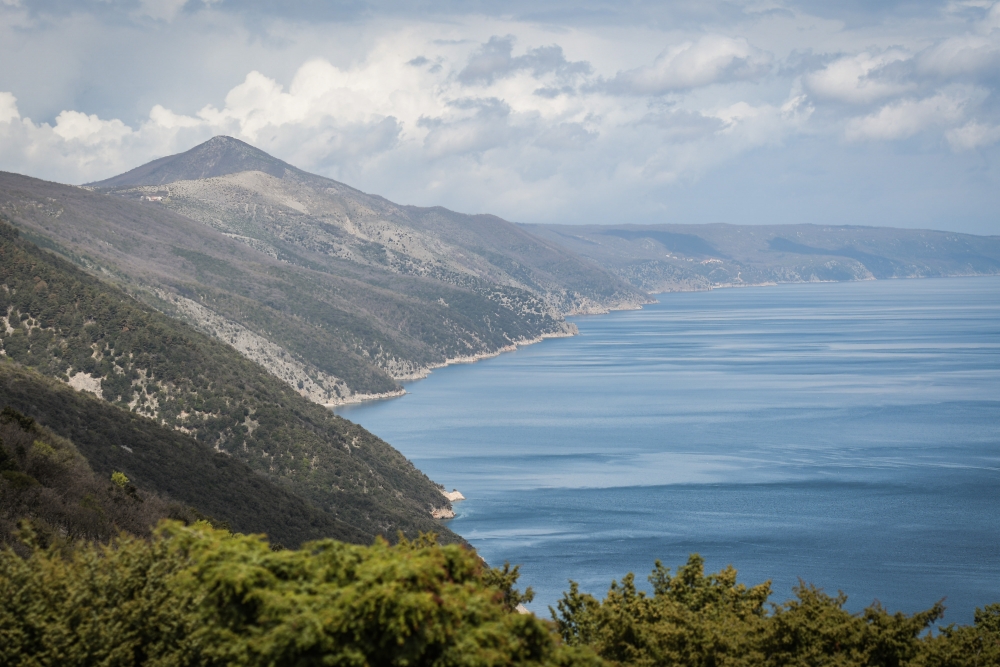 This was the queen stage. It was beautiful with lots of coastal views of cute coves. However it was rough, I was glad to make down the rock gullies. Forearms were hurting.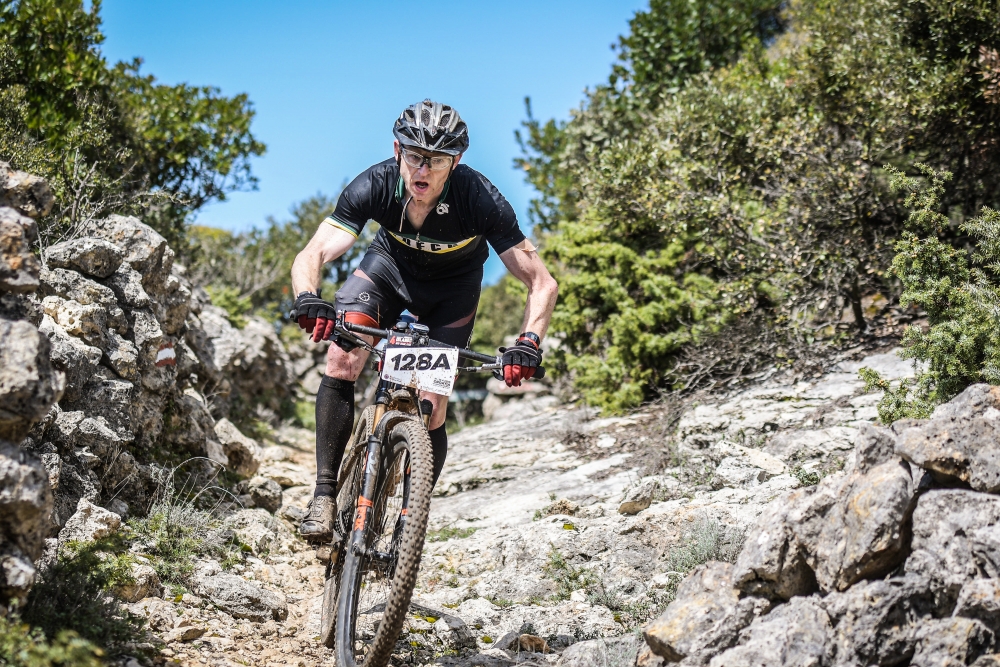 Unfortunately they shortened the days stage by 10km to 63km to avoid some boggy sections. We needed a long stage to gain some time on the teams ahead. We had a good day, finishing 2nd but only gained about 8 minutes on 3rd. To make up 10 minutes the next day to third on a short stage was a tall order.
Stage 4 Losinj 40km 950m
A short final stage meant it was super tough to make up the time to 2nd & 3rd. We were a little fatigued from pushing hard on stage 3 and it took us a while to get to get into second place on the stage.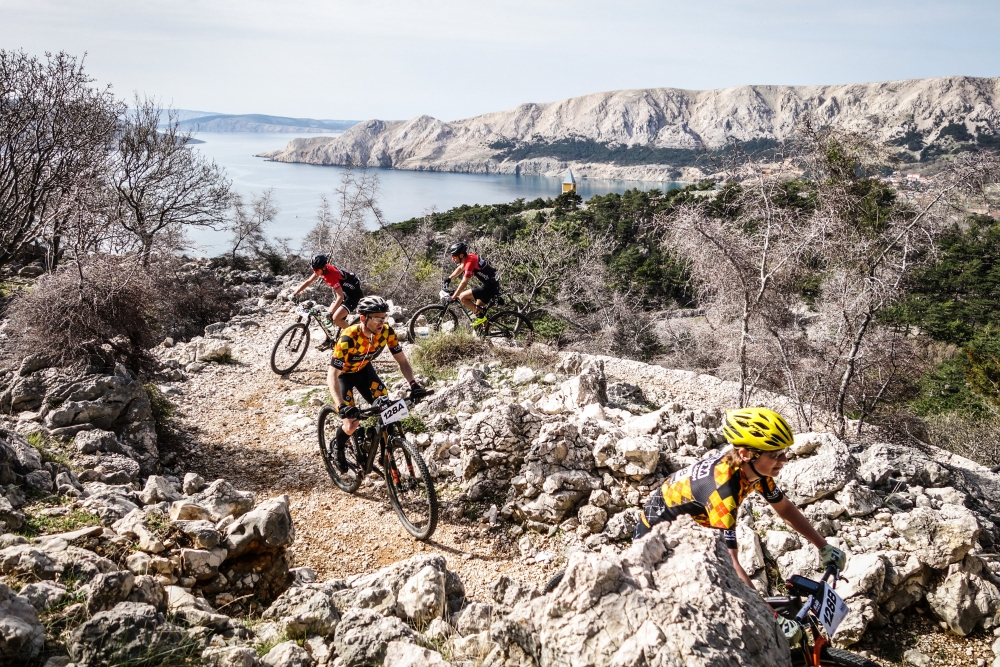 We were met with steep hot hills early on and rocky twisty flatter countryside on the final parts. Close to the end we were caught by the BBikes team and had a long tough sprint for 2nd place, we just won by a wheel. At the podium ceremony we discovered the stage winners had been given a half hour time penalty for being more than 2 minutes apart, apparently a tactic they used while fixing a mechanical ... so we were awarded the stage win.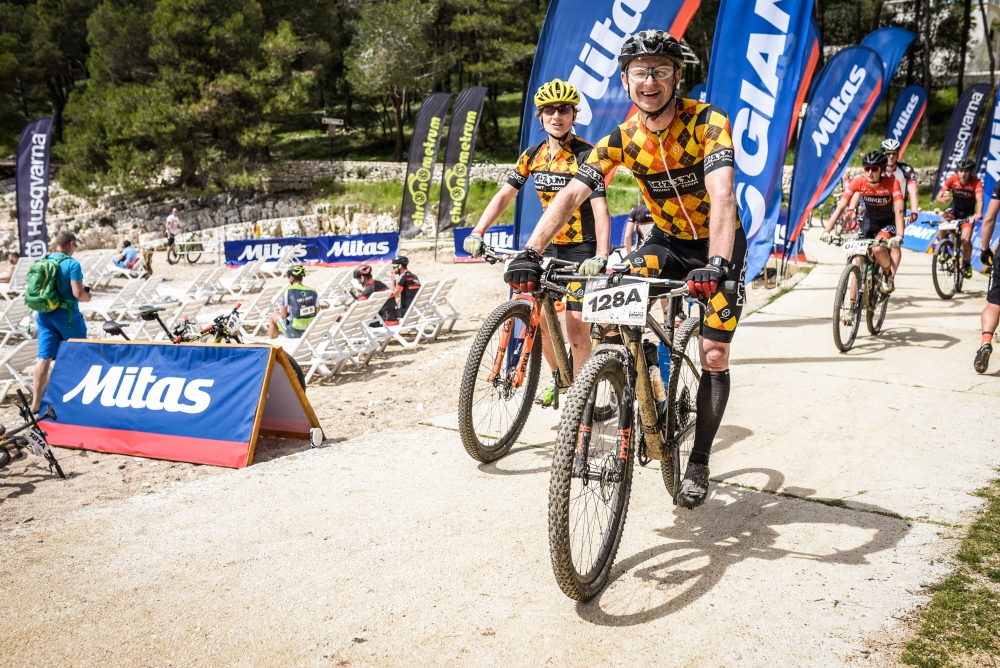 We were very impressed with Croatia. It was easy travelling, relaxed & very pretty. The race was well organised and had a very positive vibe.

We hope to go back to this event next year, bringing full suspension bikes & 2.3 tyres. We think the boat package is the way to go. The food was ace.

https://4islands.hr/