---
ANDALUCIA BIKE RACE - Stage 2
Share on Facebook
Share on Twitter
Published: 1st March, 2011
Today Kristine and I agreed to take things easy and not to take any chances. We knew that immediately from the start line there was a long, steep, loose descent where riders gridded behind us would all be jostling to get ahead. Our plan was to play it safe, get down safely, and then start racing.
Once the race started we soon knew that we had made the right decision. From the gun things became a little 'aggressive' with the whole pack of riders all vying for a small entrance to the trail. Then things became a bit chaotic with riders skidding out of control and crashing into each other. We were almost at the bottom when Kristine lost her front wheel on the 'marble-like' gravel and had a small crash. Fortunately she was OK and we were soon on a long flat section where we were able to go full speed and pass many packs of riders.
We caught the leading women's team at the bottom of the first climb and soon took the lead which we then kept for the remainder of the race. We relaxed into a good rhythm and enjoyed the nice trails that lay ahead. The course today was perfect: it was not as demanding as yesterday's course which meant that we were able to conserve some energy for the stage tomorrow. We now have approximately 50 minutes lead over second place; however there are 4 stages left and we are fully aware that anything can happen.

Distance: 73 km Climbing:1.710 m
We both had a lot of fun again today and we're really happy to be racing together.
So now it's time to eat and rest :)
Blogger Info:
---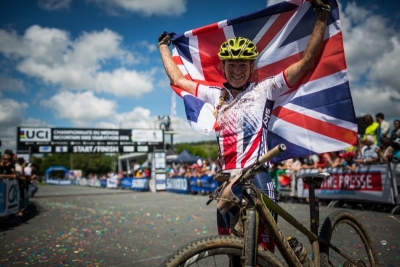 Topeak Ergon Racing Team Rider. European Champion (2016) and 2 x Silver World Championship medals (2016, 2013).
http://topeak-ergon.blogspot.com/
Read More By Sally
---
Disclaimer:
This blog post was written by a third party and their views do not necessarily reflect the views of XCRacer.com