---
ANDALUCIA BIKE RACE - STAGE 4
Share on Facebook
Share on Twitter
Published: 4th March, 2011
Stage 4: Priego de Córdoba-Jaén. Today we moved stage towns from Cordoba to Jaen. The temperature has really dropped here and it was only 4 degrees when we set of this morning *Brrrrr* The low temperature combined with the altitude today meant that we wore many more clothes than the previous stages and this proved to be a good decision because it was really cold at 1200 metres.
We didn't have chance for a warm up so we took the start really easy and cruised up the first climb with the other ladies teams. After the first descent the course followed an old railway line until the last big climb. This was a real power session for me and I loved it :) I was able to find a good rhythm and we past many male riders; some jumped into our slip stream while other riders couldn't keep the pace ;) Eventually we found one guy who was willing to work and take turns.

The last climb was really beautiful. The scenery totally changed and we entered the forest. The trail turned into a sweet piece of singletrack which was steep and rocky in places. It was certainly challenging after 100km! The descent to the finish was so much fun: lots of swoopy singletrack and some steep, loose, rutted drops. Once we exited the trail a police motorbike escorted us down the fast descent through the town to the finish line :D
Job done and we took the victory again :) We hope for good luck again tomorrow. Fingers crossed.
Blogger Info:
---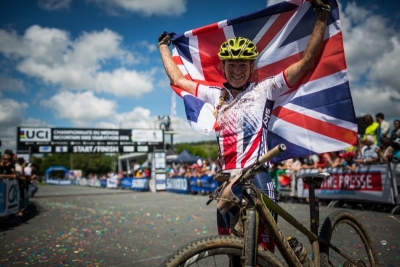 Topeak Ergon Racing Team Rider. European Champion (2016) and 2 x Silver World Championship medals (2016, 2013).
http://topeak-ergon.blogspot.com/
Read More By Sally
---
Disclaimer:
This blog post was written by a third party and their views do not necessarily reflect the views of XCRacer.com