---
ANDALUCIA BIKE RACE - STAGE 5
Share on Facebook
Share on Twitter
Published: 6th March, 2011
Stage 5: Eastern Jaén
Distance: 63 km Climbing: 2.030m. After the stage yesterday we noticed some small cuts in my tyres so we decided to take no chances and to change them. It's always good to know that your equipment is in good condition at the start of a stage. Dave is doing an excellent job of team supporter and we know that it would be so much harder without his help.

Once again we had a lot of fun riding today and in doing so we won the stage and retained our leader jerseys. I know that I keep saying how much fun it is here but it's true and we're getting to know and understand each other really well. We chat and laugh the whole time, even on the fast descents we still shout to each other about what is ahead. It's really cool to build such a great partnership.
The trails here in Jaen are really nice. The singletrail descent from 1300 metres was long and lovely: swoopy, smooth and fast :D I think that we will definitely return here for a training holiday. We have found the course well marked but on the final descent we missed a marker and descended down a steep, rocky trail to a dead end! Yikes! It was a tough climb/hike back up, but good training ;) Fortunately it wasn't a long descent and we only lost about 5 minutes or so.
We nearly collided with a dog on one of the asphalt descents but luck was on our side! We hope for good luck and lots of laughs again in the sixth and final stage tomorrow.
Blogger Info:
---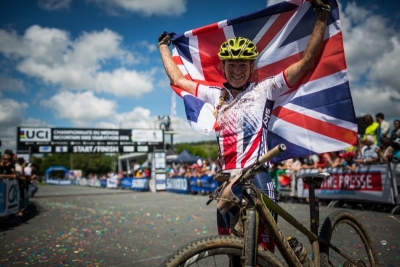 Topeak Ergon Racing Team Rider. European Champion (2016) and 2 x Silver World Championship medals (2016, 2013).
http://topeak-ergon.blogspot.com/
Read More By Sally
---
Disclaimer:
This blog post was written by a third party and their views do not necessarily reflect the views of XCRacer.com