---
ANDALUCIA BIKE RACE - STAGE 6
Share on Facebook
Share on Twitter
Published: 8th March, 2011
Stage 6 (Final stage): Southern Jaén
Distance: 82 km Climbing: 2.450m. Today was about playing safe with the sole aim of securing our overall race win. We checked the weather forecast last night and low temperatures (only 1 degree in the morning!) and rain were forecast, this combined with the height gain during the stage meant that we knew we would be in for a cold day!

We both took extra clothes including leg warmers, waterproof jackets, neoprene overshoes and thick winter gloves. We know from experience that rain can often mean snow on high ground.
We set off really slowly and we were in last position (out of the ladies teams) at the beginning of the first climb. After the first feedzone at 19km we started to warm up and picked up the pace and in doing so we gradually started to pass the other teams. Once we reached the top at 1300 metres we were in second place. The climb up to the top was really beautiful especially when it snowed; the white snow flakes and the pink almond tree blossom looked lovely.
Even with all of our extra clothes we were still cold on the descents. There were many people wearing just shorts and jerseys - they must have been frozen! The leading mixed team (Cait Elliot and Josh Ibett) were having a great ride today and it was a real shame to see them puncture on the descent from the top, fortunately however they didn't lose much time and they won the stage taking the overall race win.
As we went through the final feedzone we were riding with Jennifer Smith and Kathy Sherwin who were leading the stage. They both had a super strong ride today and in doing so took second place overall.
We both had good luck again today and we're super happy to have secured our overall race win. Wahooooo!!!!!!! During 23hours and 4 minutes of riding over 6 days we've had no mechanical problems. A HUGE thank you to Dave, who has been unbelievably good to us and has made sure our equipment has been working perfectly!!!!! Thank you so much. The three of us have made a great team :D
Blogger Info:
---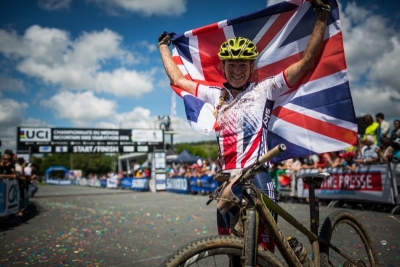 Topeak Ergon Racing Team Rider. European Champion (2016) and 2 x Silver World Championship medals (2016, 2013).
http://topeak-ergon.blogspot.com/
Read More By Sally
---
Disclaimer:
This blog post was written by a third party and their views do not necessarily reflect the views of XCRacer.com