---
Annoying injury + Kielder 100
Share on Facebook
Share on Twitter
Published: 11th October, 2012
After deciding not to do Mountain Mayhem solo, because of the impending horrible conditions, I looked towards the National XC Vets champs as the next challenge.
I tried to load up the races ahead of this. First up was the enjoyable Cannock Classic Enduro, which was a good scamp around in nice conditions. Dan Fleeman and Matt Gee were out of sight, but I managed to hold off Pete Harris to come 3rd.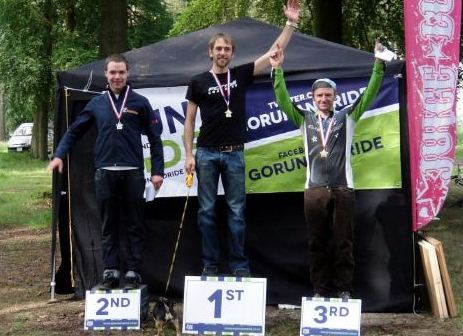 Then after a short road time trial and wet Midlands Friday Night XC race I headed over to the CRC Marathon at Marshbrook. I was a bit tired going into this and with some of others at the front got lost after the excellent Eastridge singletrack. Going down the final Long Mynd descent with Pete Turnbull in about 4th / 5th position I swerved out to pass a 50k rider and over a drop off I didn't see. A double summersault and big crash ensued. Fortunately no bones were broken, just some skin wounds and what felt like a shoulder that had been hit with a baseball bat. I gingerly limped to the finish.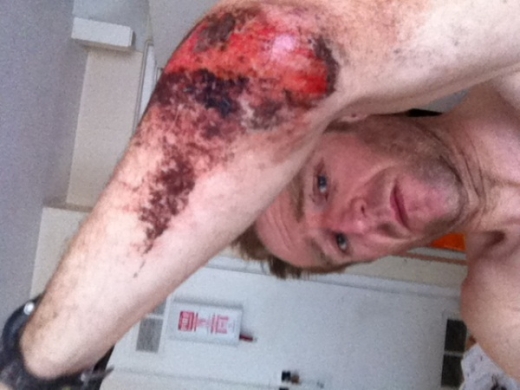 ... actually the shoulder hurts.
The next day the shoulder felt worst. I couldn't lift my arm. Ultimately a torn rotator cuff was diagnosed. The weekend's XC champs were now clearly off the table. The shoulder was taking ages to come right so I couldn't risk doing the Brighton Big Dog a couple of weeks after that either. Boo. This was a really annoying, but any unexpected jolt or endo could make it worst. As time wore on the improvement was so slow that I would of gladly have swapped a broken collar bone for this. As I sit here 10+ week after the initial crash I still can't lift my arm without pain. What a crap injury.
I raced again at the last round of the BMB XC series at Langdon hills. Luckily all the rubbish weather in the area avoided the race and it was a smooth un technical course.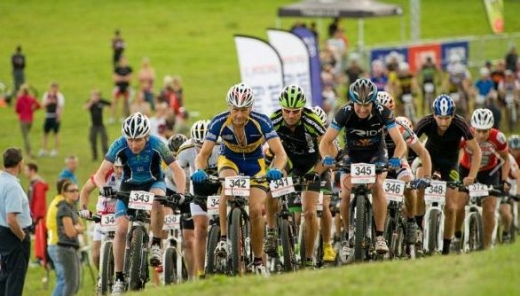 I managed to hold my own but was on the verge of cramping on the last lap and lost a couple of places to finish about 9th
I then went over to do the excellent Red Kite Devils MTB 80k challenge in Llanwrytd Wells, Wales. A couple of riders had problems ahead of me so I came home first, although I was a bit twitchy on the techincal stuff.
The big UK race at the end of the season would be the Kielder 100. General spirits were high as the weather was much better than in previous years. I didn't have a good night sleep in the tent, mainly dreaming that I was trying to sleep in a tent but failing.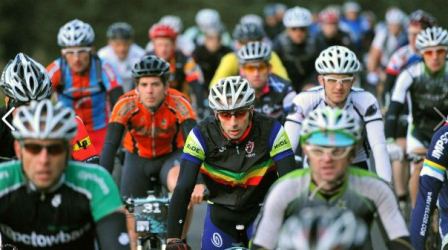 photo courtesy of Joolz.
After the 6.30am start I felt okish. The main competition in the Vets category was last year's Vet's winner Rich Rothwell and Adrian Lawrence. Things weren't going too badly in the first quarter of the race. I passed Adi at the first feed stop and thought that might be it for him as he races more XC than Endurance. Although Rich was ahead and I was climbing pretty badly I muddled on. A schoolboy error in adjusting my brake levers too far from my bar meant I was descending worst than my shoulder and confidence would allow. It was a similar start pattern to my previous couple of Kielders.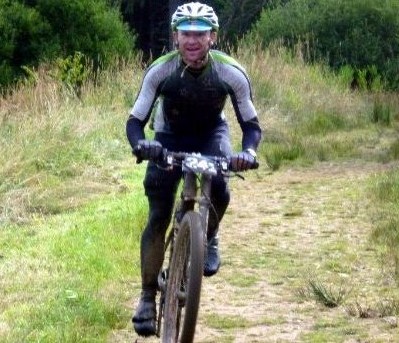 ... less smiling and more pdealling needed
For most of the race I oscillated with Grieg Brown and Matt Mountfield. At Newcastleton (60 miles in) I was in the 2nd Vet position and found out that I was 10 minutes behind Rich. Last year at the same point I was over 11 minutes down and brought it back to 30 seconds. So it was still doable. Greg and I worked together at Newcastleton. We both knew the trail centre well, I think I've ridden around there well over 70 times, so we unhooked Matt Mountfield and Richard Jones at this point. By the time I got to the final feed station Grieg had dropped off, to be fair he had done more work that me and my intermittent snoring in the tent the night before has ultimately ground him down. So could I catch Rich? Last year in the final quarter of the race I could catch glimpses of him, but this year I was told I was 5 minutes behind, so this wasn't looking good. Also I felt a big urge just to stop and fall asleep, so I weakened in the last 15 miles. Grieg and Matt re passed me and a flying Adi Lawrence sailed passed on a climb near the end. I caught Grieg but couldn't hold onto to hill climb specialist Adi.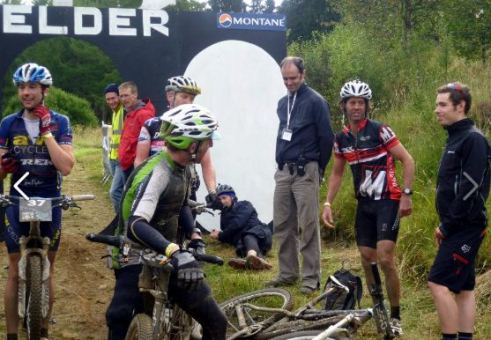 ... happy to be finished
So in the end I finished 3rd Vet, my time at 8.39 was only a little slower than the previous 2 years despite not feeling good. I think the Vets record of just under 8 1/2 hours is quite doable. Well done to Tim Dunford who won the whole thing at just under 8 hours, and Rich Rothwell in Vets who was about 6 minutes up on me.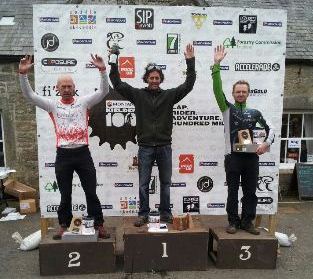 I've had some comedy cyclo cross outings in the last couple of weeks on the mtb, but am currently getting nibbled at by mosquitos in Jakarta on a round about way to the MTB Tour of Langkawi. Things could be a whole lot worst … mossies are easier to kill than midges, although shifting my overweight bike box seems to have buggered the shoulder again. Boo.
Blogger Info:
---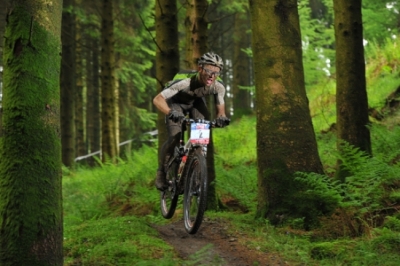 24 solo racer, world traveller and now the man behind the xcracer shop
Read More By Anthony
---
Disclaimer:
This blog post was written by a third party and their views do not necessarily reflect the views of XCRacer.com