was to be my main race of the year and I had been looking forward to it since Sophie first mentioned it back at the beginning of the year. I am pleased to say it lived up to all expectations.
Taking its name from the Apennine Mountain range that runs North to South through the centre of Italy this was a region I had not visited before. Whilst not as high as the Italian Alps, the teaser promotion video and photos from the organisers promised true mountain territory with spectacular views.
Other than a transfer between the prologue in Bologna and stage one in Berceto the race was to have been a point to point to the final hosting town of Bagno Di Romagna. Bad weather in May (yes even in Italy) however resulted in landslides and fallen trees meaning some sections had to be cut, requiring a transfer between Porretta Terme to Santa Sofia.
The Route
After the prologue in Bologna we travelled to Berceto for the start of stage one, where a 79km route took us to Castelnovo Ne' Monti. Stage two, the longest stage of 101kms, was from Castelnovo Ne' Monti to the next host town of Fanano and stage 3 was a 50km course to Porretta Terme. Stage 4 was then a time trial loop of 24kms stating ad finishing in Porretta Terme. For stage 5 we travelled to Santa Sofia in the morning for a midday start, a 53km loop to and from Santa Sofia. Stage 6 to Bagno Di Romagna, originally planned as the queen stage at 114kms, was shortened to 55kms. At the final hosting town of Bagno Di Romagna stage 7 was a double loop of a technical circuit at a total of 34 kms.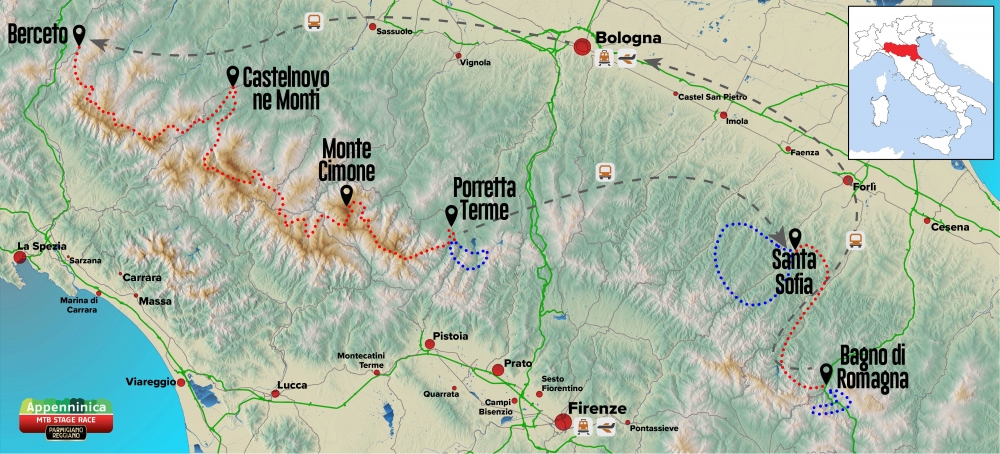 Hospitality
Each hosting town (Berceto, Castelnovo be Monti, Fanano, Porretta Terme, Santa Sofia and Bagno di Romagna) gave us a warm welcome and all were unique with their own history and style, whether as a spa and wellness centre or as the host of an International Soul festival . The evening briefing was often in the town square where riders would enjoy the atmosphere, a beer or an ice-cream. Locals would join us for the presentation, see the photos from the day and then watch a movie on the large screen. Each hosting town catered for us with amazing Italian cuisine, three courses plus dessert.
At the end of each stage plates full of rice went down very well and with sponsorship from Parmigiano Reggiano there was always Parmesan available.
Mark and Tom (plus baby Sam) came over on the very reasonable companion package and were made very welcome (at dinner time the food was plentiful and tasty and Mark had to keep reminding himself that he was not racing).
Included in the entry package, as well as three meals a-day there was also accommodation in the camp. A few took the hotel option but most were in the camp, sleeping in a Monastery, Schools and Sports Halls.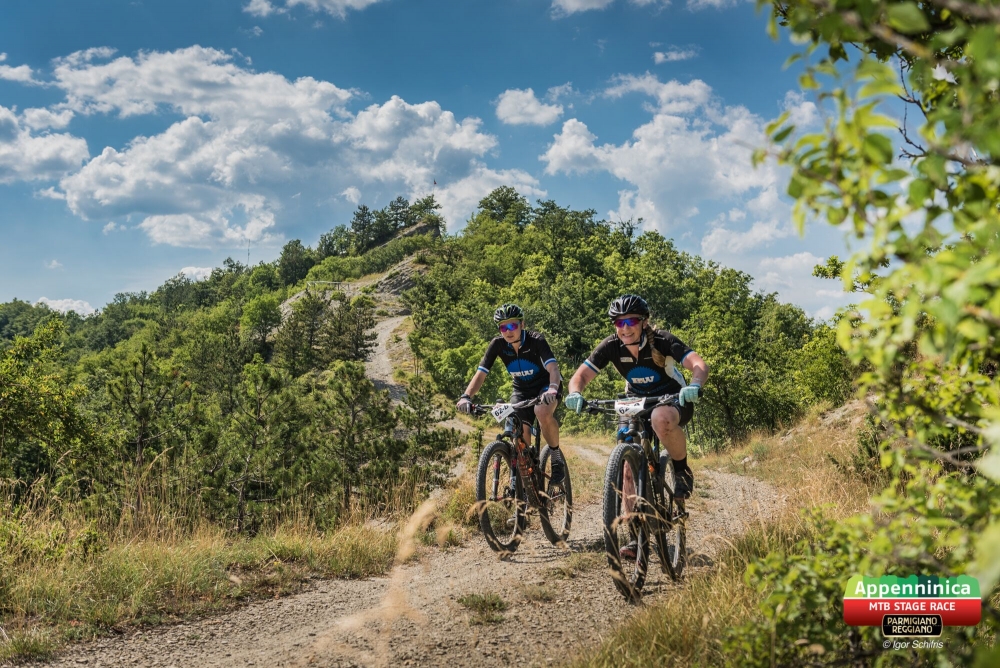 Team BW Cycling
The Racing
Traversing and blasting down the trails together was great fun and Sophie and I rode these well as a pair. Going up the climbs was a lot tougher, especially the steep ones where I often could not hold the pace. Sophie is showing amazing form this year and seems even stronger after having Sam, it's been great to see her do so well in local and international races.
There were only two women's teams and we had close races most days, both teams winning four stages each, but we never made back the 30 minutes we lost on stage two to a mechanical though we never stopped trying.
The hardest part of the race for me was on stage five from Santa Sofia. It was only a 53km loop but with a midday start the temperature hit the mid 40s and my body went to jelly. My head was spinning and I desperately just wanted to get off the bike and to fall asleep. The first climb took forever but we got to the top and had an amazing descent back down before the final climb and descent to the finish.
In terms of highlights there were many; the whole race, the riding, the great atmosphere and the beautiful area. It's hard to pick out just one good trail or one good day. Each day gave me something special to remember (even on the painful hot day).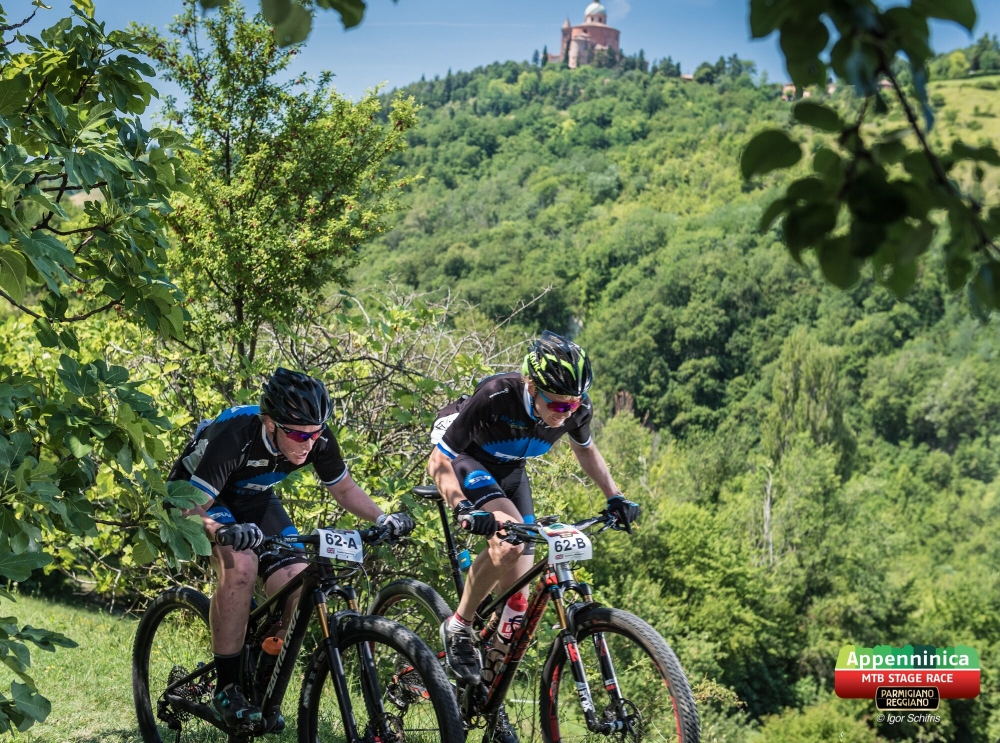 Prologue pain in Bologna
Overall verdict
Appenninica MTB stage race is a tough but fun race over amazing terrain with stunning views. Pre and post-race food was excellent and the friendly and passionate group of organisers made this an even more special and unique race.
The Apennine mountains were a real joy to race over, the landscape and trails offered amazing variety. Climbs and descents were technical at times (which we loved) and all the descents were more than worth the climb to reach them (these climbs were tough at times). We were treated to long fun trails and a lot of my favourite parts were traversing across open ridges and through woodland with Sophie.
The route offered plenty of natural single track, steep tricky climbs, forest tracks, breathtaking views and fast sections on loose terrain. A very small amount was on the road, it really was proper mountain biking. The organisers obviously wanted to reveal to us the beauty and the culture of the area.
This is an exciting new event in the world of international stage racing. Event organisers Milena Bettocchi and Beppe Salerno have designed a not-to-be-missed stage race and I am really excited to see it grow and return to race again.

StaGE 3. An absolutely amazing route traversing along the ridge. Lukas Kaufmann took the overall win.
The Amazing team behind Appenninica MTB Stage race.
Stage 6 :The climb that was described as designed by the devil.