---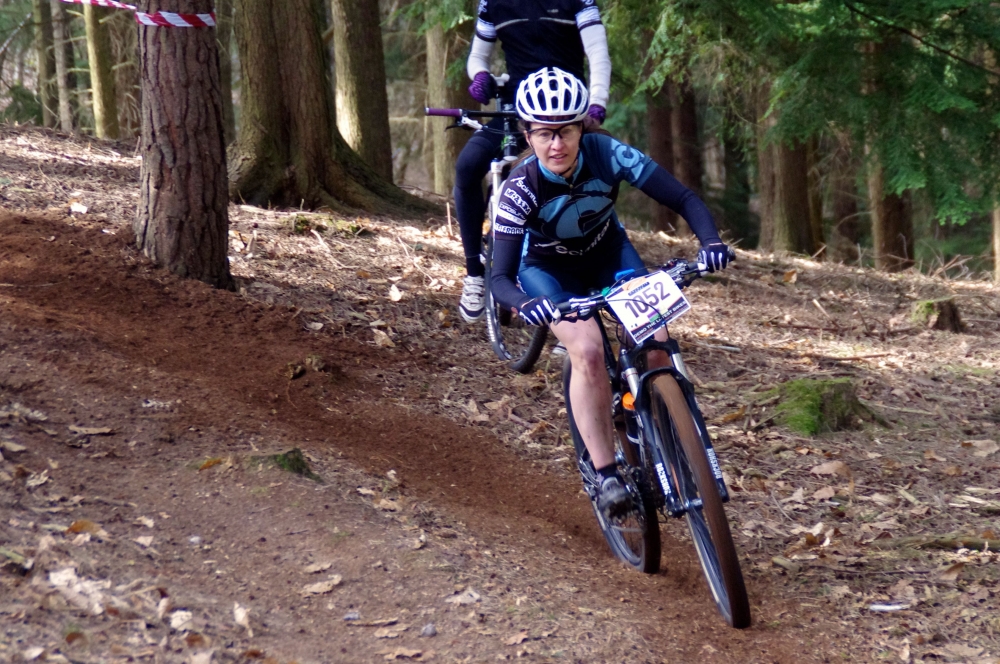 Atishoo, Atishoo, we all fall down....
Share on Facebook
Share on Twitter
Published: 22nd March, 2015
I know it sounds like a lame excuse but I really was poorly. I thought I had avoided the lurgy that has gone round my household in the last two weeks but after feeling a little bit under the weather on Saturday, I woke up this morning with a cough, stuffed up nose and general feeling of aughhh. Now, if I could ride my bike any time I liked then I would have called in sick and taken the day to recover. But I only get the ride when the stars align and the kids are taken care of. The new race times for this years Gorrick series have played havoc with my racing as it is now not possible for both my husband and I to race as all the men's races overlap with the ladies expert cat at some point. This means arranging babysitters or racing alternate events, which is a bit of a pain. So with a free pass to race, I could hardly say no.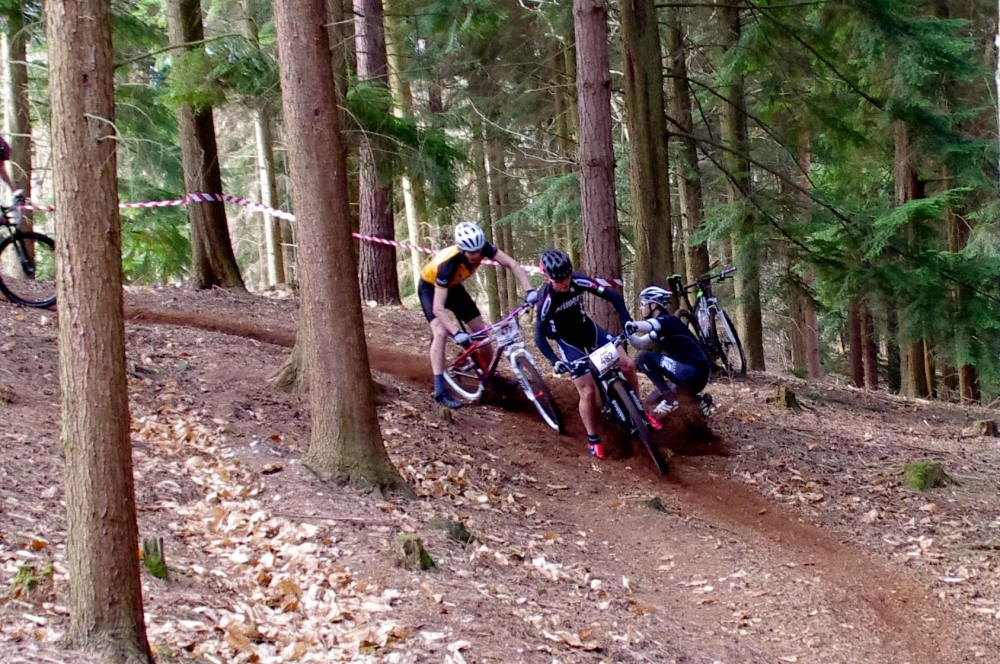 The dusty trails were tricky in places....
With a last minute change of venue, round 4 was held at Frith Hill in Deepcut. This is a fairly small area of army land that boasts a massive amount of single-track. It also has the advantage of a hard standing car park. The team did an excellent job of course design in a very limited time window, providing some of the usual trails with a good smattering of new stuff thrown in.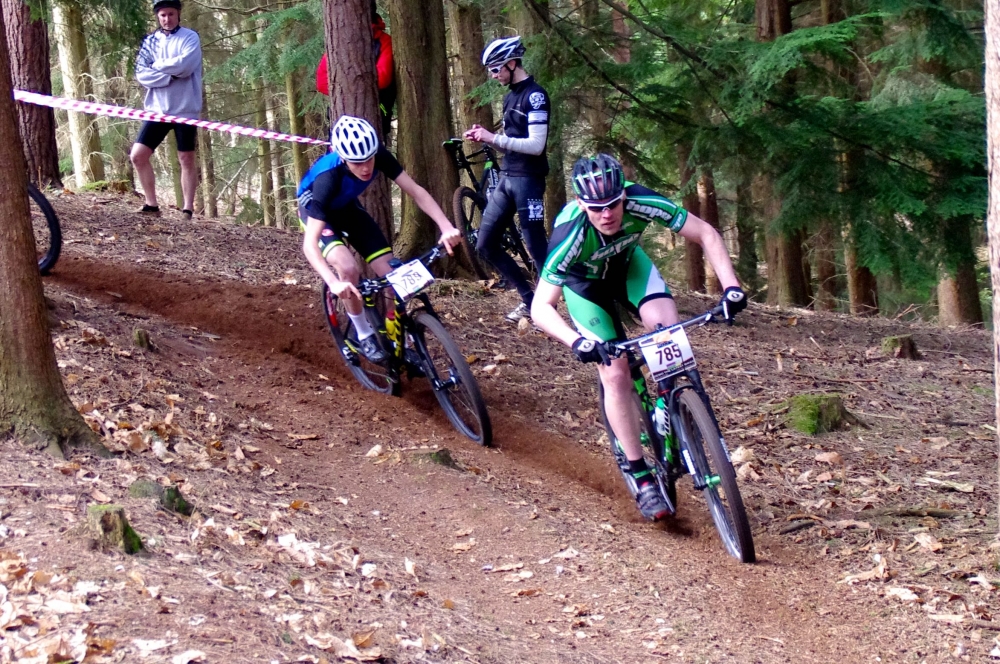 Dave Collins and Dan Booth (Hope factory Racing)
The ladies expert category always seems to attract some serious talent and todays race was no exception. As well as GB development squad riders we saw Mountain Bike Orienteering (MTBO) World Cup Series winner Emily Benham and Road rider Lou Mahé (who many of you will have watched grace our screens as part of the massively dominant Mule Bar Girls team).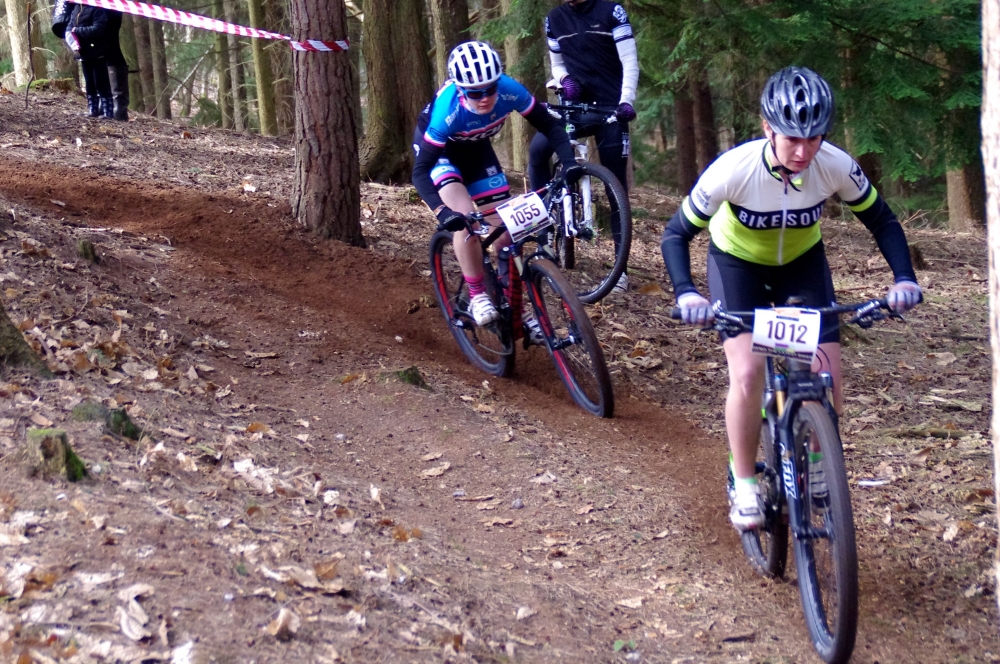 Natasha Litherland got off to an excellent start, leading out the ladies Expert field in front of Louise Mahe

My tyre choice was excellent. Kenda Small Block 8's were just the job on the dry, hard packed trails. It was such a pity my body wasn't up to it. I had hoped to cash in on my home advantage in knowing the trails. While there are no big drops or balls out descents here, there are plenty of technical sections to catch out the unwary. "The Roadie Traps" being a good example of this. A section of sequential bomb holes with roots and an off camber corner to contend with, this section has claimed it's fair share of mountain bikers and roadies alike, especially when ridden at race pace.
At the pointy end of the ladies race Louise Mahe and Emily Benham fought it out for first place. At the back end, I tried desperately to hang onto Ruby Miller's wheel but just did not have the legs. The worst of the hills were at the very end of the lap and even after the first lap I was ready to call it a day. However, the sun was shining, the trails were running fast and it is just plain rude not to ride in those conditions. I limped round 4 laps and was immensely glad to finish.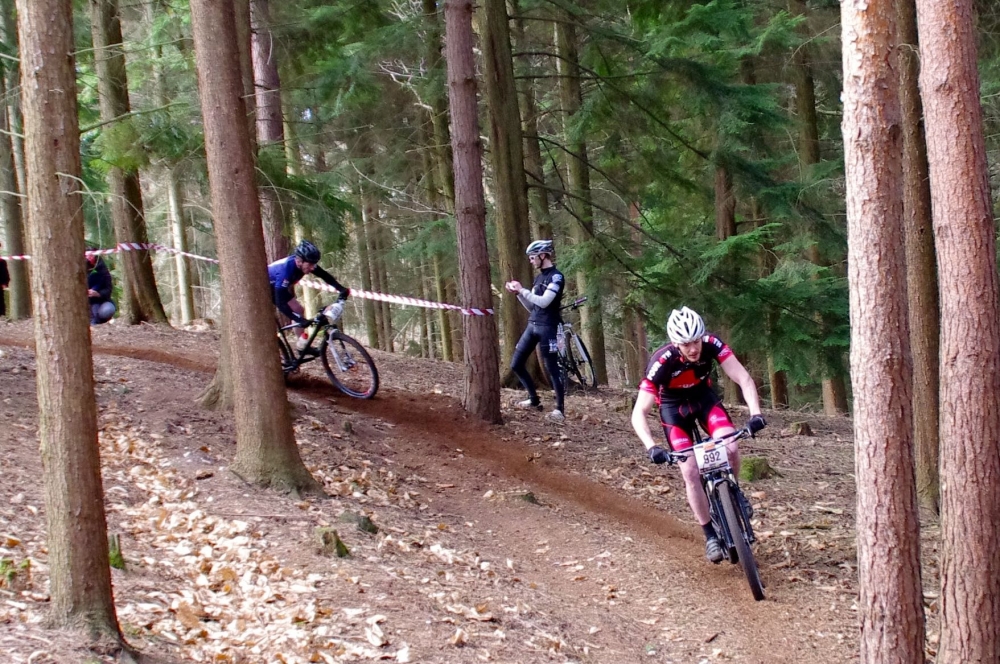 Pete Moore (Four4th Lights) leads out the mens Masters Plus race

In the men's races, Phil Pearce of Banjo Cycles took a convincing victory over Daniel Tulett. He passed me in his usual good-natured race style like I was standing still (which, to be fair, I practically was). The Men's Masters Plus winner, Pete Moore, lead from the start and took the series title from Jamie Newal . In the Men's Vets Plus race, Marc Chamberlain dominated after series leader, Lewis King had a disastrous 4th lap.


Another excellent day racing. An unfortunate technical gremlin in the Timelaps computer system delayed the start of many of the races after the usual "turn it off and turn it back on again fix" failed to work. However, contingency plans kicked in and we were not kept waiting for long. Many thanks to all the team at Gorrick for yet another fabulous race series. See you later in the year for the Gorrick 100 and the Summer Monkey.



---
More on the Gorrick XC Saddle Skedaddle Spring Series 2015 Rd4:
Event Calendar Listing
Blogger Info:
---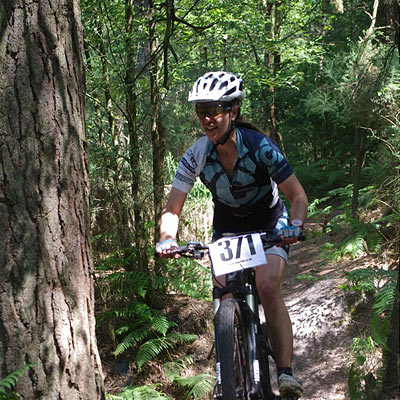 Mum, Pharmacist and XCracer Team Rider

Read More By Louise
---
Disclaimer:
This blog post was written by a third party and their views do not necessarily reflect the views of XCRacer.com