---
Bontrager 24/12
Share on Facebook
Share on Twitter
Published: 30th July, 2013
It's been a while since I wrote anything down, so much to tell, but I won't go on for too long...
This year I have taken a back seat with xc racing, deciding to focus more on the cross season. As such I have done more of the social mtb events, unfortunately I take them just as seriously! Here's a quick rundown of my team racing this year...

Talk of pairs racing with Dan Treby had been knocking about for a year or so at Brotherton Cycles, it finally came into fruition at Bristol Bike Fest 2013 (- see Dan's blog http://www.dantreby.co.uk/dans-blog.html ). Before this we had never even ridden together socially. Bristol Bike Fest went surprisingly well, smooth transitions, similar work ethics and vital support came from Paul Wright and friends, fundamental in the team's success when dealing with mechanicals and communication issues that we had. We managed second place, battling closely for first.

Mayhem was magical with our wide and varied range of riders, ranging from an ex-GB runner turned Roadie, to an "alternative type" on his fat bike and of course the master competitor of twenty four events Mark Spratt guest riding for us. We were blessed to have an equally varied and committed Team support, most of which stayed up through the night, constantly maintaining the bikes, keeping the riders fed, watered and warm. The racing was very close with Jedi Knights, but this time top step was achieved in the mixed category, by a lap and second overall to Team Scott (see Dan's blog http://www.dantreby.co.uk/dans-blog.html ).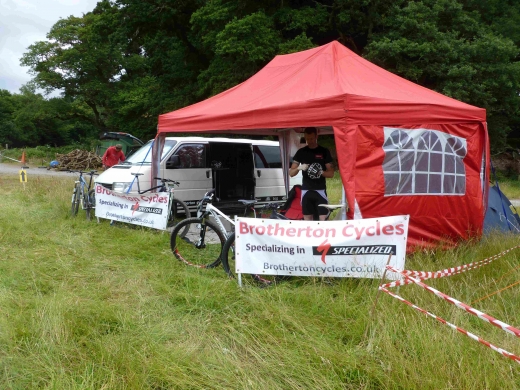 Bontrager Twentyfour Twelve has always been a must do event each year for me. I entered it a while ago, not sure if I would do it as a pair with Dan, but thought I better get an entry in. Despite living in probably the best place in the UK for access to every MTB event going (Birmingham), Plymouth is still a flipping long way away. As such this time we were on our own, no team support...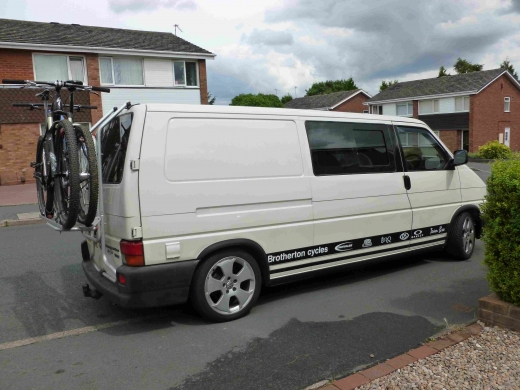 All set to go

Friday's journey down the M5 was its usual eventful self. We were both very laid back though, Dan having just returned from France/the Tour/Alp D'Huez; me returning from a week in Scotland's sunshine and trails. We took in a few off-piste routes, drank lots of tea and ate dry cornflakes as we watched a tranny van bellowing with smoke. On arrival we carefully selected our spot - just found the last bit of trackside camping, literally the end of the campsite. It suited both of us. Camp set up, social acquaintances acknowledged, off for a "sighting lap" in the dark... it was light when we started, couldn't see a thing when we finished... A good meal then bed.

Weather was good; I think the best location to be in by various friend's accounts. We both felt confident. A lazy start allowed us to organise ourselves adequately. 12 o'clock came around, Dan had a good start and we bedded ourselves in. Transitions went very smoothly, we were both consistent and predictable, minimal verbal communication was required. Lap on, lap off that's how it went. I thought it was too tough to double up laps with lots of short punchy efforts which drained the upper end resources and thus can be difficult to pace yourself with. I personally loved the course; it flowed well, but with clearly defined sections to get through. I thought it rewarded the smoother riders too, giving them a chance to use their bike handling skills to maintain momentum with lower effort levels. By 9pm we had finally worked out that we were in the lead, we never knew, I had 34 minutes between laps to eat, fettle and change, no time for looking at positions. So we just kept ploughing, until Dan decided to crash!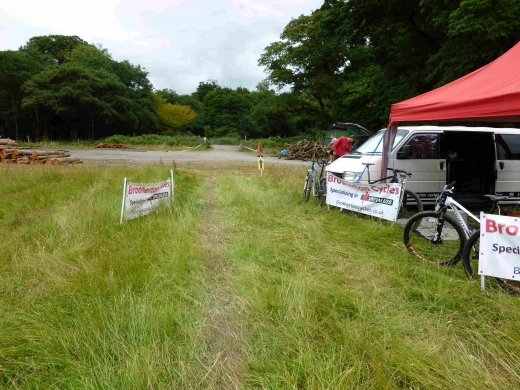 By about 9:30/10pm we both popped, our pace dropped dramatically. To catch up on my riding time Dan went out for a double, with hindsight, it may have been better done earlier in the day. A slight lapse in concentration, both hands blew off the bars on the fire road at the bottom of cottage return. Obviously, I had no idea until Rich from xcracer yelled as he rode past our camp. Five minutes later Dan returned pale, disorientated, with no light and a broken light bracket. We quickly patched everything up with our spares from Exposure lights and off he went to finish his lap. By this point we would only get one more lap in (thank goodness!), but with our 2 lap lead I could go out and just enjoy the final lap. So I made a quick brew for myself, left one in a flask for Dan, threw down some high performance cornflakes and headed off, happy in the knowledge it was my last.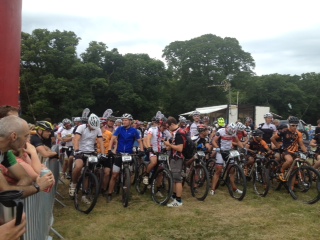 Where's Dan...
And there we are, it all went surprisingly well, almost clinical. After shouting further encouragement at the soloists, Sunday was spent lounging on the bean bags in the Bontrager wigwam, eating overpriced burgers and watching all the weird and wonderful types that make up mountain biking. Our nemesis from Bristol Bike Fest, Southfork Racing weren't there unfortunately, it would have been good to have raced them again as we were so similarly matched.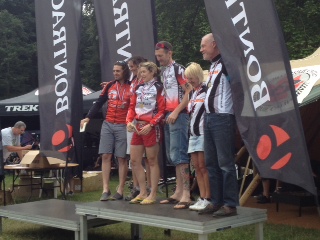 As per usual Inevent put on a great racing experience, by far the most fun 24 hour event for me. Thanks to Paul at Brothertons, for his generous support and enthusiasm. And thanks to Dan for putting up with me. Next stop.... tandem racing. I'm not so sure...
Verity Appleyard
Brotherton Cycles

Blogger Info:
---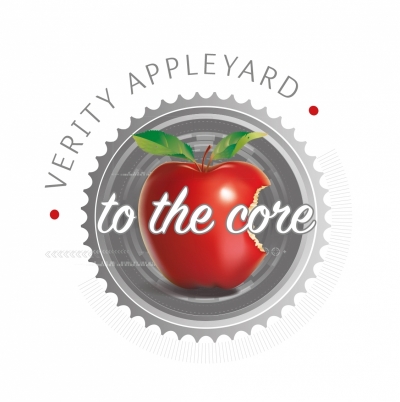 Verity Appleyard.
Riding for Brotherton Cycles
Physiotherapist

XC
Marathon
CX
Enduro

Read More By Verity
---
Disclaimer:
This blog post was written by a third party and their views do not necessarily reflect the views of XCRacer.com