---
Build up to Exposure UK 24 hour Champs
Share on Facebook
Share on Twitter
Published: 16th May, 2010
It's less than a week to go to Exposure UK 24 hour Champs up North at Newcastleton. Ouch! It looks like it's going be quite a race with pretty much all the top UK ultra distance warriors of recent years signed up. There's a fair bit of buzz now around the race, on race strategy … who's going to go off fast, who's going to stay the distance and the usual speculation on tyres & lighting.

My build up has been pretty hit & miss. I've got some good long rides in but not that ultra massive (c10-12 hour one) … I can't bring myself to do it unless it's in a race. Race wise it's been alright, some solid XC masters races plus a few Enduros.

First Enduro up was the Muc off 8 hour, which despite a few days without rain still lived up to it's name.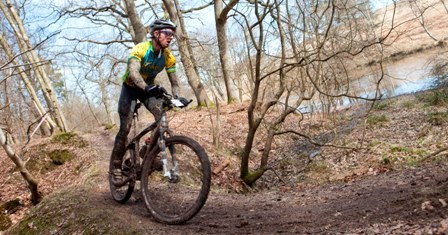 Photo courtesy of Alison D'Arcy
This race saw me essentially trying to chase down a flying Ian Leitch once he opened up an early gap. I rode strongly; the climbing suited me but was a little wobbly on the technical stuff with a new tyre and fork combo. I was happy with second, I felt strong at the end but Ian took a chunk out of time out of me, so will be one to watch at the UK.

Next up was the Gorrick 100. The evening before I rode the course, it flew and was good fun. I reflected that this was going to be much better than heading to Enduro 6 … Catton park! I'll keep my mouth shut next time. Just after the start of the 7 lap race the heavens opened and it turned bitterly cold. It was quite good fun on lap 2, Ian Leitch, Steve Webb and I broke away and my tyre pressures were squirming quite effectively on the increasingly muddy course. Ominous grating noise were emanating from my brakes though. As we entered the 3rd lap I knew my front pistons had stuck, also Ian had put a dig in taking Steve with him. Half way round lap 3 braking was becoming difficult … with the old fashioned foot down method coming into play. Towards the end of the 3rd lap firstly Steve and secondly Ian cam into sight limping down the hills. All our brakes had given up pretty much at the same time, it was bloody cold aswell. We all packed. I spent half an hour shivering in the van. In fact nobody completed the full 7 laps. The last man standing was the old dog himself, Rory Hitchens ...
Ace! Legendary weather, you'd expect it in one of the winter Brass Monkey races, but not in May! Up north the Enduro 6 was dry, Matt Page won it and will be a key player at the UK24.

I really needed the full Gorrick 100 workout ahead of the UK24 champs, but that didn't happen. So I decided to do a full-on northern foray the next weekend. First was a Friday night XC in the Midlands, then on Saturday the Bike Park "Border Raid" - a small enduro based around Kielder, check out the Newcastleton course, then follow the route of the Fred Whitton on Sunday with dessert being with some intervals on the Wrekin near Telford on the way home. The "Border Raid" was useful as it took it similar terrain to the Kielder 100 which is looking to be a great event. Rich Rothwell, another key contender at the UK24 had his head down and missed a turn. I shouted (honest!) but he was in downhill heaven and didn't hear me. 50k later I finished, a few minutes down were Steven Young and Rich.

Over the last few weeks I've also been trying out some new stuff picked up in at the big cycle show in Taiwan for the XCRacer shop. So far the killer 85g carbon flat bar, the pure ti cassette, ceramic jockey wheels and new lovely ultralight skewers have been holding very well indeed.

From now it's all about tapering & tinkering, checking the weather forecast and worrying about any ominous creaking on the bike. Bring on the pasta!

Blogger Info:
---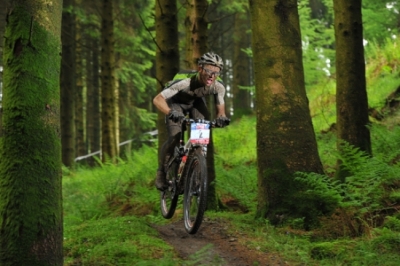 24 solo racer, world traveller and now the man behind the xcracer shop
Read More By Anthony
---
Disclaimer:
This blog post was written by a third party and their views do not necessarily reflect the views of XCRacer.com