---
CAPE EPIC PROLOGUE
Share on Facebook
Share on Twitter
Published: 28th March, 2011
This year I've teamed up with Karien van Jaarsveld who is the newly crowned South African Marathon Champion and I'll be riding as a guest on her team - Team USN.

Today was a 27km prologue where teams set off in 25 second intervals. Our start was at 9:48am so we had a leisurely 6:30am wake up call. We had ridden some parts of the course over the last couple of days so we knew to expect lots of nice singletrack with plenty of rocks, drops, roots and sand.
We're running tubeless tyres - Continental 2.2 X King on the front and 2.2 Race King on the back - because this is a race where the attrition on tyres is high due to the sharp rocks and huge thorns. I'm riding my Canyon Grand Canyon hard tail and my partner is on a Cannondale Scalpel.
We had a great start today and we were able to catch and pass some of the other ladies teams that set out ahead of us. At approximately 16km Eva Lechner and Natalie Schneitter passed us on one of the rocky singletrack climbs aptly named 'Boulders'. We were expecting to see them given their World Cup XC background (both having won World Cup races last year), but we were pleased with how long we held them off ;-)
As we descended along a gravel doubletrack I heard Karien shout out to me - her chain had come off and it was now twisted and stuck between her big chain ring and the crank arm. We struggled to fix it and I was just about to split the chain when it finally released and we were able to set off again. Phew! We lost a couple of minutes but it would have been a whole lot worse if I'd had to put a split link in……Luck was on our side :D
There were lots of spectators whooping and cheering and it was so much fun to be whizzing along the lovely trails in Tokai forest. It was pretty hot today, about 32 degrees, but the forest provided shelter and the heat didn't seem to affect me. We finished 2nd today, 6 minutes behind Eva and Natalie and just 20 seconds ahead of the Australian duo Jodie Willets and Naomi Hansen.
We've now left Cape Town and headed inland to Tulbagh which is in a valley surrounded by magnificent mountains. We're staying in a guest house a short drive away from the race village. There's no wind here and it's super hot - it must be even hotter for all of those staying in tents!!!
We set off at 7:00am tomorrow so we'll be getting up at 4:45am. It's going to be hard to get my normal 10 hours sleep a night out here ;-) It's now time to head off to the race village for dinner, the evenings prize giving, and the video highlights from today's prologue.
Fingers crossed for good luck tomorrow!!!!
Blogger Info:
---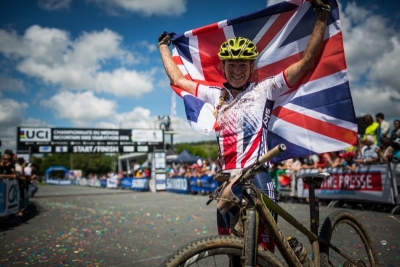 Topeak Ergon Racing Team Rider. European Champion (2016) and 2 x Silver World Championship medals (2016, 2013).
http://topeak-ergon.blogspot.com/
Read More By Sally
---
Disclaimer:
This blog post was written by a third party and their views do not necessarily reflect the views of XCRacer.com