---
CAPE EPIC: STAGE 1
Share on Facebook
Share on Twitter
Published: 29th March, 2011
I slept pretty well last night despite the heat and still air out here. I was up and eating breakfast by 4:45am and then back into bed for a lie down until 5:30am. At 6:00am we rode to the race village, it was still dark so Dave followed us in the van to light the way.

Stage 1: Tulbagh to Tulbagh
Monday 28th March
Distance: 89km
Climbing: 2050m
It was fairly chilly on the start line but we knew that as soon as the sun rose from behind the mountain then we'd be battling against 30+ degree heat. The start, as expected, was pretty chaotic and within about two minutes a guy on a suicide mission rode into to me and caught my handlebars. I came to an instant stop from about 35km an hour and landed on my head. I wasn't sure where I was for a short while and I started to see stars. I jumped up grabbed my bike, checked it quickly and rode on to find Karien who was ahead of me at the time of the crash. Apart from a twisted saddle, my bike was completely fine. I was shaken and took a while to get my rhythm back. My neck, shoulder, upper back and arm hurt, but I figured that if I was seriously hurt then I wouldn't be still pedalling!
The climbs were pretty tough today - steep, loose and rocky - and the descents were fast and really gnarly at times, one descent was so long and so steep that the smell of overheating brake pads filled the air. It's really hard to see where you're going on some of the fast descents because clouds of dust reduce the visibility like thick fog.
We were riding in third place until a very steep climb at approximately 58km. It was here that we were able to see the second placed team comprising of Hanlie Booyens and Ischen Stopforth. We passed them on the climb but Karien had a small tumble on the steep technical descent which put us back into third place. At the bottom of the descent we were able to pass them and we retained second place until the finish line.
Once again Eva and Natalie took the win; however throughout today's stage we were able to close a 10 minute gap at the first water point to a 2 minute deficit at the finish line, which means that we had a strong finish :D
At the finish line I finally allowed myself to realise the pain that I was in and I went a bit 'quiet'! I was certainly pleased to have been wearing a helmet today because had I not been then the cracks in the helmet would've been in my head!!! Kevin Evans, one of the favourites in the men's category had a nasty crash and shattered his collarbone. Such bad luck Λ I'm fine apart from a few cuts and bruises, a stiff neck and back, and a headache. Luck was once again on our side.
Blogger Info:
---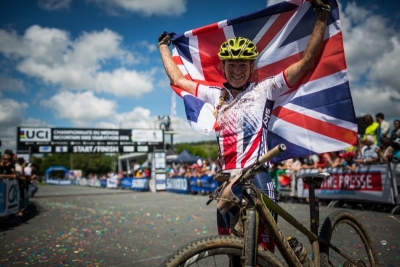 Topeak Ergon Racing Team Rider. European Champion (2016) and 2 x Silver World Championship medals (2016, 2013).
http://topeak-ergon.blogspot.com/
Read More By Sally
---
Disclaimer:
This blog post was written by a third party and their views do not necessarily reflect the views of XCRacer.com