---
CAPE EPIC: STAGE 2
Share on Facebook
Share on Twitter
Published: 30th March, 2011
I had a really good sleep last night, which is unusual for me during stage races! Normally all of the gels and carbs keep me lying awake for most of the night. Stage racing is like groundhog day - same routine everyday: wake up at 4:45am, race at 7:00am, shower, massage, eat, sleep, and then do it all again! Fortunately I love it :D

Cape Epic: Stage 2
Tulbagh to Tulbagh
Tuesday 29th March
Climbing: 2300m
I was a little bit stiff from the crash yesterday, but other than that I felt good. I was feeling a bit tentative about the start; however I managed to avoid the chaos and stay out of trouble. Phew ;) The first climb was great: long, steep, rocky and mainly singletrack :D The view into the valley below was amazing! We rode with Natalie and Eva most of the way up, but we lost contact with them on the fast, gnarly descent.
The profile doesn't really do justice to the amount of climbing there was after the first major climb - a series of steep ups and downs for the next 65kms meant that we accumulated another 1330m of vertical climbing. There was a fair amount of doubletrack and one asphalt section, but there was also some nice singletrack dotted throughout.
The race passed through a lot of vineyards and orchards and many of the workers came out to watch and shout encouragement. Many groups of school children also lined the track and 'high-fived' the riders as they pass by ϑ
At the final waterpoint at 85km we were approximately 2 minutes behind Natalie and Eva. It doesn't look much on the profile, but the climb from that feedzone was super steep and loose and many riders looked pained and at breaking point as they pushed their bikes up! The descent from the top was the same piece of singletrack that we had climbed in the morning. It was so much fun: long, technical, tight and twisty. Whoop ϑ
The last 10kms were pretty tough because there was a headwind and we were alone, but eventually we arrived at the finish to take second place. Hooray!!! We're in 2nd overall - about 13 minutes behind Eva and Natalie and 17 minutes ahead of 3rd placed Hanlie Booyens and Ischen Stopforth
I've had some more physio treatment and a deep massage on my neck and shoulder to try to free up some muscle spasms caused by the crash yesterday, so now I'm icing again! Tomorrow the race leaves Tulbagh and we head off to Worcester. Now it's time to eat - again!
Blogger Info:
---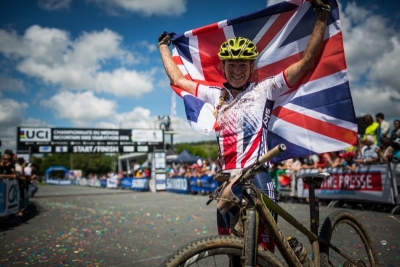 Topeak Ergon Racing Team Rider. European Champion (2016) and 2 x Silver World Championship medals (2016, 2013).
http://topeak-ergon.blogspot.com/
Read More By Sally
---
Disclaimer:
This blog post was written by a third party and their views do not necessarily reflect the views of XCRacer.com