---
CAPE EPIC: STAGE 3
Share on Facebook
Share on Twitter
Published: 30th March, 2011
Last night at the prize giving we discovered that we would be wearing the leader jerseys today! The leading Ladies team (Eva Lechner and Natalie Schneitter) were given a time penalty for allegedly taking bottles from their team manager. The rules of the Epic are quite simple: no outside assistance is allowed, including the handing of bottles. I had mixed emotions about taking hold of the leader jerseys - I want to be in the lead because we're the strongest, not because of a time penalty. However, the rules are the rules and not stopping at the feedzones could potential save 6-ish minutes over the course of a stage. On stage 2 when the time penalty was incurred we were only two minutes back, so we may have actually won the stage. So, today we set off in our new jerseys : )

Cape Epic: Stage 3
Wednesday 30th March
Tulbagh to Worcester
Distance: 125km
Climbing: 1900 metres
Under normal circumstances the longer stages of the Epic are less demanding in terms of the terrain; however today was an exception to that rule! This was a challenging stage and it took us about 6:30 hours to complete. The downhills were super rocky (and fun!) and the climbs were loose and really rocky - there was nowhere to relax, it was all go!
We were riding with Eva and Natalie until the first feedzone at about 40kms, after which were able to get a gap and we didn't see them again. We ride with a small course profile on our bars and Karien has a Garmin so we always know where we are on the course, but the battery ran out and we were riding blind today - perhaps that was a good thing! Had we known how much further there was to go we might have slowed down! At 90kms someone told us how many kms were left to go and Karien hit a bad point - I told her that he was wrong and that I knew where we were because some parts of the course were the same as last year. This news perked her up a bit and we pushed on :D
When the finish line was in sight we were so happy and whooped all the way to the line :D Wahoooo, we'd won the stage!!! Hooray!!!!
It was a long day and now we're looking forward to the time trial tomorrow which means a shorter day in the saddle and a couple of extra hours in bed. Yay!!!
Blogger Info:
---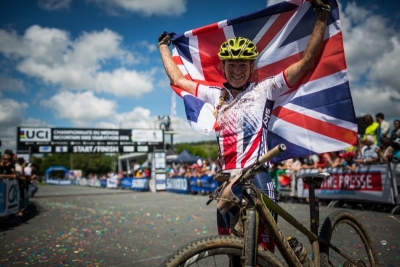 Topeak Ergon Racing Team Rider. European Champion (2016) and 2 x Silver World Championship medals (2016, 2013).
http://topeak-ergon.blogspot.com/
Read More By Sally
---
Disclaimer:
This blog post was written by a third party and their views do not necessarily reflect the views of XCRacer.com