---
CAPE EPIC: STAGE 5
Share on Facebook
Share on Twitter
Published: 2nd April, 2011
This is going to be short blog….I'm super tired!!! As the stages go on I'll probably make more and more typos!!!
The first 30kms were super fast today and we stayed in a huge bunch. We had a great start but then Karien had a tumble on a loose rocky corner. Fortunately she was OK but her back brake started to fail. Needless to say we started to panic! When we reached the feedzone she asked a mechanic to have a look but he said that they weren't allowed - all they could do was offer us tools. Hahaha!!! What would we do with them!!!???? We set off again in the hope that we would make it to the second feedzone where there was neutral support.

Cape Epic: Stage 5
Friday 1st April
Worcester to Oak Valley
Distance: 145km
Climbing: 2350metres
It was pretty windy and it was super important to try to stay in packs. We were able to do this most of the time but sometimes we found ourselves alone battling with the wind. When we finally reached the tech zone the mechanics had a quick look at Karien's brake but there was nothing that they could do….it was super 'spongy' but still working if she pumped it.
The climb at 100kms was rocky and never-ending!! The top of the climb and first part of the descent was really rocky and my forks for some reason felt super hard - I was getting quite a beating! At 125km were thought we were almost home, but no such luck…there were more climbs - not much in high metres but tough nevertheless because of the fierce wind.
When we thought we had 10km to go we saw a sign saying 5kms to go. Wahooo!!! I'm surprised that our whoops couldn't be heard at the finish line!!!! We were rewarded with some sweet flowy singletrack to the finish 
We crossed the line after 6 hours and 31minutes of riding, just 3 minutes behind today's winning duo: Hannele Steyn and Leana de Jager. We're really pleased for them - they had a fantastic ride today and in doing so made their first podium. Niki Fisher and Jenni King took the 3rd step of the podium with a time of 6:42. We've extended our overall lead in the GC by another 14 minutes. Two more stages to go until we reach the finish line in Lourensford on Sunday…..
Blogger Info:
---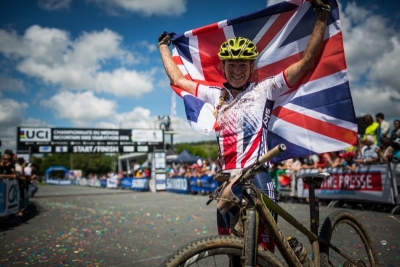 Topeak Ergon Racing Team Rider. European Champion (2016) and 2 x Silver World Championship medals (2016, 2013).
http://topeak-ergon.blogspot.com/
Read More By Sally
---
Disclaimer:
This blog post was written by a third party and their views do not necessarily reflect the views of XCRacer.com