---
CAPE EPIC: STAGE 6
Share on Facebook
Share on Twitter
Published: 3rd April, 2011
Our aim today was to play safe and not to chase a stage win. We rode cautiously and conservatively and in doing so we finished in 3rd place. We've now consolidated our overall lead in the GC and we have approximately a 1.5 hour lead over the second ladies team. It's going to be exciting stuff tomorrow because the 2nd, 3rd, and 4th placed teams are all within 10 minutes of each other in the GC. Once again we're going to try and stay out of trouble and not chase a podium spot for the stage.

Stage 6: Cape Epic
Oak Valley to Oak Valley
Saturday 2nd April
Distance: 120km
Climbing: 2700metres
The stage today had the most climbing out of all of the stages and it clearly took its toll on a lot of legs! It was a fun stage and the last 20kms finished with some of the awesome Oak Valley singletrails: smooth, swoopy forest trails. Lovely.
It's all go today - we're now off back to the race village for the podium presentations. We set off at 8.30am tomorrow, so we get some extra sleep. Phew!
Fingers crossed one last time!!!!!
Blogger Info:
---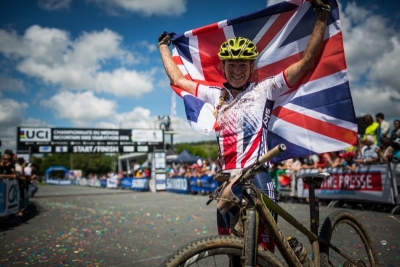 Topeak Ergon Racing Team Rider. European Champion (2016) and 2 x Silver World Championship medals (2016, 2013).
http://topeak-ergon.blogspot.com/
Read More By Sally
---
Disclaimer:
This blog post was written by a third party and their views do not necessarily reflect the views of XCRacer.com