---
CAPE EPIC: STAGE 7
Share on Facebook
Share on Twitter
Published: 4th April, 2011
The night before the final stage was the first time that I had allowed thoughts of possibly winning the Cape Epic to enter my mind; however we still had one more stage to go and the race wasn't won until we crossed the line at Lourensford. Just like the previous stages, we planned not to chase a race win or even a podium - we were firmly focused on the big goal of the overall win. The key to success in the Epic is consistency over the whole 8 days and that was what we set out to do: ride consistently well while slowly and safely chipping away at our overall lead in the GC. This is how the Bulls have been so successful over previous years, in fact last year they did not win a single stage but still took the overall race win. Our plan was to try and replicate their strategy.

Cape Epic: Stage 7
Oak Valley to Lourensford
Sunday 3rd April
Distance: 65km
Climbing: 1700 metres
Although we had approximately a 1.5 hour lead over second place we were still really nervous because we were fully aware that one mechanical or a crash could see us out of contention. During the warm up we noticed a creaking sound coming from Karien's rear hub, a few minutes before the start we found ourselves changing her rear wheel. Yikes!!! Not long into the race Karien's rear gears starting jumping perhaps because of a small misalignment due the different wheel. I told her to get off and walk the climbs the minute it started jumping because we didn't want a snapped chain to contend with! We were so cautious on the descents; people watching must have thought we were crazy! At the highest point on the course we had closed the gap to the second placed team (Hannele and Leana); however because they were a long way behind us in the GC we agreed not to race them and to let them take second place if we were still riding together at the finish line. We didn't want to risk any crashes or mistakes while chasing a podium spot that we didn't need.
Once we saw the 5km sign to the finish I started to laugh and smile and to final allow myself to acknowledge that we'd actually done it. We'd WON the Cape Epic!!!!!! Wahoooooo!!!!!!!! The finish area was long and lined with huge crowds of cheering spectators. We started screaming and shouting - what an adrenaline rush, so cool. The media attention afterwards was unbelievable - so many interviews, photographs and autographs!! We even had a live TV interview and unbelievably we were able to get our words out without blunders!! Hahahaha :D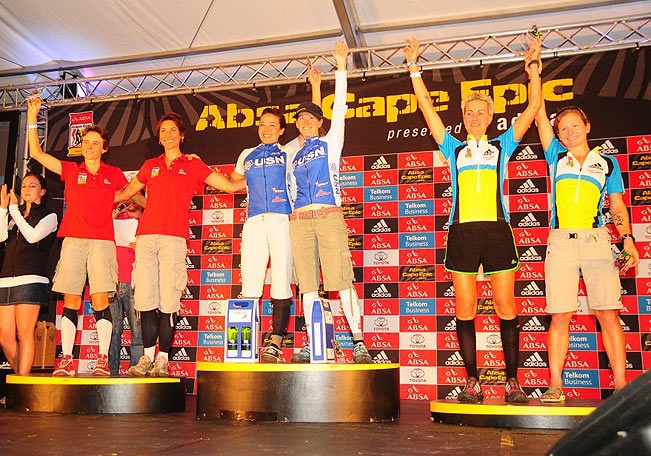 What we're really pleased about is to have won with a 1.5 hour lead to the second placed team (Eva and Natalie) - this is important to us because it shows that we were the most consistent team over the 8 days despite the one hour time penalty incurred by Eva and Natalie for breaking the 'no outside assistance' rule. Hoooray!!! Last night I broke my abstinence from alcohol when we celebrated with two bottles of champagne ;)
It was a real pleasure to race with Karien, she was really strong and we made a great team. It's so cool to share such an amazing experience with someone and to be so focused on the same goal. Karien is relatively new to mountain biking but despite her inexperience she was really professional and stayed calm the whole time. I expect her to be proudly and successfully flying the South African flag on the international race scene this year and in the years to come. Well done Karien - you're an absolute star!!!!!!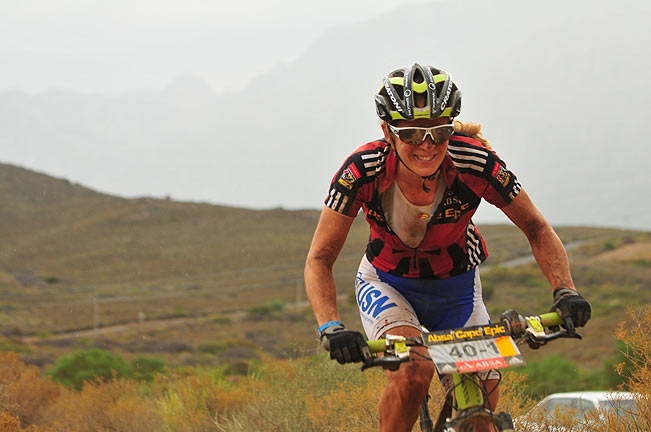 A HUGE thank you to Dave and Jake (Karien's partner) for supporting us so well day and night, we couldn't have done it without you both!!!! Big thanks also to Corrie Moolman from Magura, Ian Williamson from Sram, and 'Dangerous Doug' from DT Swiss for their tech support. I'd like to thank USN, Banana Moon and West Logistics for sponsoring our Cape Epic team. I'd also like to thank my amazing team, Topeak-Ergon Racing Team, for allowing me to race as a guest on for team USN. More thanks go to: Canyon for my new hardtail which was awesome and super comfortable; Continental for our tyres (X king and Race king) which were 100% reliable despite the challenging terrain; Torq nutrition which kept me fuelled for the entire race - the Torq single shots were invaluable at the feedzones; and to Compressport for providing us with fast legs everyday :D
Blogger Info:
---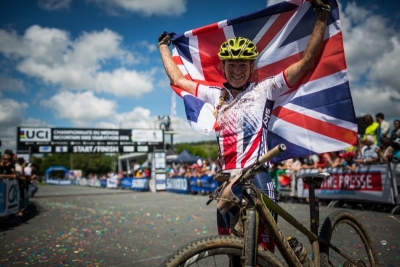 Topeak Ergon Racing Team Rider. European Champion (2016) and 2 x Silver World Championship medals (2016, 2013).
http://topeak-ergon.blogspot.com/
Read More By Sally
---
Disclaimer:
This blog post was written by a third party and their views do not necessarily reflect the views of XCRacer.com