---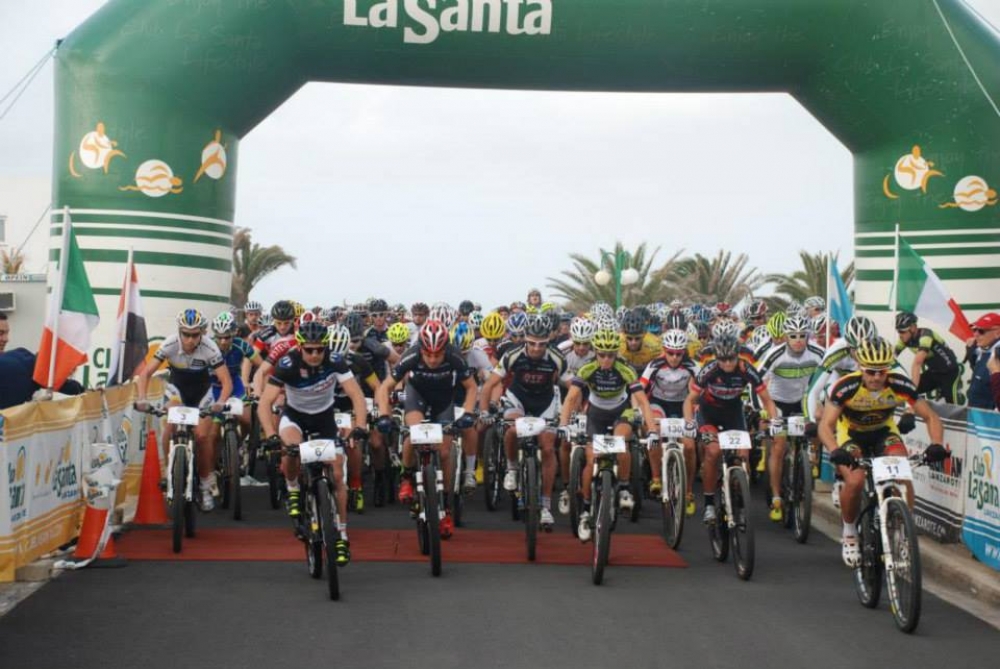 Club La Santa 4 day stage race '14 - Lanzarote
Share on Facebook
Share on Twitter
Published: 3rd February, 2014
Club La Santa 4 day stage race – Lanzarote, Spain.

I went back for another go at the early season "training" race on the volcanic island of Lanzarote. There were many familiar faces, including loads of Brits. The weather in the run up to the event had been a little unsettled, some spots of rain, plenty of wind and temperatures hovering around 18-20 C/70 F. Not complaining of course :), it meant avoiding all that super cold rain in the UK (the race was held over the weekend of the final round of the Merida Brass Monkey & Thetford Winter Series round 3, which were moisture ladened).
Competitors could opt for all 4 stages, or pick and choose. Most opted to do the whole stage race, which was only 75 Euro. We stayed at a local surf hostel/house rather than the pricier La Santa Sport Resort.

I had been having a good run of form going into the race so was looking forward to it and to compare how I was going to the previous year.

Stage 1 – 30k

Day 1 was cross country length. There appeared to 150 – 200 entrants. Apparently there was 15 different nationalities. I lined up with James Ouchterlony, he was now entering Master 40 rather than Elite … so that was one rider ahead of me then.

The start was frenetic as riders peeled out of the La Santa sport complex onto the sandy climbs. The usual jostling of position ensued and riders started to find small groups.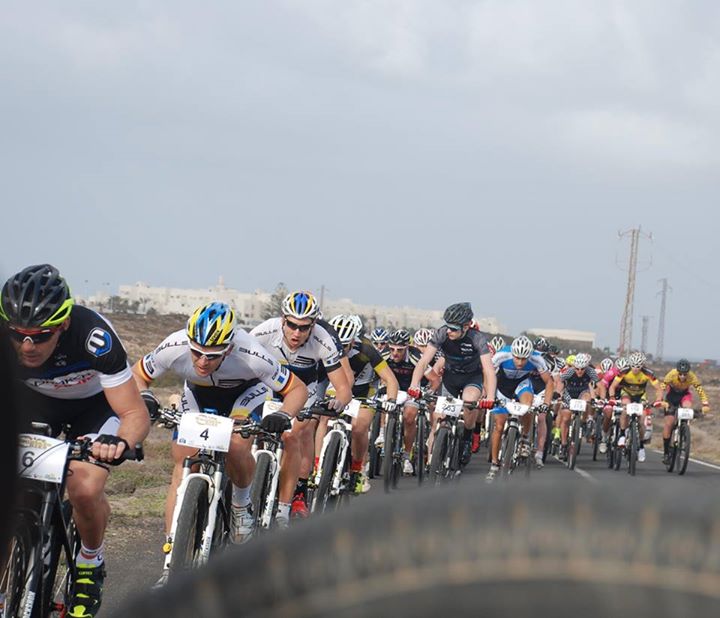 I felt ok. I passed last year's winner of the 40+ category and rode much of the race in a group including Scottish mtb coach Paul Newnham and Sally Bigham. Road tactics ensued. The sand on top of the hard surface meant it was quite easy to wash out with front wheel on corners. I had a couple of crashes.

With 3km to go we entered a bumpy volcanic rock section. I shifted up the cassette, but I think my worn out flexible rear derailleur must of decided it liked my spokes and promptly the hanger snapped.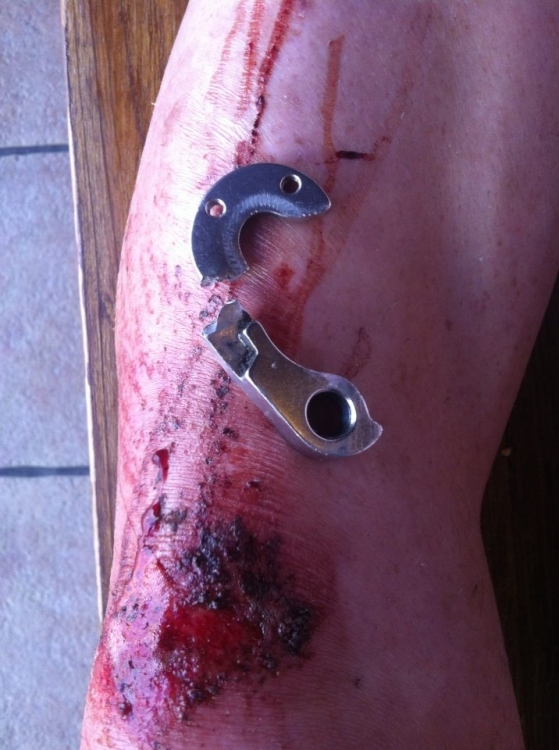 I decided to run in rather than "bodge" a singlespeed set up.

Although I only lost 5 – 6 minutes but loads of riders zipped past. I was now 8th in the Masters 40+ category after being in 4th.

Stage 2 – 60k

After (luckily) getting a new hanger drilled at the local bike shop I was ready for another stage. Today was through the bumpy Timanfaya Volcanic national park. I was a little worried that my rear rear mech would play up, but it behaved itself. I rode quite well working my way up the field to a strong group with the 2nd & 3rd Master 40 riders.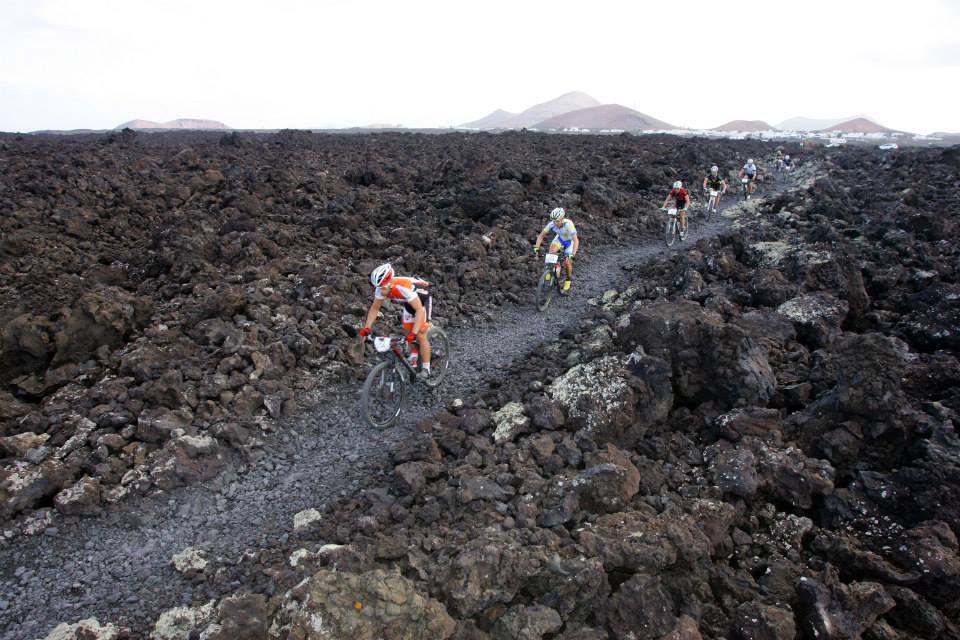 The climate of Lanzarote is super dry so it's pretty easy to dehydrate, even though it wasn't super hot. That's what happened and the group split, my leg was visibly cramping so had to consolidate things in the second group of strugglers. The race felt loooong. Near the end we got caught by Sally Bigham and a big bloke in green. We sprinted for the line, I lost.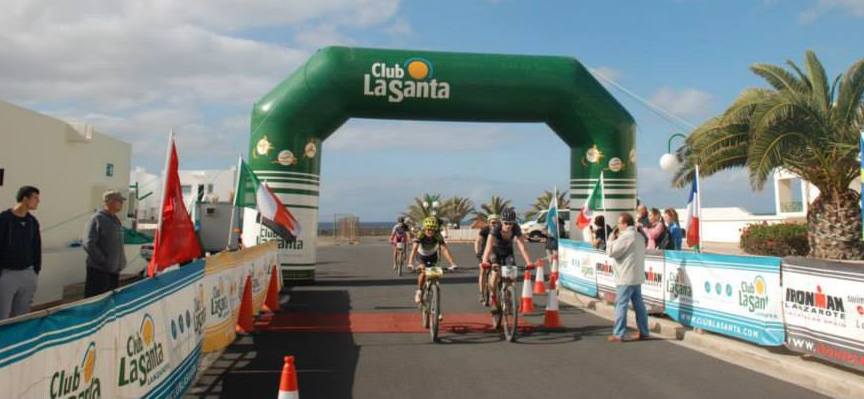 I came in 4th today and moved into 4th overall in the category, just 7 seconds ahead of fellow Brit Steve Calland.

Stage 3 – c20k uphill time trial

A 20k uphill time trial … from the beach to a pretty church near the highest point on the island. Oh joy. I really suffered the year before on this so was determined to do better.

My minute man ahead was Steve Calland, so that was a good target then. I caught him and the next guy up by about 1/3rd of the way, so I felt good on the "big ring" lower section. I caught the next guy on the windy upper section and like most people was hanging a bit towards the top. I made it in just under 1 hour and 2 mins. This was 5 minutes quicker than the year before, although the weather was slightly less windy.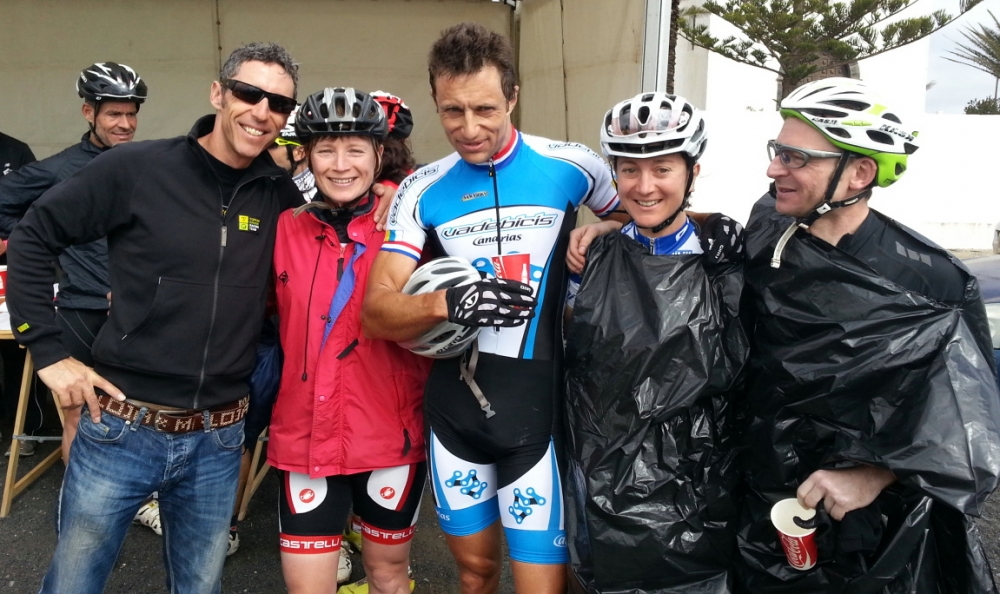 Must sort out some more aerodynamic time trial gear

I only got 5th in category, but moved up to 3rd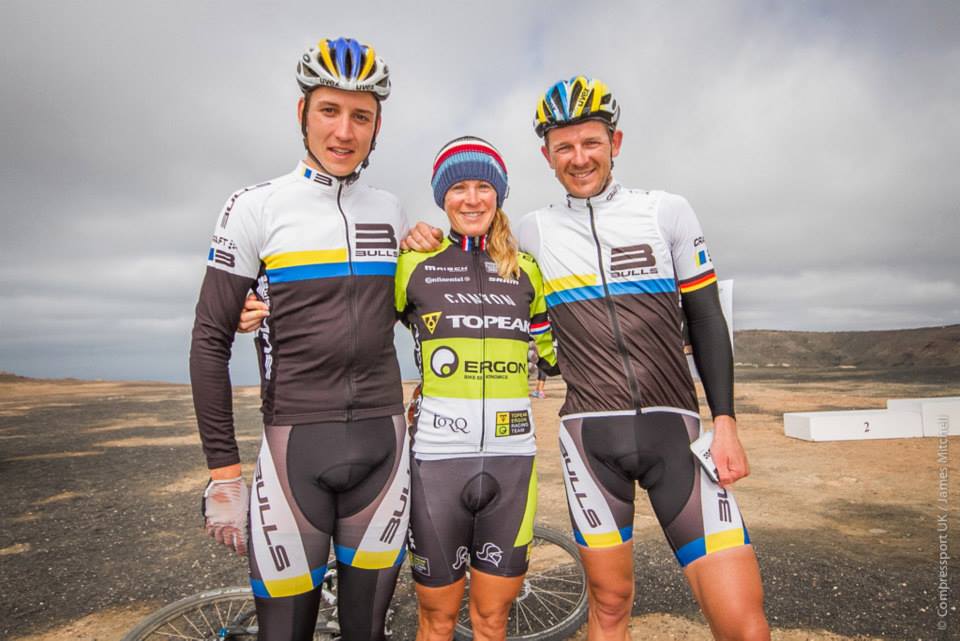 Team Bulls & Sally's nice helmet

Stage 4 – 80k Marathon

This longer stage should have really suited me, but the legs didn't feel right. I finally made it to the small group with Sally Bigham & Paul Newnham at the top of the first long climb.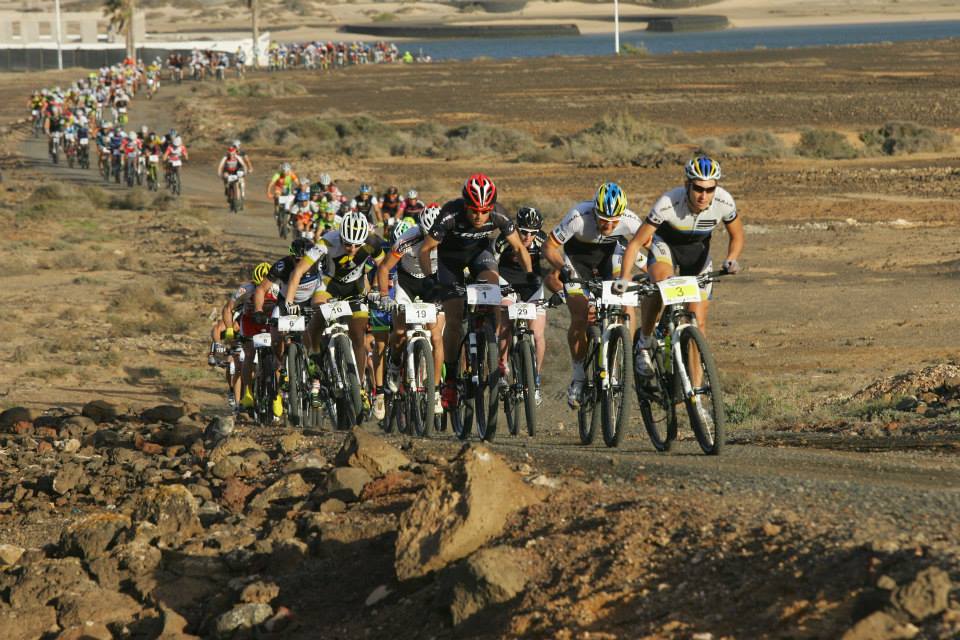 The "big bloke in green" was really smashing out a hard pace on the front though. Paul dropped off. I dug in, but was on my limit. We were joined by last year's Vets winner who was starting to find his legs. I fluffed a bottle pick up at a feed zone and started to drift off the back of the group. This led me to be on my own on a very long flat coastal section … behind me a group of 17 riders were barreling along getting closer.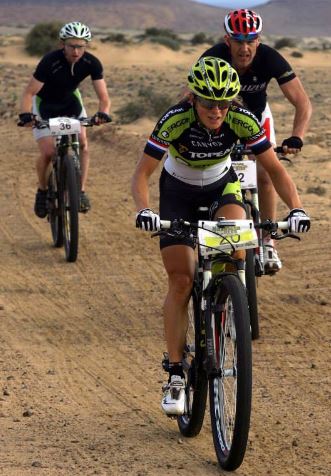 The big climb from Mala village started. I couldn't quite get confortable, with the rear wheel spinning out every time I adopted my favourite standing up climbing position. Just after the top of the half hour climb I got caught by Chris Noble and Paul Newnham. Paul's superior descending skills (slightly kamikaze) saw him disappear. I rode with Chris for much of the final part of the race before he got away.

Last year's Vets winner took 7 minutes out of me in the second half of this stage, but I just held onto to 3rd at the end of the 4 days which I happy about. I was 2nd last year but the standard was higher this year.
The overall results
My form felt good and the mechanical on day 1 didn't affect my position in the category. James Ouchterlony was flying, easily winning the Master 40 category, 8th overall and only 18 minutes down on the Elite winner Sergio Mantecon after the 4 stages.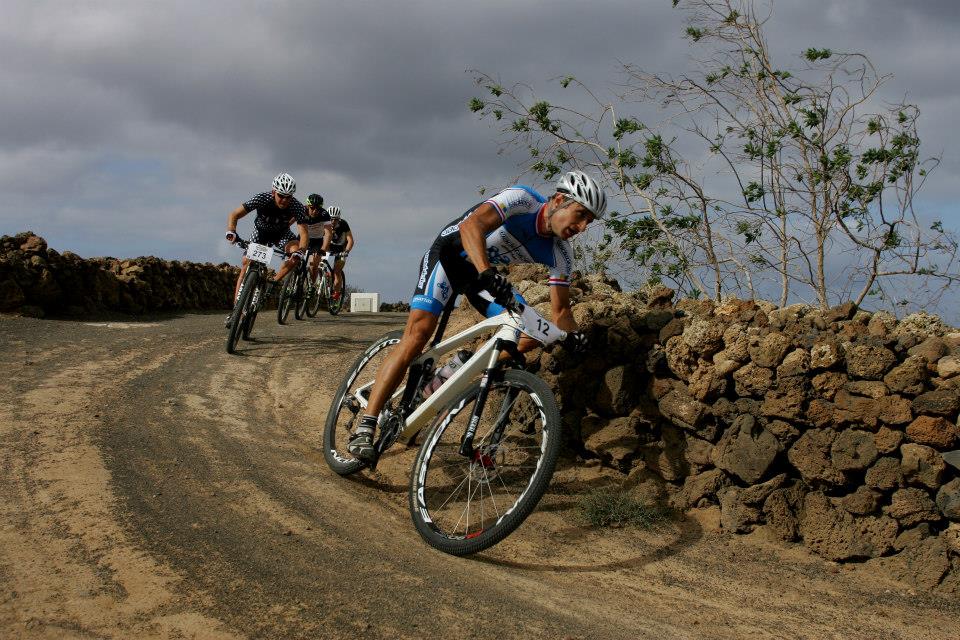 Flying James Ouchterlony
Sally Bigham won the Elite women's category. It was closer in that category than in 2013 but she still was still way faster than the strong World XC rider, Blaza Kemencic in second.
Although it's in January it is a full-on race. The locals take it seriously and are fit. My recommendation is to enter this race in reasonable shape to enjoy it. It's a good motivator to keep in shape over the winter period. I quite like Lanzarote, it's a quiet pretty island, although there isn't the super long climbs you get on Tenerife/Las Palma/Gran Canary there's enough training routes. The mountain bike gives you more to play with than the road bike. The surfing & food is good also. If I'm still "up for" racing generally in 2015 I hope to be back.
Event
Facebook
- with good videos of stages

Overall Results/ Top 5s

Elite Men

1 SERGIO MANTECÓN GUTIÉRREZ (ESP) 07:30:27
2 Simon Stiebjahn (GER) 07:34:43
3 Juan Pedro Trujillo Hernandez Elite (ESP) 07:38:20
4 Soeren Nissen (DEN) 07:39:46
5 4 Karl Platt Elite (GER) 07:39:56

Elite Women

1 Sally Bigham (GBR) 08:34:07
2 BLAZA KLEMENCIC (SLO) 08:59:57
3 Sandra santanyes murillo (ESP) 09:50:33
4 23 Celina Carpinteiro (POR) 09:57:37
5 Iwona Szmyd (POL) 10:06:57

Master 30

1 Francisco jose perez cruz (ESP) 08:14:38
2 Valério Ferreira (POR) 08:29:37
3 Paul Newnham (GBR) 08:38:42
4 Kris de nef (BEL) 08:40:52
5 Antonio Yeray Ramos Ramos (ESP) 08:41:01

Master 40

1 James Angus Ouchterlony Heathcote (GBR) 07:48:51
2 Ricard Calmet Calveras (ESP) 08:06:53
3 Anthony White (GBR) 08:45:03
4 Joan Pons Palacios (ESP) 08:46:37
5 Daniel Hausmann Spielmann (ESP) 09:02:12

Might have to think of a longer name!

Blogger Info:
---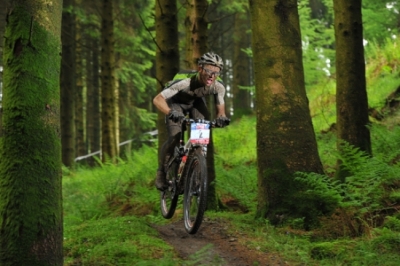 24 solo racer, world traveller and now the man behind the xcracer shop
Read More By Anthony
---
Disclaimer:
This blog post was written by a third party and their views do not necessarily reflect the views of XCRacer.com