Preparation for the mountain bike race was fresh in our minds back in July when the newly constructed Commonwealth Games course at Cathkin Braes, Glasgow, was used for the British National Championships. For most competitors the Championship itself was the major concentration of focus for the weekend, but for a handful of riders it was also part of their bid to meet the criteria set out by their governing bodies and get selection to ride at the Games, on that very track, a year later.

So while the Games are now very much on the back-burner for most of us, for the athletes who are looking to compete, July 2014 has been at the forefront of their minds for many months already.

As opposed to the Olympics, the Commonwealth Games, with the UK split into its separate nations (England, Scotland, Wales Northern Ireland, Guernsey, Jersey and the Isle of Man), offers more opportunities to race for a far greater spectrum of athletes.
In the first of this series I will take a look at each nation's selection criteria and which riders are chasing the qualification standards.

At this stage not all information concerning the qualification process has been made public. Many riders, and even the coaches to some extent, are not entirely sure how much information they can divulge. As such, there is a degree of speculation over who is bidding for a spot, and even which country they are going to qualify for. In addition to this, the selection criteria and the number of places available is often spread over the whole of cycling, rather than just for cross-country, and therefore the decision-making process for selectors includes considering multiple races and athletes.
The criteria for each of our home nations is different, with varying degrees of specificity, hard results and the judgement of a selection panel. Here are the basics:
-------------------------------------------------------------------------------------------
SCOTLAND:
At first glance, Scotland's criteria appears to be the most complicated, but it is perhaps just the most specific and precise.We shall take a brief look at the pros and cons, but first let us have a look at exactly what we are dealing with.
For men and women the criteria is the same. As Scottish Cycling's Selection Criteria document states:
"The required qualification standard, in order of priority is:
Member of GB cycling programme (Senior or Academy)
Selection for GB on 2 or more occasions
Riders must achieve 2 or more results equal to or better than the stated % figures @ elite level.
106% of winner's time @ UCI ranked event - Providing the winner is in the top 50 in the world or a previous medal winner at World, European or Commonwealth. Additionally the course must have elevation changes of more than 100 metres per lap
110% of winner's time @ World Cup
Average lap time to be within 110% of winners average lap time @ World Cup not including 1st lap.
[Other events will be considered relative to the standards listed
above – evidence must be provided]"

With reaching the qualification criteria dependent on the standard of the other riders competing in the same race as the Scottish hopefuls, the system is fluid. To a small degree the riders are not in control of whether their target will be met (in a non World Cup race, if a UCI top 50 rider doesn't win their result cannot count), but they are in control of which races they target (bigger races with more top 50 riders increases the chance of a top 50 winner). This point is not a criticism. Cross-country racing is essentially about one's comparison with other racers, about how you perform against other people. It is not about time, or points, or style. It is fluid. By setting criteria which ask riders to achieve a percentage of a winner's time, Scottish riders cannot meet the qualification standard just because no top elite riders turned up to a race; they have to be performing against the World's best. Measuring against a World Cup winner is a realistic indicator of performance. Scottish coach, Paul Newnham, describes it as "a measure of performance against a definable standard". He says that criteria "can't be about points or ranking because that means that it is about who can afford to chase points around the World".

So, who's in with a shout for Scotland?

Scottish Cycling have a senior squad and a development squad.

The senior squad comprises Rab Wardell and Gareth Montgomerie, and Lee Craigie and Leslie Paterson. In the development squad there is Dave Henderson, Tom Evans, Iain Paton, Jessie Roberts and Kerry MacPhee.
Hamish and Sebastian Batchelor will also try to qualify for Scotland.

We must not forget Kenta Gallagher and Grant Ferguson. They are arguably Scotland's top cross-country mountain bikers, but their inclusion in the British Cycling Academy program sees their coaching and schedule largely dictated by British Cycling. They are both very focussed on a Commonwealth Games place and the chance to represent Scotland.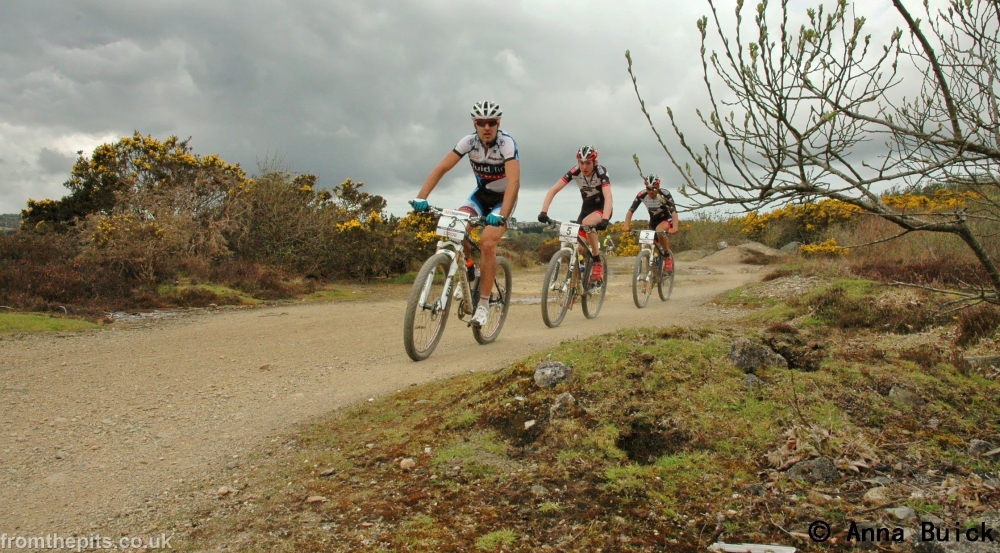 [Seb Batchelor, Grant Ferguson and Kenta Gallagher are all Scottish hopefuls, racing here at the BCXCS in Cornwall.]
-------------------------------------------------------------------------------------------
ENGLAND:
Team England's Commonwealth Games selection is a much shorter document than some other nation's, with the criteria set across all cycle sport.

"The Selection Panel will take full account of the following criteria:
International race performances in the period 24th August 2013 to June 9th 2014;
For mountain bike only World Cup performances 24th August 2013- 9th June 2014 will be considered;
Training performances in the period between 1st January 2014 and the selection date;
Specific nature of the Commonwealth Games courses (road, time trial and mountain
bike);
The profile of riders already selected to ensure optimal team composition for best
results;
A rider's current and recent Union Cycliste Internationale ("UCI") World Ranking;
Exceptional, young riders who would benefit from the experience of a Commonwealth
Games and are considered medal prospects at major championship level in the
future; and
To be eligible for selection for a team event, a rider must demonstrate commitment to,
and co-operate in, planned team training sessions."
As with any criteria, there are pros and cons. Some would argue that having unknown targets is difficult for athletes; without boxes to tick it can be easy to lose sight of where you're going and what you have achieved. Equally, the stress of reaching specific targets can be a burden both mentally and physically. England hopefuls will have to perform to the best of their ability and ultimately their selection will be decided by a panel of judges, which is essentially the same end-point for each nation.
Ones to watch for England?
Great Britain MTB Podium and Academy Program coach, Phil Dixon, will oversee the English team and has released the England long list to me.
Competing for the women's places:

The hot favourite for a place has to be British Cycling's Podium Program rider and international star, Annie Last, though her back injury this season casts some shadows. GB Academy riders Beth Crumpton and Alice Barnes are also strong contenders. Outside of the XC box, downhill and enduro specialist Tracey Mosely and top marathon racer Sally Bigham have both registered their interest in qualifying.

The men's long list is a great mixture of youth and experience:
David Fletcher has been the leading international racer for England over the last season and he heads up the contenders. Paul Oldham is known more for his cyclocross credentials but he has shown himself more than capable of mixing it up with the top XC guys. Under 23 riders Steve James and Mike Thompson are also candidates, and lastly, but by no means least, it is very exciting to announce that Liam Killeen is also on the list.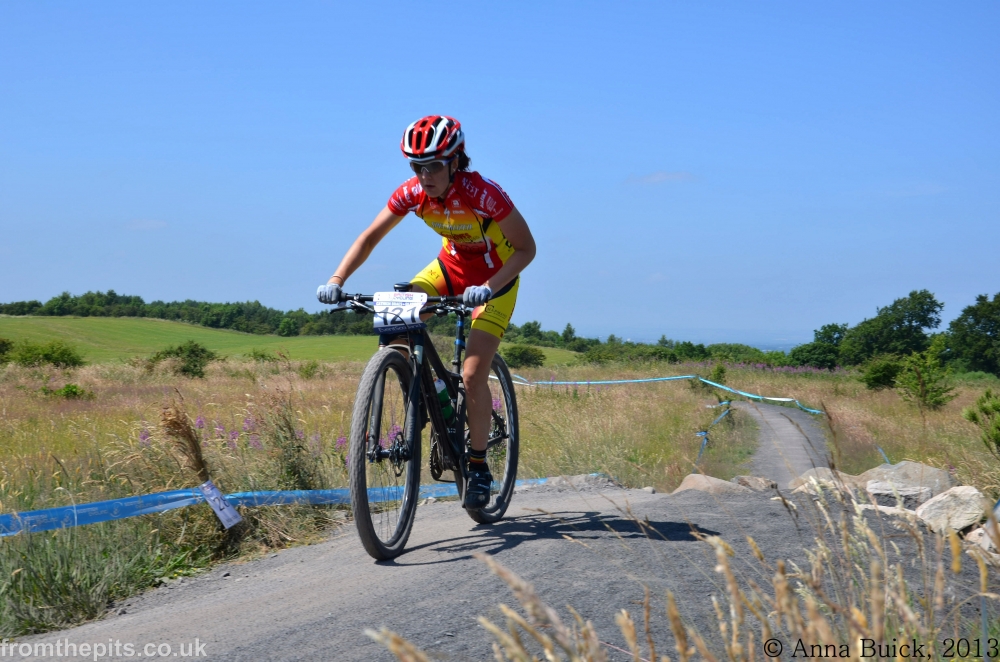 [Beth Crumpton on her way to the U23 National title at Cathkin. She's hoping to compete for England.]
-------------------------------------------------------------------------------------------
WALES:
Wales have a strong track cycling squad, a number of World class roadies, but their mountain biking scene appears smaller and less celebrated, despite a healthy handful of top talent. Their Commonwealth Games criteria is similar to that of England's, with general performance the key indicator, though they evidently have high standards:
"CGCW requires that athletes have the ability to finish in the top 8 or a minimum of a
top half placing, whichever is the higher standard, or to have the ability to enhance
an individual's medal potential within the team events at the 2014 Commonwealth
Games.
The selection of nominees will be discretionary and based on the professional
judgement of the Welsh Cycling Selection Panel. However, the following criteria will
be taken into consideration:
A rider's current UCI World Ranking.
Race Performances from 1st January 2013 to 15th May 2014.
Specific nature of the Commonwealth Games courses (Road, Road TT and MTB) and the profile of riders already selected to ensure optimal team composition.
Young competitive riders who would benefit from the experience of a Commonwealth Games and are considered medal prospects for the 2018 Commonwealth Games."
Wales' specification of a rider's selection being directly consequential of their perceived ability to get a certain result is unique. Its inclusion is indicative of Wales' emphasis on the discretion of the selection panel rather than on pre-Games attainable results.

Who's Welsh and well whizzy?
Current National Champions, Lee Williams and Ruth Owen-Evans are both bidding for a place. Lee had a quiet 2013 but has shown considerable talent in the past. Ruth, on the other hand, has been getting herself out to some big international races and tackling things from the top! Ben Thomas, Ben Roff and Mel Alexander have all also registered their interest and provide some healthy competition for places. Both Bens have had success in marathon racing over the last season and will seek to find some cross-country form, whilst Mel has had a super domestic XC season and may well now look to gather some international results.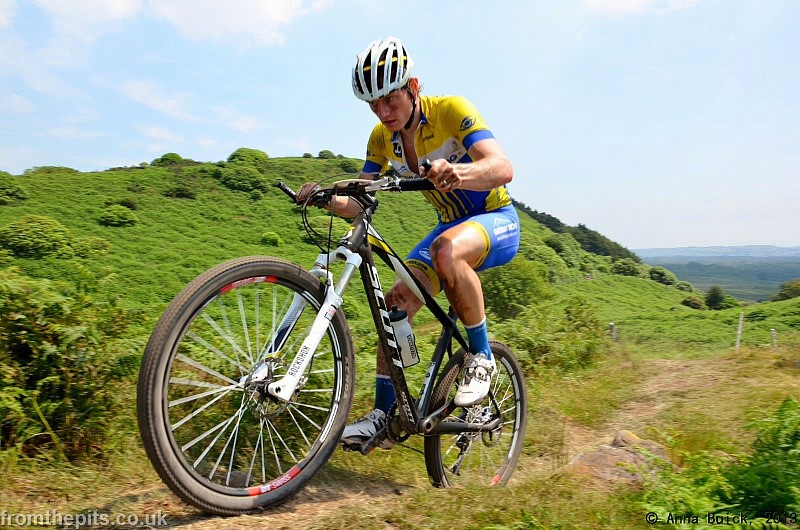 [It has been a quiet year for Lee Williams but he hopes to come back for Glasgow 2014.]
-------------------------------------------------------------------------------------------
NORTHERN IRELAND:
Northern Ireland's criteria was easy to find and easy to understand. It is less elaborate than Scotland's but more specific than that of England and Wales. It is, says Ryan Connor (Cycling Ulster's Head Coach), a criteria that is similar to that of previous Commonwealth Games, and which suits the riders. The nomination standard can be reached by simply achieving the following results.
"MTB - Male
1x top 15 in c1 event
1x top 10 c2 event
Podium elite national championships
MTB - Female
1x top10 in c1 event
1x top 6 in c2 event
Podium elite national championship"
This selection criteria doesn't require the riders to travel too much, a point which Ryan emphasises as important. It offers scope for riders to make their own decisions regarding which races they target, and the specific nature of the criteria provides a stable and tangiable target. What it lacks is what Scotland has strived to achieve with their criteria: a real indication of ability compared to the top competition. I posed this point to Ryan who replied as such, "Our plan was to give the riders a chance to reach nomination standard to ease the worry a bit, then they can focus on getting to better events. The better results at the higher level will give them a better chance to get selected". Ultimately, as ever, the selection will be made by a panel who judge the athlete's and the country's potential gain from the Games.

Northern Ireland's possible roster?

Claire Oakley and Roger Aiken have already met the selection standard with podium places at the elite National Championships (the other four podium finishers were Irish, not Northern Irish). Rachel Fenton, whose Father is Northern Irish, is, in my eyes, a strong contender for a place given her form at the end of last season. Gareth McKee is the third name to have met the criteria so far. Northern Ireland have just eight places across all of cycling and already fourteen riders who have met qualification standards. It will be a tough fight to secure a spot, and those with cross-discipline skills will surely be at an advantage.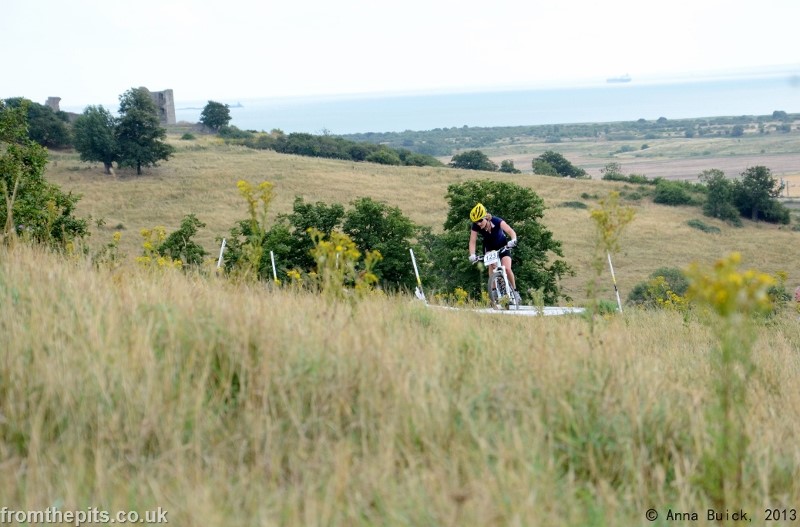 [Rachel Fenton is a marathon specialist but showed her XCO form at Hadleigh last year.]
-------------------------------------------------------------------------------------------
GUERNSEY:
Guernsey are way ahead of the game when it comes to Commonwealth Games selection. They have already confirmed six riders for Glasgow 2014. I haven't been able to get hold of their selection criteria, but I do know that athletes who wished to be considered for the Games were judged on their results at the British Cycling XC Series and Southern XC Series, both at elite level. The results were to be achieved during 2013 in order that the riders had only to peak once in 2014.

Going for Guernsey?

So far James Roes and Michael Serafin have both had their spot confirmed.
-------------------------------------------------------------------------------------------
JERSEY:
Of all the Crown Dependencies, Jersey was the easiest to find information pertaining to Commonwealth selection. The Selection criteria is simply set out on the Jersey Cycling Association website, with decisions explained and little room for misconstruing information. There is emphasis placed upon the final selection of riders being up to the panel of judges, and it is also made clear that the criteria has been formulated so as not to require significant travelling to chase the qualification standard. Jersey Cycling Association make it clear that they are looking for a high standard of rider, however the qualification standards are less rigorous than those of the England, Wales and Scotland, especially.
"Requirement for senior riders (male and female) in the Elite or Expert category to attain one of the following from 1 January 2013:
Top 20 result in the British Cycling (UK) National MTB Championship; or
Top 20 result in a British Cycling (UK) National series event; or
Top 15 result in British Cycling (UK) Regional MTB Championships (most likely to be South, South West or South East regions); or
Not less than three top 10 results in British Cycling (UK) Regional MTB Series (most likely to be South, South West or South East regions)."
Unfortunately I have not been able to find out who Jersey's Commonwealth contenders may be.
-------------------------------------------------------------------------------------------
ISLE OF MAN:
The Isle of Man has an extraordinary brace of road racing talent, but is quieter on the mountain bike scene. Their criteria is very concise and simple, using the British National Series and National Championships as the benchmark.
"Elite National Series or Championship Top 10 Finish within 110% of the
winner's time.
Overriding Qualification:
Any rider who is riding at a professional level for a UCI
registered Team.
Any rider who is currently selected to be part of the GB
Olympic Development Plan.
Any rider who is currently riding for the Junior GB Academy or World Class Performance Plan."
Elliot Baxter is the only known rider to be trying to meet the qualification standard for the Isle of Man.
Graeme Hatcher from Isle of Man Cycling commented that, "we will be looking to select and name our proposed squad in the next four weeks. This will then be subject to ratification in April by the IoM CGA."
----------------------------------------------------------------------------------------
So with six months to go there is still a lot to consider for the riders who are bidding for a Commonwealth Games MTB race spot, for the coaches who will guide them and the selection committees who will ultimately decide their fate.
Discovering which riders are competing for a place at Glasgow 2014 reveals just how many talented riders we have in the UK. There is strength in depth, encouragement in enthusiasm and excitement in talent.
The countdown begins...