---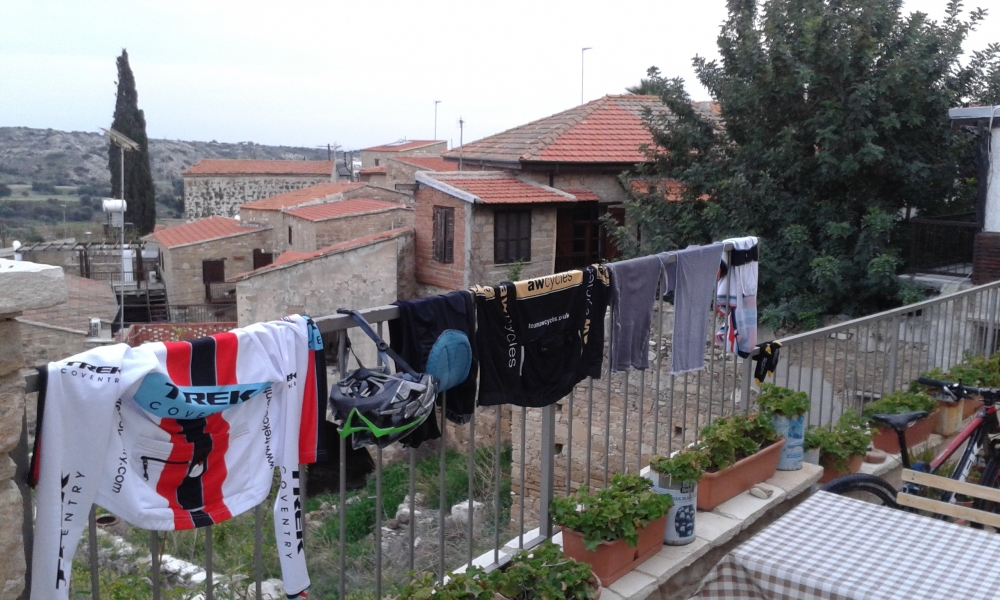 Cyprus Sunshine Cup – Day 2, Longer=Better
Share on Facebook
Share on Twitter
Published: 28th February, 2014
Be warned. 50km provides more to write about racing. So there's less about Cyprus, and more about my stream-of-consciousness experience of today's racing. Sorry!
So after yesterday's antics of belting around the small town of Lefkara (roughly translated as "white rock") in the foothills of the Troodos mountains, today brought the prospect of a much more "me" affair, a 50km point-to-point race. I know from marathon races past that the words "neutralised start" should strike dread into the hearts of the courageous, and so it was today! First though, I got the slightly embarrassing honour of standing on the podium after yesterday's prologue TT; there was only one other guy racing in my category yesterday, so it was just the two of us as well. I took some solace from the fact that I would have been not-quite-last (technical term) in the elite field, and that I did beat all the even older gits in Masters 2.
After ditching my trophy & medal in the Weed Wagon™ (see yesterday's pictures for an explanation of how it got its name), it was time to line up for the start. We were set off in three bunches with three different lead cars, elite men, elite women, and then masters & juniors. There was some excitement when we almost caught the elite women's bunch, and had to slow right down, but the real frivolity occurred when the flag dropped. The juniors were like wild animals off the leash, and there was no way I could keep up with the front runners, along with Belgian bike journo, and all-round nice guy Michiel van Aelbroeck who's got rather an impressive palmares, but is rather constrained by his governing body in when he can race.
Within no time at all, we were onto the back of the elite women's field, and I got altogether too cheery encouragement from Rachel Fenton & Imogen Buick, who surely should have been hurting as much as I was! Just as I caught up to the main field, it split, meaning I had a lot of work still to do to get towards the front, where I hoped I could stay. I'm not sure how it happened, but at some point I found myself riding in a group with Gunn-Rita Dahle-Flesjaa. I say riding in a group with, really I mean "repeatedly getting in the way of", after first fluffing a front shift and stalling, and then later aiming straight for a big pile of rocks on a descent. It seemed that the only decent thing to do was get the hell out of the way and let her show me how it was done; at least I would have a good person to send quickly down the hill for an ambulance if my current rate of mishaps kept up!
Foremost in my mind was the final wrinkle up to the finish line on the day's profile. Nothing so much as to cause fear, just something to be aware of I thought. Oh how I laugh writing that now! The last 3km were a steep, brutal climb to the finish, and the last km I'm sure took years off my life span as I dribbled over the line in my lowest gear. All done. Another slightly embarrassing stage win, although with a grand total of 8 competitors this time. And another besting of the other old guys. Currently leading my category by 15mins with two days to go. What did I say about pressure yesterday…?!
---
Click any of the images below for a larger view / slideshow
Blogger Info:
--- Read More By Chris
---
Disclaimer:
This blog post was written by a third party and their views do not necessarily reflect the views of XCRacer.com