---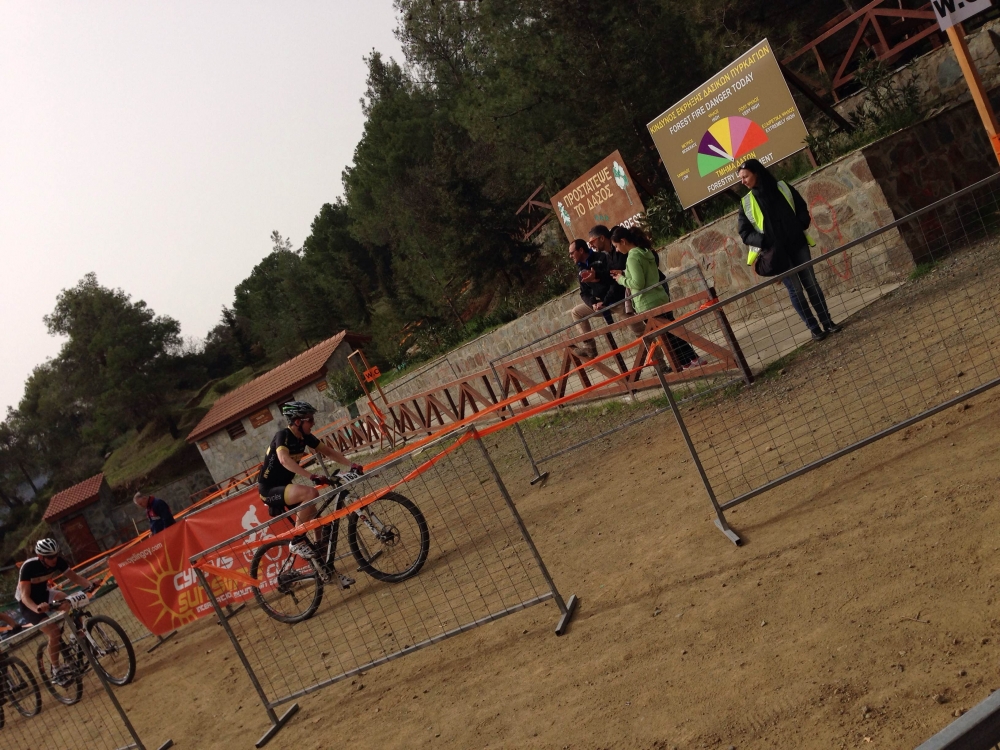 Cyprus Sunshine Cup - Day 4; You want me to do what?!
Share on Facebook
Share on Twitter
Published: 3rd March, 2014
Every stage race I have ever done, I've been amazed just how fast they go – I imagine it's because everything is geared towards a few hours in the middle of the day, you wash your bike (if it's lucky), eat, do your washing, snack, make up bottles and sort out riding food, have dinner, sleep, rinse, repeat. Somehow stage 4 sneaked up on me, which was bad as it was an XC race (those of you that know me will know that XC isn't exactly my forte), and I needed more time to get my head into trying to ride that fast after a prologue and two hard days.
My Master's 1 race was early in the morning, starting at 9:30 to give me a sense of what it's like to be an elite woman in the UK (given my previous day's write-ups, maybe that was more appropriate than I realised at the time!). We braved the unsurfaced road that we had wussed out of yesterday, and arrived at the race venue just as we were questioning the sanity of continuing. I felt particularly unnerved by seeing the orange tape leading the course down a hillside that looked almost vertical – maybe I should have ridden this course before racing it?!
A quick change, and a pedal around the second loop revealed a "proper" XC race course, with tough, steep climbs, and rocky, loose, tricky descents. Unfortunately, lack of time meant I couldn't get around the whole course, and having seen the finish-loop, I have to admit, I was very glad I was only facing a start loop+2 laps! Annoyingly, I was having a bit of trouble with my drivetrain when looking around the course, it felt like the freehub was slipping, but I hoped that if I pedalled smoothly it would be ok.
After being gridded up by a slightly cranky commissaire ("Get in the start box now", "Which start box", "I don't care, any box, just do it now"), and a quick start line chat with Michiel van Aelbroeck who suggested we needed to start fast. I did my best to oblige, but my legs were a little resistant to the ideal, and in any case I was just a launch-pad for the Belgian rocket who's been consistently riding in the top-40 elites on the long stages. My pace was a bit more sedate, not helped by the fact that my pinging gears had got worse, and I had now traced them to an unhappy granny ring. It turns out that it really wasn't a course on which to try out a 40t single ring for the first time, a point brought home by watching the course marshalls physically flinch at the sight of me climbing the steep ascent near the end of the lap. Thankfully, lots of marathon racing has got me used to riding technical trails blind; it really was a pretty tricky course, as Max told me later "harder than the Windham XC World Cup". Good to hear! I won the stage, and secured the overall title too, although Rachel missed me doing the arms (probably just as well, it was a bit wobbly!).
After the finish, we had the excitement of a presidential convoy passing through the race venue, including lots of scary men with guns. We assumed he was a closet mtb fanatic, and had dropped in to watch. In fact, it was the Cypriot national day for Grigoris Afxentiou after whom the stage race is named (he was a Cypriot patriot who helped free the Island from British rule). He made his base in the Machairas forest near to where the race was held, and died during the struggle nearby. Sara and I drove down to Kapedes in the hope of finding our podiums. No podiums to be found, we came back up the hill, only to find out we were back just in time for the "real" presentations at the race venue. That got our hearts racing!
Being able to watch the elite women's and men's racers in the afternoon was fantastic: seeing the lines that they took on the downhills was incredible, and only led me to believe more strongly that the laws of physics work differently for them than for me. But what was even better was the fact that they almost all came to the party in the town square of Tochni in the evening, enjoying the fact that it's the early season, and the odd glass of wine isn't off-limits!
It's been a fantastic few days, I have really enjoyed the racing and the atmosphere here, but it would have been even better with a bit more competition in the Masters category. But then I doubt I would have won the overall. Hmmm, it's a tough one!
Thanks to Mike Hadjiouannou for putting on such a fun, relaxed event, Rachel Fenton for organising our little party, and A.W. Cycles for getting my Whyte 29er ready in time to bring out here. See you here next year?
---
Click any of the images below for a larger view / slideshow
Blogger Info:
--- Read More By Chris
---
Disclaimer:
This blog post was written by a third party and their views do not necessarily reflect the views of XCRacer.com